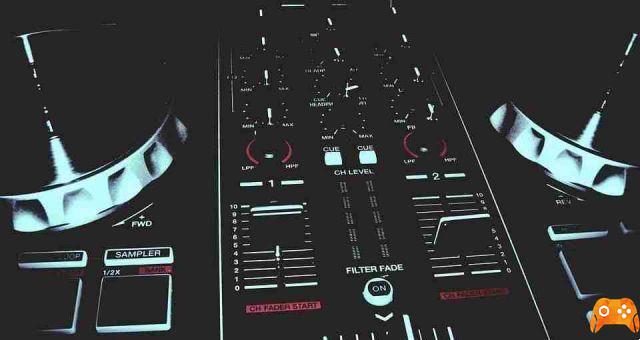 These best virtual DJ apps allow you to create loops, mixes and beats right from your android phone.
Being a DJ is fun but expensive, due to all the equipment you need and the software you need to learn. Virtual DJ apps won't replace real ones, but they can help you create mixes, sample beats, and try out new features to make your mixes stand out.
Best DJ apps
Whether you're an amateur or just want to keep making great mixes, there are plenty of quality Android DJ apps to help you get started. With these android apps, you can use the best DJ software to create awesome music.
free cross dj
This awesome DJ app lets you create mixes in perfect sync with a powerful sound engine. You can create tracks using your smartphone music and save your playlists.
The interface offers two turntables, a 3-band EQ mixer, large buttons optimized for small screens and separate boards.
With the visualization on this app, you can scratch and see the music while precisely setting the signal. You can also sort your tracks by title, artist, album and duration. Upgrade to the premium version and you can discover and mix millions of popular songs from SoundCloud.
Download: Cross DJ Free (free, in-app purchases available)
DJ Studio 5
Enjoy the robust and free DJ Studio 5 app. The touchscreen interface is as simple to use as a powerful virtual turntable. You can remix, scratch and loop the music to play the audio you want from the home screen.
Access music from your MP3 library, edit and reorder your playlists according to your musical tastes. There are also eight sound effects, such as phaser, reverb, bit crusher, flanger and brake to make your mixes more fun for the holidays. You can share your mixes with your friends on social media and on SoundCloud.
Switch between portrait and landscape modes for better blending and comfort. With this app, you get two virtual turntables with crossfaders and you can also customize the look of your turntable with the skin options available via an in-app purchase.
Download: DJ Studio 5 (Free, in-app purchases available)
edjing Mix
With edjing Mix, you can learn how to mix and become a DJ. You won't need any additional software to create mixes because this app gives you a complete DJ setup.
The interface is simple, where you can sync tracks and upload music from SoundCloud or your local storage. If you know how to make a playlist on SoundCloud, you can easily have the right music to create fun mixes.
The DJ School feature helps you learn the basics of mixing while doing it in practice. You can also use sample packs with 16 samples that you can access after viewing the ads. Available sound samples include tornadoes, lasers, and fire alarms, and you can use them to liven up your mixes.
Access to all effects, champion packs and premium skins is not free. By paying, you can also record your mixes and share your masterpiece with your friends and music lovers around the world.
Download: edjing Mix
edjing PRO
edjing PRO is a more professional level DJ app, with a free version with light functionality. It has a familiar DJ mixer layout with 3-band EQ and crossfades. This virtual DJ app also offers real-time effects, synchronization, smart loops and beat matching to mix all your favorite songs.
Get high quality sounding mixes that you can add to your playlists. Create and open playlists of different genres for every occasion you perform. You can access all your sound effects, set cues and tempo from the main screen.
It's also easy to switch between tracks using the crossfader. The interface is simple to use when joining different tracks from your music gallery.
Download: edjing PRO LE (gratuito) | edjing PRO
Clock in Music Maker
If you want to create amazing beats alongside your mixes, you can do it with Music Maker Jam. This app also allows you to record your voice and loop through your tracks to instantly customize your mixes.
You will enjoy making your own music because this app tells you how to use each function. You can add other instruments to your mix, such as the guitar, to give it a unique sound. Change it and mix it with another mix pack to create the music you like.
Sessions are easy to follow for beginners to create multiple tracks. It is an excellent app for recording your compositions and vocals, which you can mix with real-time effects from optional audio packs.
Download: Music Maker Jam
djay
The famous djay app allows you to turn your smartphone into a virtual DJ system. With the basic interface, you can sync sounds and create upbeat mixes in minutes. Essential sounds like drum kick, air horn and echo bleep are available to add to your mix.
You can easily access music from your media library, TIDAL or SoundCloud. This powerful DJ app is suitable for both beginners and experienced DJs. You can create a perfect mix with tools like the looper, sequencer and automatic beat detection.
Together with music generators, you can create your own music and songs for others to listen to.
Download: djay
3D DiscDJ
DiscDj 3D includes a short introductory guide that walks you through the interface and all the main features of this virtual DJ system.
Other features of this app include a sampler, the ability to sync tracks and auto fade for a perfect mix. It's easy to play different tracks with the simple interface - drag and drop mode allows you to rotate and drag the turntable to feel comfortable when mixing. You can also repeat, mix music, and fine-tune the deck volume on this deck.
Personalize and personalize this app with different themes like aqua, pink, lime and purple colors. Beginners can learn a lot from this virtual setup and create better mixes.
Download: DiscDJ 3D Music Player