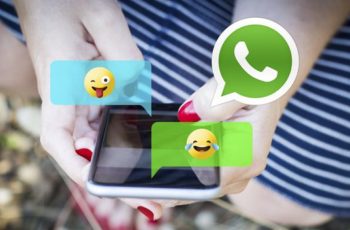 In this article you will find a vast list of Whatsapp emoticons and at the end I will also explain how to install them on Android and iPhone. WhatsApp always releases new features. From time to time, the application is updated with new emoticons to make sure that users have more freedom in expressing their feelings in conversations.
As with any new feature that is released for this application, you must first download the latest version in order to try the feature before anyone else. Do you know how to add Whatsapp emoticons?
To add Whatsapp smileys you must first have the latest version of the application. It is important first to differentiate the two types of emojis that exist on Android. Those that we find in the same WhatsApp application that can be sent indifferently from Android and iOS, and those that are on the keyboard of your mobile phone, which are different according to each manufacturer.
This time we will focus on the first one, the Whatsapp emoticons which are installed in the most popular messaging application in the world. It is very easy to always have new Whatsapp emoticons. As we said at the beginning, notice that the emoticon you want to send on WhatsApp are really the emojis of the application itself.
Best WhatsApp emoticon apps
Do you want to customize avatars and create emoticons? Don't miss these apps to create an emoji from scratch on your mobile and celebrate World Emoji Day by the way.
1. Bobble Indic Keyboard – Stickers, Fonts & Themes
Perhaps one of the best applications to create Whatsapp emojis from your mobile. Also, you can create avatars, GIFs and use your photo to create new images. It's free and available on Android and iPhone. You can download it from here.
2. Emoji maker
If you want an intuitive application that allows you to easily create free Whatsapp emoticons, Emoji Maker is your application. It's not too heavy and you have access to a lot of templates. You can take a yellow circle and put eyes, hats, hair or whatever you want, and so you have created your new Smile for Whatsapp.
We will not lie to you, he is less creative than the others, but you will get a good result in no time. You can download it from here.
3. BitMoji
The most famous application to customize Whatsapp emoticons for free. Its strong point is that you can take a selfie and turn it into an emoji. The dream of any WhatsApp user, to have an emoticon of yourself. It is also free and can be used on both Androd and iPhone. You can download it from here.
4. IMoji
Although initially this application was only for iPhones, the developers have also created a version for Android users, allowing them to create new Whatsapp emoticons. The mechanism is more or less similar to BitMoji, you take a picture and from there you start customizing your icon. You can download it from here.
5. Emojily
In case you are not satisfied with the Emoji Maker templates, here we introduce you to its twin brother. The application includes many options to create Whatsapp smileys. In fact, the developers have now released a more summer updated version with new Whatsapp emoticons. You can download it from here
How to install the latest emoticons or emojis on WhatsApp
With the iPhone it is very easy, since the only emojis available in this messaging application are those of the app itself. On Android, however, you have to be careful not to make any mistakes using the keyboard emoticons installed on your phone. Now we will explain how to install the latest emoticons or emojis on WhatsApp ...
First I have to tell you how you can make sure that the latest emoticons that have been launched are installed on WhatsApp. The easiest way to check this is to check that the latest version of the application is installed, for which the procedure to follow for both operating systems is as follows:
On Android, the simplest thing is to download the beta version of the application. New features are always released in this version, those not yet available to normal users, if there is a new emoji around the corner, you will get it first. Plus, it's the official version of Google Play, so we can guarantee it's one hundred percent safe.
On iOS, the only way to install the latest version is to download it from the App Store. Apple doesn't take long to roll out updates for these types of applications, so if you've read somewhere that WhatsApp has new emoticons, then it's a matter of hours that they become available for download in the store.
1. How to install the latest emoticons or emojis on Android on WhatsApp
Log in on WhatsApp.
Open a chat and click the emoticon icon at the bottom left of the search box.
Now, choose the emoji you want to send. Since there is no specific section where only the new emoticons are present, you need to navigate through the icons and look for the ones that weren't there in the previous version. If you click on the magnifying glass icon, you can search for icons by name.
2. How to install the latest emoticons or emojis on iOS on WhatsApp
Log in on WhatsApp.
Open a chat and open the keyboard.
Click on the emoji icon that appears below.
Now choose the emoticon you want to send to your contact. You will have to browse through all the icons to find the ones that have been released with the new update, since there is unfortunately no way to filter them by arrival date.
So did you like the article on how to install the latest emoticons or emojis on WhatsApp? Which method did you use?
Read also: The best browsers for iPhone
Further Reading:
How to use iMessage (Memoji) stickers in WhatsApp
Emoticons, the hidden meaning of WhatsApp smileys
The WhatsApp settings menu changes with the latest update
How to share WhatsApp status as a story on Facebook
How to use WhatsApp on your Apple Watch