Andariel he is the boss of the first act and he must necessarily be faced and beaten in order to proceed in the story, take the caravan and go to act 2 of Diablo II: Resurrected. It will be the first real obstacle to face, the first really challenging monster.

Andariel is a demonic presence with a peculiar ability to poison: it spreads greenish and mephitic clouds and strikes with its sting in a rather rapid and lethal way. Thankfully it does not have considerable damage and equipment capable of reducing poisoning turns out to be a reliable companion to deal with it properly. It turns out to be particularly sensitive to fire and frost and, in practice, not too harmful.
Unfortunately as a downside, regardless of the difficulty with which you face him, this boss will never release a drop that is too interesting.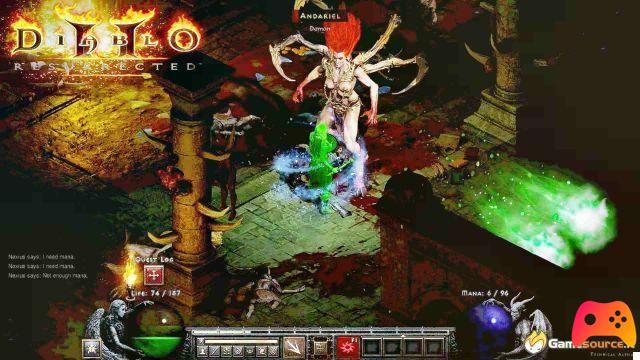 The following stats and also the attack data they report are expressed by difficulty level: Normal / Nightmare / Hell.
Level: 12 / 49 / 75
Experience: 1282 / 92295 / 561.066
Health points: 1024 / 24800 / 60031
Speed: 8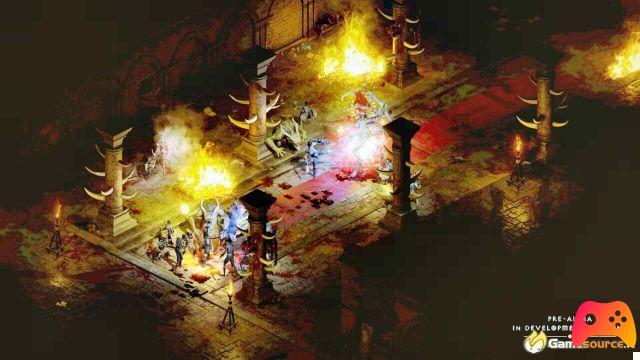 Melee attack: Physical + Poison: / 6-19 + 6 on 2,4s (2,6 / sec) / 73-90 + 63 on 2,6s (24,2 / sec) / 153-187 + 493 on 18 seconds (27,4 / sec)
Assessment of the attack: 169 / 1944 / 14231
Poisonous spray: 7-10 + 50-100 on 16 seconds (3,1-6,3 / sec) / 22-25 + 215-269 on 17,2 seconds (12,5-15,6 / sec) / 42-45 + 470-529 over 18,8 s (25-28,1 / sec)
Poisonous sting: 100-200 on 32s (3,1-6,3 / sec) / 473-577 on 33,2s (14,3-17,4 / sec) / 1013-1121 on 34,8s (29,1-32,2 , XNUMX / sec)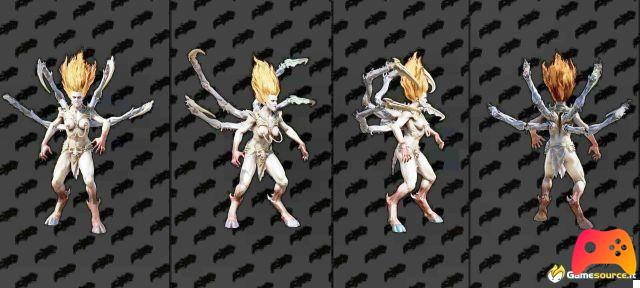 Like the other Act Bosses, Andariel does not regenerate any hit points so if you perish in the quest you will still be able to continue from where you left off. As mentioned previously, we recommend that you choose weapons and skills that use fire to do damage and frost to block it. If you choose fire we recommend a ranged attack and a melee mercenary (only possible if you are doing a second run) while if you use the ice you can choose the mercenary of act one, equipped with arrows and maybe equip him with a bow. fire elemental.
In any case, there is always the possibility, before engaging in the fight, to equip yourself with a good number of scrolls from the citizen's portal, to be opened immediately before engaging in battle.
This concludes our first boss of all Diablo II: Resurrected. Don't miss our review and other guides to the fantastic Blizzard remake.
► Diablo II: Resurrected is an RPG-type scrolling-Adventure game developed and published by Blizzard Entertainment for PC, PlayStation 4, Xbox One, Nintendo Switch, PlayStation 5 and Xbox Series X, the video game was released on 23/09/2021
Diablo II: Resurrected is a beautiful game that cannot be missing from your collection: we have decided to evaluate it with a 80%, if you are interested in learning more you can read the Diablo II: Resurrected Review by Steven Carollo.