In the original version of Diablo II there are several versions of what can be called "the boss", which appeared in slight variations in two special events that were added following publication: let's talk about Uber Diablo (who can replace any Boss suddenly) and di Pandemonium Diablo at the end of the event itself. In Diablo II: Resurrected for now we only find him as the fourth act boss, where he appears in the center of the great pentagram after the five seals have been opened and the three seal bosses have been killed. His killing brings us to the epilogue of the fifth act, but don't sell the demon's skin before killing him.
Diablo is perhaps the only boss who not only does not require help from mercenaries but if you persist in hiring them you will only get to burn money. Diablo's intrinsic ability in Diablo II: Resurrected is in fact to inflict seven times its normal damage to minions and unfortunately this also applies to summons.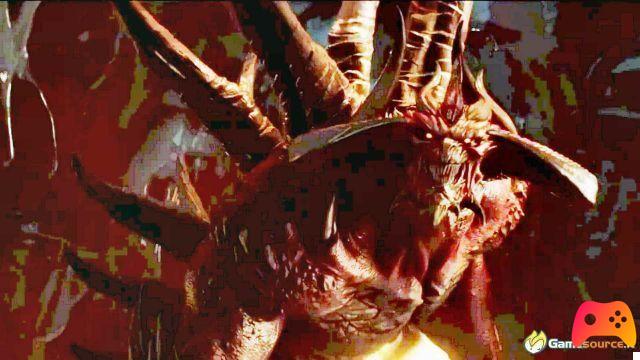 The data below is displayed by difficulty level: Normal / Nightmare / Hell.
Level: 40 / 62 / 94
Experience: 44902 / 465.362 / 2.195.808
Health points: 13818 / 90749 / 113.812
Speed: 6
Melee attack: 19-49 / 91-112 / 192-235
Total damage: 1311 / 2592 / 8062
Melee Attack: 28-64 / 96-127 / 203-267
Total melee damage: 1051 / 2412 / 7500
Load: 53-69 / 80-96 / 116-132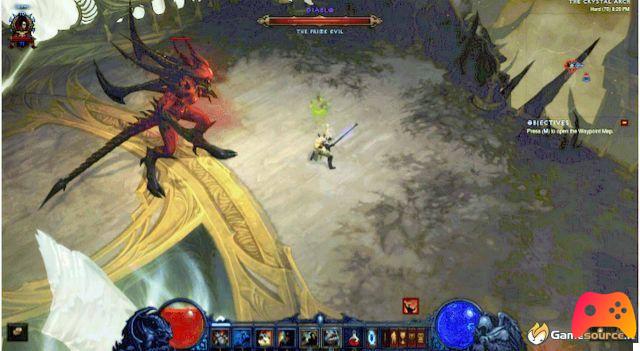 Red lightning: 54-72 + 126-216/sec / 126-144 + 234-324/sec / 216-234 + 378-468/sec
Cold hand: 42-61 (8s cold) / 69-97 (8s cold)
Fire Nova: 52-82 / 76-106 / 108-138
Firestorm: 8-17 + 24-38 (3-9 shots) / 15-24 + 40-54 (6-18 shots) / 24-32 + 62-76 (10-30 shots)
Fire wall: 18-19/sec / 29-30/sec / 43-44/sec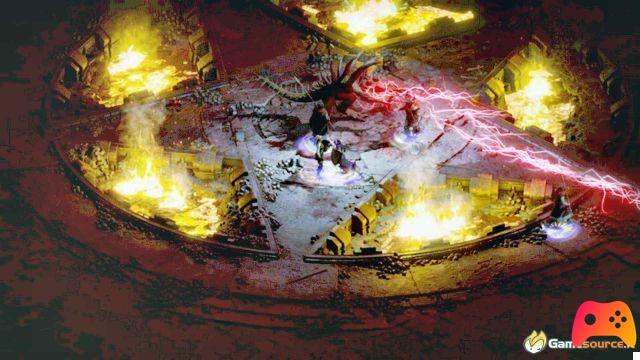 Diablo has the ability to absorb energy from other monsters, so face him alone. Even if you follow our directions, always use the Citizen Portal Scroll Trick as this is one of the toughest bosses in the game. Diablo uses a variety of fire spells to complement his melee attacks, so it's a good idea to have defenses and resistances aimed at fire immunity.
Diablo's weakness in Diablo II: Resurrected is its vulnerability in motion and while charging, given its slowness. If you then manage to slow it down with ice during these movements, you will get a valid attack window. Unfortunately, there are no tricks to take it out quickly and therefore you need to be patient in dealing with it. At high levels it offers interesting drops.
This concludes our first boss of all Diablo II: Resurrected. Don't miss our review and other guides to the fantastic Blizzard remake.
► Diablo II: Resurrected is an RPG-type scrolling-Adventure game developed and published by Blizzard Entertainment for PC, PlayStation 4, Xbox One, Nintendo Switch, PlayStation 5 and Xbox Series X, the video game was released on 23/09/2021
Diablo II: Resurrected is a beautiful game that cannot be missing from your collection: we have decided to evaluate it with a 80%, if you are interested in learning more you can read the Diablo II: Resurrected Review by Steven Carollo.