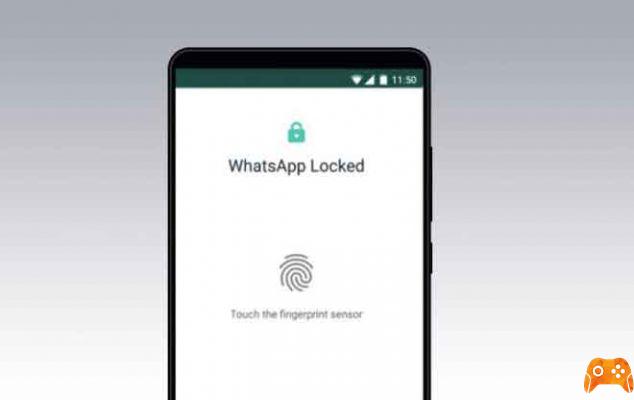 In this article, I'll explain how to block Whatsapp on Android and iOS. Do you want to leave your cell phone free at home, but are you afraid that someone else will read your messages? Now you can block access to the applications you want, in this case block access to Whatsapp by strangers.
You can now lock the WhatsApp mobile app with your fingerprint on Android, following the launch of the lock feature for Whatsapp in its iOS app earlier this year. It works just as it sounds - when the feature is enabled, you'll need to use your fingerprint to unlock the app even after you've unlocked your phone.
It doesn't matter if you are using an Android or iOS device. You can still enjoy the feature in a few simple steps, anyway. With this latest update, choose between your face via FaceID and your fingerprint, when you block WhatsApp. This Facebook-owned app already enabled the Whatsapp blocking setting for iOS earlier this year.
You will not need to re-register your face or fingerprint when using this function. WhatsApp will rely on system-based biometric authentication.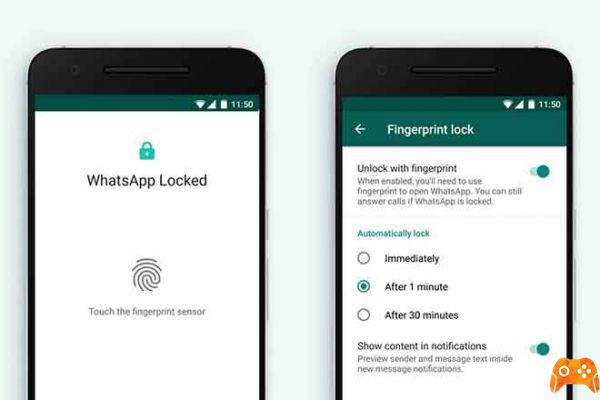 How to lock Whatsapp with fingerprint on Android
WhatsApp said you'll be able to activate the feature from the app's privacy settings menu. You will see options to leave the app unlocked for one to 30 minutes after unlocking it. There is also an option to prevent the content of your messages from appearing in notifications.
Open WhatsApp on your phone
Tap the three-dot menu in the top right corner, followed by a tap. settings
Scroll to the Accounts tab and tap it
Now go to Privacy
You will now see the Fingerprint Lock option. Touch it
Turn on or off the option that says "Unlock with fingerprint" to enable fingerprint authentication
You can also set the time after which the fingerprint lock will be automatically enabled for your WhatsApp chats. You can also choose to show or hide contact messages in notifications while the app is locked.
That's all. You have set up fingerprint lock for your WhatsApp chats. The app will ask you to authenticate access each time. It should also be remembered that switching phones will disable fingerprint security on your app and you will be prompted to set it up again.
Come bloccare Whatsapp Face ID / Touch ID su iPhone
To block WhatsApp on your iPhone so that your face or fingerprint is needed to see your WhatsApp chats even if your iPhone is already unlocked, follow these steps:
Open WhatsApp
Click the Settings tab at the bottom right of the screen
Tap Account
Open Privacy
Tap Screen lock
Turn on Require Face ID / Require Touch ID
Select the length of time for the Face ID or Touch ID request
When Screen Lock is turned on, you can still reply to messages from notifications and answer calls, but you cannot access WhatsApp chats without your registered face or fingerprint.
If Face ID or Touch ID are not working, a white screen will appear saying "WhatsApp blocked. Unlock with FaceID / Touch ID to open WhatsApp ". You will only be able to use a passcode after a couple of failed attempts. You can also follow the steps below to bypass Face ID or Touch ID if the failed attempts option doesn't show up.
How to bypass Face ID or Touch ID on locked WhatsApp
If you need to access WhatsApp chats protected by Face ID or Touch ID, it is possible to do so but only if you have the iPhone passcode. We won't ask you why you might need to do this, we'll just tell you how to do it.
These steps will bypass the Whatsapp lock feature with Face ID or Touch ID:
Open Settings on your iPhone
Scroll down to "Face ID and passcode" or "Touch ID and passcode"
Enter the iPhone passcode
Tap "More apps" in the "Use Face ID / Touch ID for" section
Disable WhatsApp
Reopen WhatsApp
Enter the iPhone passcode
Not an official method as such plus a flaw in functionality. It simply revokes WhatsApp's permission to use Face ID or Touch ID, but it should work and grant you access to WhatsApp chats with the passcode.
Read also: Block Whatsapp contact, I tell you everything
Further Reading:
Block Whatsapp contact, I tell you everything
Whatsapp password as you configure
How to block a number on Samsung Galaxy phones
How to hide the WhatsApp profile photo from a contact without blocking it
3 ways to disable Whatsapp calls