For some time now, they can create Telegram supergroups. All multiple conversations, excluding broadcast channels, up to their introduction, allowed to add up to a maximum of 200 members and to have a sole administrator for all participants.
Now, however, these chats can be transformed into Telegram supergroups, which initially could host up to a maximum of 5000 members, while now they provide for a unlimited number of participants. Let's see how they work and how you can create one.
How to create Telegram supergroups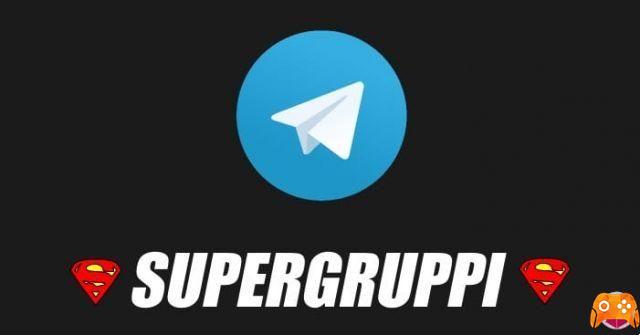 Please note that the upgrade to Telegram supergroups is not automatic and the option will not appear until you reach the limit of 200 members. This means that up to 200 participants will only be able to use the normal groups.
In addition, remember that, in addition to having enhanced the capacity and functionality of multiple chats, the option to appoint more than one administrator, available for Telegram groups and supergroups. Thanks to it, it is now possible to entrust more people with the task of managing large communities at the same time.
Requirements and Clarifications
Telegram supergroups also work with Telegram Web
How to convert a group into a supergroup on Telegram
Once the limit of 200 members has been reached, the system automatically proposes theupgrade ai supergruppi Telegram. In fact, a written warning will appear member limit reached which will illustrate all the additional features you can benefit from turning the group into a supergroup.
Above it, the green command will be available Upgrade to supergroup. Just select it to unlock all the additional options and thus enable the Telegram supergroup.
Telegram supergroups additional features
the limit of users will be removed and, precisely, you will be able to add an infinite number of participants
administrators can delete messages for everyone
ordinary unprivileged users can only delete messages they have sent
the chat history is the same for everyone, no one can change it without others noticing
notifications have silent mode turned on by default
fewer notifications will be sent about who is joining the discussion or who is leaving the supergroup
new members added can always view all chat history
you can make Telegram supergroups public by inserting a link
messages can be pinned to make important updates visible
Finally, I remind you that if your supergroup is public, anyone can access it. He can do it in the same way as you enter a normal Telegram group.
In any case, if you are looking for more information about supergroups and the admin functionality, you can consult the official post on the Telegram blog.