If you want to know how Telegram Passport works, you are in the right place. How many times have you happened to think that the anonymity guaranteed by the web, after all, is one of the great problems of the Net? In the end, it takes very little to leak a person's digital identity and pretend to be it on social networks, via e-mail or on e-commerce portals. Probably, Pavel Durov, creator of Telegram, Russian developer and entrepreneur (creator, among other things, of VKontakte, the Russian Facebook). His development team, in July 2018, introduced a function called Telegram Passport, which allows protect your online identity.
Telegram Passport is a unified identification system that, in the plans of Durov and his team of developers, will serve to protect user authentication. Yes, but how exactly does it work? Good question. I also asked myself and tried to understand, first of all, what is Telegram Passport and what is it for. After that I also tested its functioning. In short, if you want to understand how to create a profile on Telegram Passport and how to use it for authenticate yourself online, you've come to the right place. All that remains is to begin.
What is Telegram Passport and how does it work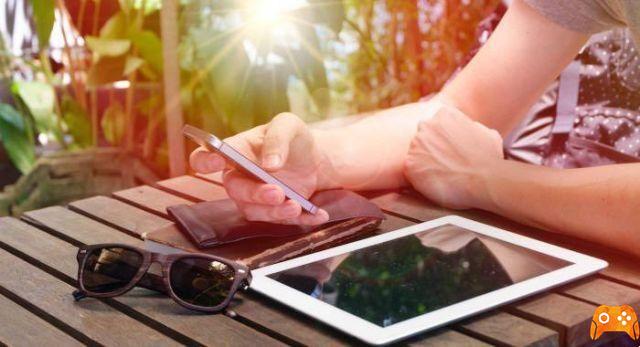 Wanting to simplify things, we can say that Telegram Passport is a kind of social login, such as those made available by Facebook and Google to access the most varied web services without the need to create a new profile. However, in this case, you will use yours real personal data, including documents such as the passport and identity card, to authenticate you in a secure and unique way. Telegram Passport, in fact, incorporates all the information necessary to identify you into a single profile.
The data you enter in the Telegram Passport profile will be protected by end-to-end encryption. It is a cybersecurity system that applies encryption to the data you send online so that no one else can view it. Moreover, later on, these sensitive data will be stored in the cloud in a decentralized manner. This means that not only will no one (apart from you) be able to read them, but no one will know exactly where they are. In short, the Telegram development team has adopted technical solutions aimed at defending your privacy, your identity and your personal data.
But let's get to the point, how Telegram Passport works? As mentioned, the operation of Telegram Passport will be very similar to the buttons of social login of the various Facebook, Google and Twitter. Just click on the interactive button to make the login con Telegram. You will have to choose which data to share and wait for your profile page to load.
Before you can use Telegram Passport, however, you will need to enter your data in a database. So, how to configure the authentication service? The procedure is currently a bit complex, but not too much. Learn more by continuing to read.
How to configure Telegram Passport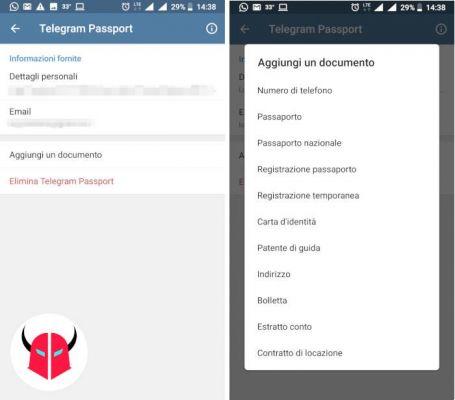 In order to use Telegram Passport, you have to configure it. As of this writing, it is not possible to create a Passport profile directly from the app. It will therefore be necessary to "request" one through the services they accept Telegram like how to register. An example is the electronic wallet ePayments. To take advantage of this service with Telegram Passport, first of all connected to its homepage (you can easily find it on the web) and click on Open account (It's free). Then, read on.
At this point, you need to install the client Telegram on the device you want to use forsubscription to Telegram Passport. I refer to the app for iPhone or Android, or the client for macOS or Windows. Find all the apps at this address. Check that they are up to date and proceed.
After installing or updating, go back up ePayments and click on the button "Sign up with Telegram". Agree to share your Telegram data with the platform for digital payments. The Telegram client (Windows 10, in my case), will ask you to create one access password for Telegram Passport and to complete the registration by activating the two-step verification (2FA).
Once these steps have been completed, a small one opens interactive window rectangular in shape, in which you can insert your own personal data. When finished, open theTelegram app on your phone, go to Settings> Privacy and Security and choose Telegram Passport. From here, you can modify personal information already provided and add new documents, such as your passport, identity card, driving license, bank statement or any other document that can help identify you with certainty and unambiguously. Complete yours Telegram Passport wallet and start using it online.