In addition to sharing animated images for free using Giphy's built-in archive, you could use the GIF bot on Telegram. If you have an iPhone or Android smartphone, you could search for images that move from within the conversation, simply by using the keyboard.
You can do this by invoking the @gif bot, a chat tool that is one of the new ones inline bot, that is, those types of bots that respond to user commands within a conversation, group or channel. In this guide, I wanted to explain how to use it, to make you understand how to call the GIF bot from the chat, how to find funny animated images and how to send them in the conversation.
How to use the GIF bot on Telegram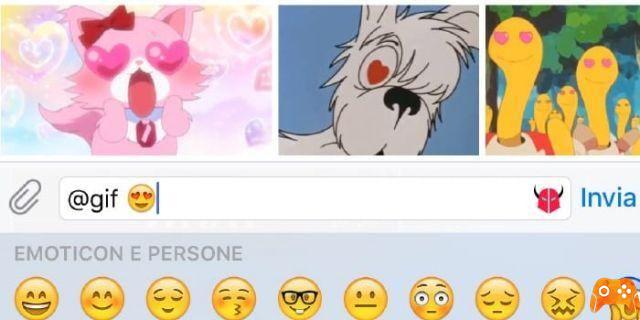 What you need to know
even the Telegram GIF bot uses the free Giphy archive
to search for GIFs, you can use keywords, phrases and emoticons.
Using the Telegram GIF bot in chat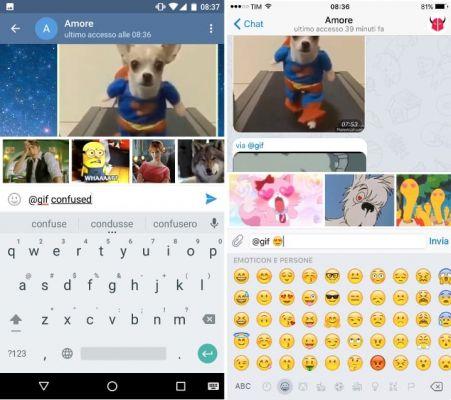 To invoke the GIF Telegram bot, all you have to do is enter a chat, activate the keyboard and type @gif , being careful to insert the chiocciola without spaces before the command.
Once this is done, to activate the search, after entering the string you have to press space and then dial a keyword, a popular expression (it is. LOL) or a emoji to find relevant content, otherwise the most popular or trending ones will appear.
You can start writing when you see the hint Search GIFs. The search for moving images is carried out in real time and is updated with each typed character. You can scroll through search results with a flick of swipe from right to left, then swiping your finger on the GIFs you see in preview above the text bar. I advise you to write in english, for much more accurate search results.
When you have decided which GIF to send, just tap on the animated image to send it in chat. The system, after sharing it, will automatically place the green credit via @gif above the animated image. This is actually a text link that always points to the opening of the GIF bot Telegram. In fact, when it is pressed, it automatically performs the operation I have just explained to you, activating a kind of quick laugh with GIF.
Other types of Inline Bot for Telegram
In addition to the Telegram GIF bot, there are others inline bot for chat. They are these:
@gif – Giphy
@vid – YouTube
@pic Yandex Image
@bing – Bing Image Search
@wiki – Wikipedia
@imdb – IMDB
@bold - writing in bold and italic style (italic)