If you have recently discovered Telegram, you will surely be surprised at the extra features that are available compared to other instant messaging applications, WhatsApp in the first place. In addition to being able to send messages, photos and videos, it is also possible to use bots, or applications that run within the messaging service.
These, over time, have evolved becoming real plug-ins, which add functionality otherwise not available. There are so many on the net that I thought I'd make a guide to best bots for Telegram. In this way, you will have the opportunity to find the best services available without having to do a real "treasure hunt". But always pay attention to what you do, as not all bots may be legitimate to use; I will limit myself to indicating the most used by category, you can use them as you wish, it being understood that you will be the only one to answer for the actions you undertake.
Index
How Telegram bots work
Bot per Instagram
Bot for Facebook
Bot per WhatsApp
Bot per Amazon
Bot for anonymous chat
Bot for chat with girls
Bots for groups or channels
Bot to listen to music
Bot to watch movies
Bot to save

PriceTrackBot
Gearbest offers

Sports betting bot
Sticker pack bot
Bot to download stickers
Bot to create stickers
How Telegram bots work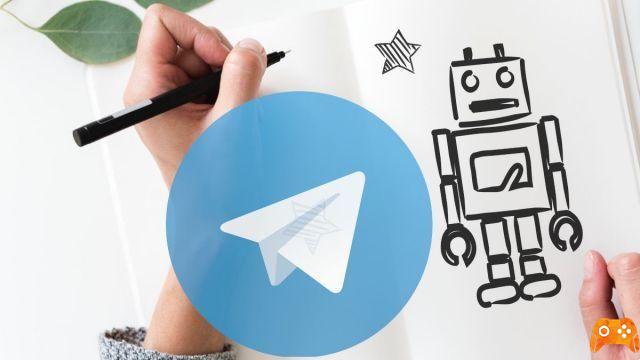 Before figuring out which are the best Telegram bots, I think it's worth showing you how do they work. These add-ons, in fact, of all kinds, allow you to greatly simplify some operations, which you can then carry out directly from the instant messaging app.
The operation of a Telegram bot is quite simple to understand. It is for all intents and purposes of automated chats, with which you can interact by typing gods commands. In many of these bots, there are also button commands, which simplify their use even more.
The operations that you can carry out directly from Telegram are the most diverse. They range from the missed calls bot to the bus timetable bot - in between, there are hundreds of other alternatives of all kinds.
If you want to learn more about the differences between single chats and chat with bots, my advice is to carefully read my article on how to use Telegram. Inside, you will find lots of information that I am sure you will find very useful.
Bot per Instagram
Instagram is undoubtedly one of the most used social networks in the world. Every day, millions of users use the application to get in touch with their followers or simply to watch the published content.
In this case, you should know that it is possible to automate several actions using the bot Telegram per Instagram. Are you curious what I'm talking about? You read on to find out more.
Regram
Regram is an Instagram bot that few people know, but that hides some really interesting features. Using it, it is in fact possible to check an Instagram account via Telegram.
There are even features that are not available through the photo social network app. To make your life easier, these are some of the most interesting:
Download profile photos;
Display of published posts;
Download of Instagram stories;
Download the direct Instagram (live);
Download of all published posts.
start the Regram bot, all you have to do is click on this link. After that, you will find yourself directly on the home page, where you will have to press the button starts.
Now, to use Instagram from Telegram, you will need to enter a username or link to a post. In this way, a tool panel will open, through which you can access many functions. Thanks to them, you may be able to spy on another person's Instagram.
Insta Save Bot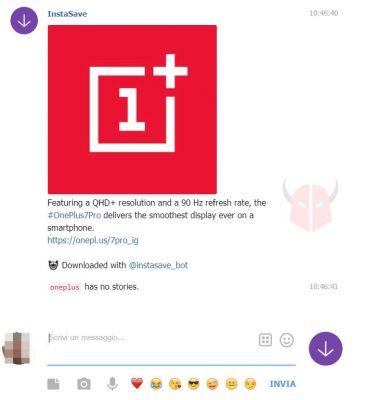 Likewise, if you are looking for an Instagram bot for Telegram, you need to know that Insta Save Bot is a really good alternative to downloading images by providing only the URL address of the post.
First of all, add Insta Save Bot to Telegram from this page. Then, as usual, press the button starts.
Now enter the link related to the Instagram post or story you want to download. Alternatively, more simply, enter the nickname of a user to download their profile picture.
Bot for Facebook
In case you are more interested in the Telegram bots per Facebook, even in this field there is no shortage of alternatives at your disposal. I have chosen one that I am sure you will appreciate a lot.
FBvidzBot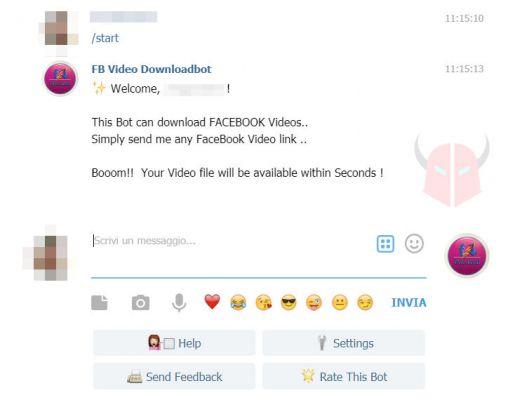 If your purpose is to download videos from Facebook, instead of doing as I told you in the dedicated guide, you could use the bot named FBvidzBot.
This is an automated chat where you can paste the link of the videos and then download them directly to your smartphone, tablet or PC. I state, however, that some movies may be protected by copyright. Therefore, pay attention to your behavior.
Having said that, let's first see how to recover Facebook video links:
Da PC: click on three dots that appear at the top right of the post, select the item Incorporates and then choose Advanced Settings, so that the post url on your PC screen;
Da smartphone: also in this case, tap on three dots next to the post, but selecting the item Copy link.
Now open Telegram and add FBvidzBot, whose username is @fbvidzbot. Then, when you are in chat, proceed to paste the link that you have just retrieved in the appropriate writing field.
Bot per WhatsApp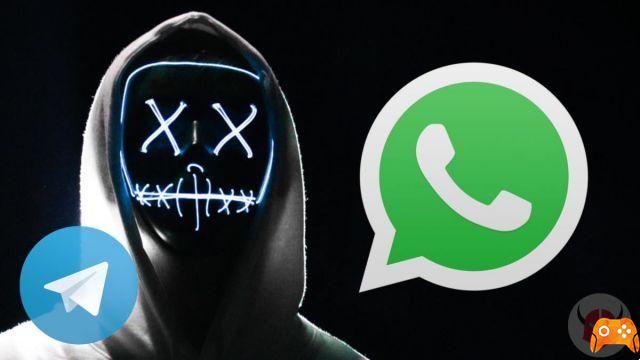 If you are looking for gods bot Telegram per WhatsApp, know that, at the time of writing, there are none. You could ask yourself this question to find out if someone uses them in order to track the sensitive elements of the chat (such as last access, online status or other information) even when blocked. First of all, you must know that it is not permissible to do so. However, nothing prevents others from doing so at their own risk.
And while there aren't any chat spying bots, there really are many other methods for this purpose. A blocked contact could use various third-party apps to spy on you. Do you want a concrete example? See the guide related to the WhatsApp online contact notification.
Bot per Amazon
If you are a fan of online shopping, you will surely be pleased to know that there are several bot per Amazon.com able to automatically report the best offers.
These allow you to choose certain items and track their price over time, so you can buy them when it drops. So let's see how they are installed and how they work.
Track Price Bot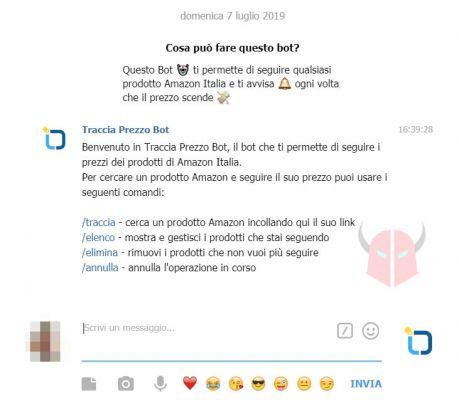 As the name already suggests, Track Price Bot it is a very useful tool if you buy often on Amazon. Thanks to it, in fact, you will be able to buy the Best price your favorite items, from smartphones to clothing.
First, therefore, find the bot by typing the username @traccia_prrezzo_bot and start it. You will be able to add the Telegram bot for Amazon to your messaging application.
As you can see from the image in the chat, i bot commands allow you to add one or more products and to follow the progress of the price in time. When a monitored product no longer interests you, just use the commands / list or / delete.
Until recently, it also existed PriceTrackBot, but was temporarily put on standby due to some inconsistencies with Amazon's terms of service. In any case, it should be up and running again shortly.
Bot for anonymous chat
Social networks, with the myriad of information made available to users, have made it very difficult to start conversations in secret. Likewise, WhatsApp requires a phone number to work, which can put anyone's identity at risk.
The only solution that remains at your disposal is to use a Telegram bot for anonymous chat. Let's see how it works.
Incognito Chat Bot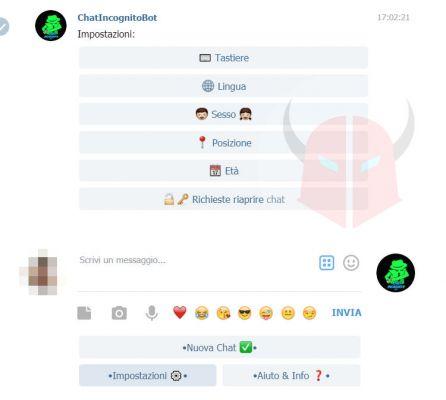 Incognito Chat Bot it is certainly one of the best in the business, much like the renowned Strangerbot. It allows you to hide your identity and chat with random users, who are also anonymous. The chat is protected by end-to-end encryption.
activate the bot, open this link and add it to your app by pressing the button starts. Remember to choose the language you prefer, otherwise you will be matched with foreign users and may not understand conversations.
start anonymous chat on Telegram, all you have to do is press the button New chat (which is present at the bottom) and wait for the other user to connect. Gender, age and geographic location will be chosen randomly, unless you select them from the settings box.
Bot for chat with girls
Are you very shy and would like to meet new girls without exposing yourself too much? No problem, you can use a Telegram bot for anonymous dating chats, which I'm sure you'll be pleased to find out.
mega-chat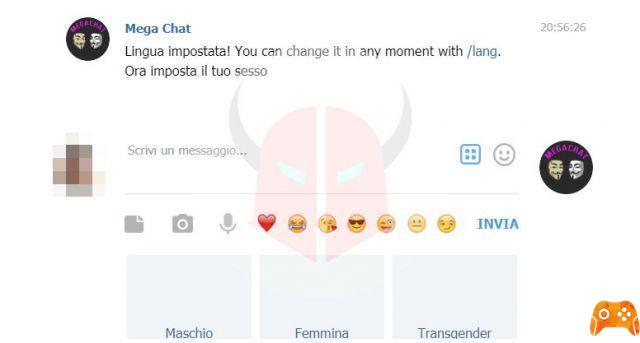 mega-chat it is a really interesting solution to chat with girls, as, like the previous Telegram bot, it allows you to start anonymous conversations by choosing the characteristics of your interlocutor.
First, as usual, click on the bot link and press the button starts. Then select the language and choose the gender of your interlocutor.
In the last step, select one of the interests available and prepared to chat with an unknown girl or boy.
Bots for groups or channels
In addition to meeting new people or checking social networks, Telegram bots can also be really useful for automating some actions. An example, is certainly what I will show you shortly, perhaps one of the most versatile Bots for technology lovers.
Facebook Pod
If you check some Facebook pages or groups, you will be pleased to know that there is a Telegram bot that allows you to increase your interactions and improve performance. Facebook Pod in fact, it allows you to get in touch with a community of users who, like you, are involved in social media. You can thus be able to reach your goals faster.
Then open the link of the group and this time press the button Join. Being made up of real users, Facebook Pod can be defined as a Telegram group rather than a bot. This, however, in no way diminishes its usefulness.
Once logged in, all you have to do is start communicating with other users and follow the advice of the experts.
Bot to listen to music
The spread of services such as Spotify, Deezer or Apple Music, has created an outline of third-party applications that allow you to access the world of music in a more or less legal way. Among these alternatives, there is certainly a really useful automated Telegram chat.
VKM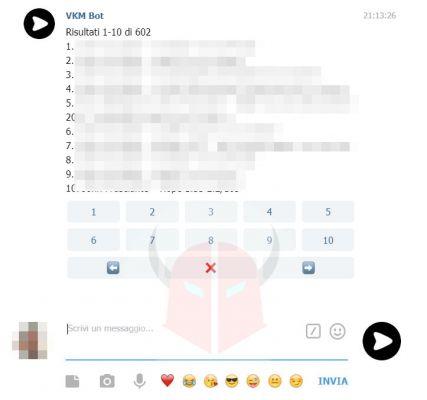 The Telegram bot named VKM allows users like you to listen to streaming music and possibly of download on your smartphone. But remember that this second option, if used for songs protected by copyright, it goes against the law. Under no circumstances will I take responsibility for your actions.
Then look for the bot named @vkm_bot, tap its name and then press the button as usual starts to install it on your app. The first thing you can do, will be search for your favorite music filtering the results by title o author. Once you have chosen the option you prefer, specify the title or the author of the song and wait for the compilation of the results.
Now, to play music with Telegram, press the button corresponding to the results that are proposed to you and wait for the song to be loaded.
Bot to watch movies
We are almost at the end of this guide to the best bots for Telegram. Before concluding, however, I want to show you an in-app service for watch movies in streaming on Telegram.
FIS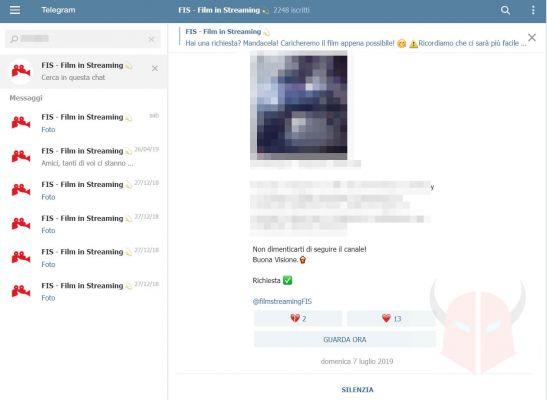 This Telegram channel, called FIS (acronym for Film in Streaming), is a truly brilliant creation. It allows users to watch your favorite titles directly from Telegram.
First, search Instagram for the named channel FIS and start it using the key Join.
Every day, within this broadcast, various films and TV series are proposed by the authors. For search for your favorite movies among those published, all you have to do is press on magnifying glass at the top and type in the search key. After that, tap on Look now to open the link to the stream.
I want to clarify that streaming content may not be legitimate. Proceed therefore with criteria and of your own will. It is not my intention to encourage you to use this service. In this situation, it was used for testing purposes.
Bot to save
Lo shopping online is your obsession? Then I'm sure you won't mind the idea of ​​saving something by relying on a Telegram bot.
PriceTrackBot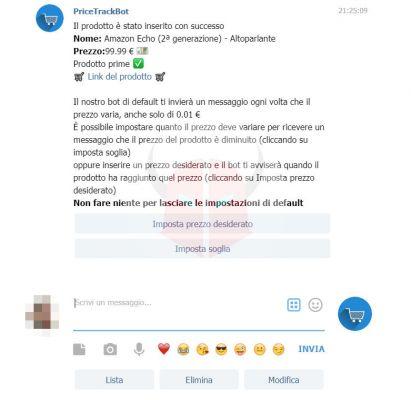 A bit like we saw in the section dedicated to Amazon, PriceTrackBot allows you to monitor the price of the items you want to buy by notifying you when they are offered in offering.
Find the username @ PriceTrack2Bot on Telegram and press the button starts. Then, paste the product link in the related text field and send it.
Whenever there will be price changes for the product you have selected, the Telegram bot will notify you with a notifies, so you can save on the purchase. To modify your lists or to delete the products entered, just use the buttons below.
As you can see from the image, with this bot you can also select the desired price or the maximum spending threshold. The bot will take care of it to decide for you when it is best to buy a certain product.
Gearbest offers
Gearbest offers it's a channels which works similar to a Telegram bot. As you already know, Gearbest is one of the most used international e-commerce companies today. Its product offerings include various categories: ranging from smartphones to computers, from house cleaning to smart homes, from fitness to sports, and so on.
The prices are already advantageous in themselves. Chinese e-commerce, in fact, always pays attention to published offers. In addition to this standard, however, Gearbest offers various offers of the day, which allows you to use in the purchase phase through i .
The channel Gearbest offers is used for this, namely to provide via Telegram i best coupons of the day. You can add it to your account by searching for the username @Gearbestchat_bot.
You will then start receiving notifications regarding Gearbest's offers. To purchase a product, in case of interest, simply touch the link made available. Alternatively, you can also copy the coupon code and use it later. However, always pay attention to its expiration, so as not to miss the discount.
Sports betting bot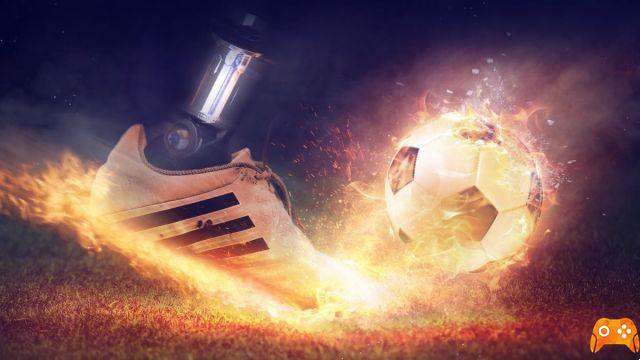 Do you like to bet on football matches? Before playing the bet slip, then, I suggest you use one of the Telegram channels dedicated to forecasts. Yes you got it right, I said channels, not bots. Unfortunately, as of this writing, there are no betting bots.
By exploiting the broadcast channelsHowever, you could take advantage of the advice of some expert in the sector. There are many on Telegram that have a notable following. To find channels of this type, open Telegram and search by writing the word "predictions". Check the results and join the channel that best suits your needs.
Obviously, it is certainly not my intention encourage gambling. Only proceed if you are aware of your choices and don't abuse them.
Sticker pack bot
If you are looking for sticker, I suggest you use a Telegram bot that searches for the new sticker packs for you. You will then be able to add them to your account with a single touch and have them immediately available in chat.
StickerBot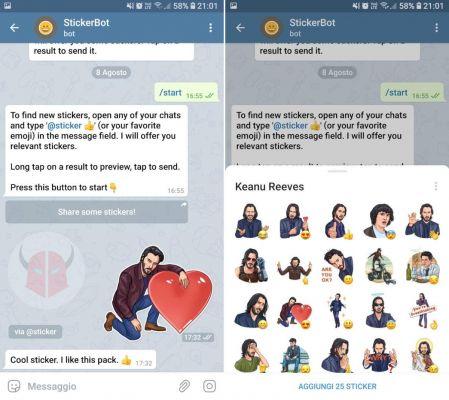 StickerBot is one of the most used bots in the category. It allows you to search for a sticker by typing an emoticon in the chat.
First, use the Search of Telegram to find the username @sticker (without the "s"). Then tap the name that appears in the search results and choose the option starts to start the bot.
At this point, use the emoticon keyboard to send theemoji related to the expression of the sticker you are looking for. By doing so, you will be offered the static or animated stickers that refer to that emoticon. All you have to do is touch it to send it in the chat with the bot. Then, to add it to your account, simply tap it a second time and choose the option "Add stickers". To learn more, read this study.
Bot to download stickers
There are Telegram bots that allow you to do the sticker download. Performing this operation is useful in cases where you want to use the Telegram stickers on other messaging apps, for example on WhatsApp. Or even, it can be profitable for you to use a sticker pack image as your profile photo.
Sticker Downloader

Sticker Downloader is a bot that allows you to download Telegram sticker packs in various formats. To date, they are the following:
The format PNG it can be useful for maintaining the transparency of the image. The JPG provides an excellent quality / size ratio. While the Web is the next generation format, widely used on the web. You can use the latter option to transfer Telegram stickers to other messaging apps.
To use Sticker Downloader, you need to find and launch the Telegram bot corresponding to the username @Stickerdownloadbot. After doing that, you need to find the sticker pack link to download. You will then be able to download the sticker set in the formats I have just described. You can find detailed instructions in the dedicated guide I have already written.
Bot to create stickers

Among the various Telegram bots that concern stickers, there is also the official one, which allows you to create sticker packs via chat. I anticipate that graphic skills are required for the development of images.
The username of the bot in question is @stickers (be careful to insert the "s" at the end). You can add it and start it as you normally do.
Once you are in the chat, you can run the command / newpack to start creating a classic sticker set. Instead, if you want to generate a pack of animated stickers, run the command / newanimated. For more details on image requirements and commands to use, read this other blog tutorial.