Is Telegram distracting you too much? Have your groups and channels become boring and your friends prefer to use WhatsApp? It is likely then that you have decided to take a break. These and other similar reasons, in fact, could be enough to make you say enough to instant messaging. But since important media and messages are stored there, you may need some clarification before exit Telegram. By searching the web, you have come to this tutorial. And if you have a few minutes, I'll be happy to help you.
In the following guide, I'll explain what the abandonment of Telegram and - possibly - the relative deactivation of the account entails. I'll show you in detail how to log out or completely delete your profile. Yes, because the word "exit" is not always synonymous with definitive elimination. They must in fact pass at least 6 months for this to happen automatically. Also remember that, although you will be able to delete all your data from the cloud network, the chat history will be cleared only for you.
Index
What happens if I leave Telegram

How the cloud works
Automatic deletion of chats
Chat
Secret Chat
Groups
Channels
Bot

How to leave a group or Telegram channel
Come disconnettere Telegram

How to exit Telegram on PC
How to log out of Telegram on iOS
How to log out of Telegram on Android

How to get out of Telegram permanently
What happens if I leave Telegram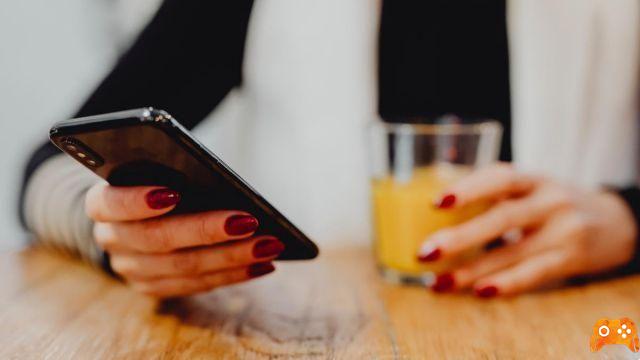 When you exit Telegram, you disconnect o uninstall the application, nothing is happening. The chats, archives and all messages and multimedia files will remain "stalled". This, up to a maximum of one semester.
After 180 days without ever having accessed the service (not even from Telegram Web or Telegram Desktop), the chat history it will be deleted automatically. Exception is made for groups and channels you belong to. The contacts whose number or username you know will also be saved.
This is because Telegram's messaging system is cloud-based with real-time synchronization. I know this sentence can be complicated, and that it probably doesn't tell you anything, but don't worry. Soon, you will understand.
How the cloud works
When an account is created on Telegram, which can only refer to one number, Telegram assigns that account one space on one of its servers. In it, all chats and all related multimedia files will be kept, therefore images, audio, video, documents and files of all kinds.
This space will always remain synchronized on all devices connected to that particular profile. This means that when you are online on Telegram and you make a change or any other action within the chat, it passes from the device used to the server and, immediately after, from the server to all the other clients. As you may have guessed, at least for the moment, the Telegram messaging system is clearly different (and better) than the one used by WhatsApp.
Something similar also happens when you receive a message. In that case, however, the message first arrives at the server and then is synchronized with the smartphone. All the steps from the smartphone to the server, and those from the server to the device of the person with whom you are talking, and vice versa, are shown in chat with a visual coding system, that is the checkmarks of Telegram.
In 'I send a message, as you have already noticed, one or two ticks appear which, at times, also change color. The first check appears when the message reaches the server associated with your account; the second check is displayed when the message has reached the other person's server; instead, the ticks turn blue or green (depending on the theme used) when the message is opened by the recipient. To learn more, read this other tutorial.
Automatic deletion of chats
All this to make you understand that the stored data, at first, will not be automatically deleted. In fact, as I have already told you, these will remain stored on the server for a maximum period of 6 months of inactivity of the account. So, if today you stopped using Telegram and uninstalled the app from your smartphone, in 5 months you would still find all the chats, as you left them and, above all, you would also find the new messages received in this period of time.
After the six months of inactivity of the account, or 6 months in which no activity on your part is recorded, Telegram will automatically delete your account. Therefore, it will remove you from groups and channels (without clearing the chat history). In addition, all bots will be stopped and single conversations stopped. And of the latter, the chat history will also be removed.
Chat
As I told you, when you leave Telegram, nothing happens to your chats, because the messages are saved on the server. And it only takes one device connected to the server to leave the synchronization active.
Unlike Whatsapp which, if uninstalled, needs a backup to recover old conversations, on Telegram you won't have to do much to review them. Just log in with your phone number, enter the code that will be sent to you via Telegram and, automatically, all your chats will be restored on your smartphone, as if nothing had happened. Obviously, you will have to do this within the 6 months time frame.
Once the six-month period has elapsed, however, you will no longer be able to recover old chats, as your account would be automatically deleted from the system. You could still go back to using Telegram with the same phone number.
Secret Chat
Unlike ordinary chat, the secret Telegram conversation is not stored on the server and therefore it is not synchronized with the other devices linked to your account. It is precisely chat device-specific, or temporarily stored on the device used. In fact, after a certain period of time, these messages self-destruct. It is possible to set a shorter or longer time for self-destruction, but it cannot be avoided.
This means that, if you log out of Telegram, when you reconnect with the same or another device, you will not have any information regarding secret chats. Although you previously left a secret chat with a user active, it will be impossible for you to retrieve even one of the messages you sent yourself.
I also remind you that secret chats are protected from capturing screenshots. This means that once a sent message is deleted, it will be permanently destroyed and unrecoverable. More information, you can find them in this in-depth study that I have already written.
Groups
Similar to single chats in classic mode, too Telegram groups are synchronized in real time with the cloud. However, it must be said that multiple conversations are connected with all group members.
This means that if you exit Telegram and return after a few weeks, you will find all the chat history, also updated with new messages. In short, a clear difference compared to WhatsApp groups, where it is not possible to read the messages sent in the period in which the account is not connected on the mobile phone.
What has just been said will obviously happen up to 180 days of inactivity. After this period, when you log in again, you will see the chat without messages. On the other hand, you will need to rejoin the group in order to continue receiving messages from members.
Channels
Regarding leaving Telegram, the messaging system "treats" groups, regular chats and bots the same way. Almost automatically, one would think that the same rules also apply to the channels. Instead, it is not like that.
The Telegram channels enjoy a different management, as they refer to the channel owner. This means that:
By disconnecting as a receiver, nothing will happen;
Although the conversation history is removed after 6 months of inactivity, the chat history of the channels will not suffer the same "treatment".
But if you are the sender of the broadcast, the situation changes. In this case, spent 6 months, the broadcast chat will be "orphaned" and the recipients will end up with a abandoned canal between chats. You will have no way to get it back.
Bot
If you leave Telegram, immediately, even ai muzzle nothing is happening. However, once the maximum period of six months, your account is deleted.
Once the cancellation has been made, if you log in again, you will no longer find any bot started. By default, they will all have been stopped and deleted from the messaging system. Therefore, it will be a bit like creating a new account.
How to leave a group or Telegram channel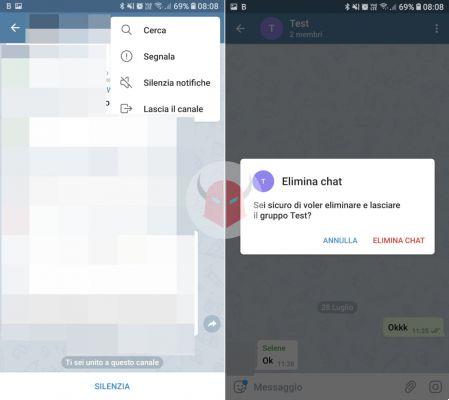 leave a group or a Telegram channel, you will have to go to the conversazione (from PC, smartphone and tablet) and select the name (which appears above). After that, if it is a group, choose i three dots you see in the upper right corner and then the option Delete and leave the group. Instead, if it is a channels, scegli l'opzione Leave the canal Red.
As you can see, for the group, Telegram will also delete previous messages. While for the channel, it will not be so. This is because, as I told you a few paragraphs above, the chat history of the channels refers to who created it.
Come disconnettere Telegram
If deleting your account seems like too drastic an option, you may want to go for the account logout. By stopping using it, you could avoid seeing messages sent to you by users, bots and groups (it being understood that you would continue to receive them).
You would thus have a concrete opportunity to retrieve the profile, chat history and related media files. This, as long as you "peep"Every now and then, or at least once in 179 days.
Do you agree with what I just said? Well, then read on to understand how to proceed. If not, go straight to the point where I explain how to get out of Telegram permanently.
How to exit Telegram on PC

Su PC, there are two different ways of using Telegram: through the application, called Telegram Desktop, or via the website, which is known by the name Telegram Web.
In both cases, to exit the profile, simply connect to the service as you usually do. Once you see the management panel, select the menu in the upper right corner. Then, choose the voice Settings and click on Logout.
As far as the 'app Desktop, you might as well uninstall it. This way, your account would be automatically logged out. And if you still had access to Telegram from another device, you would not take any risks about deleting the chat history, even after 6 months.
How to log out of Telegram on iOS
If you want to log out of Telegram using iOS, because you have an iPhone, an iPad or an iPod Touch, it's very easy to do. Proceed by following the menu Settings application. Then, tap i three dots that appear at the top right and choose the option Logout.
Alternatively, you could simply uninstall the Telegram app to trigger an automatic logout. You can do this by holding your finger on theTelegram app and touching the X next to the icon when the flickering. Then confirm your choice by tapping the red button Delete. Don't worry, everything will be saved in the cloud (but don't forget the 180 days).
How to log out of Telegram on Android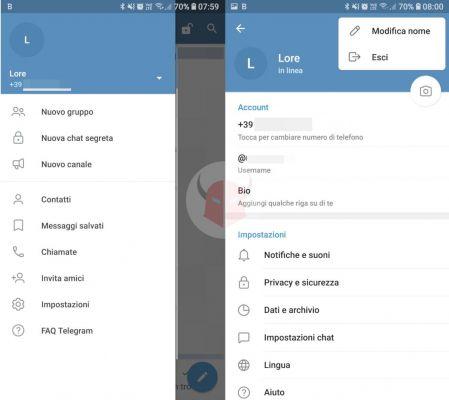 If you want to log out of Telegram on your device Android, be it a smartphone, a tablet, a smart TV or a TV box, you can do it without too much effort. To proceed, start theTelegram app and go to the Settings. Then, select i three dots e scegli l'opzione Logout.
As another choice, you could uninstall the application from the phone. Or even, you might delete the data related to it via the Android system settings. No, "data" does not mean messages, voice notes, multimedia files or settings. Rather, the stored login credentials and cache files. Rest assured, therefore, because everything will remain saved on the cloud (at least for a semester).
How to get out of Telegram permanently

If, on the other hand, you have decided that Telegram is not the application for you and you want delete your account permanently, could:
Uninstall the application from all devices and wait 6 months;
Cancel your Telegram account immediately.
In the first case, I have already told you how to do it in the paragraphs above. Instead, in the second case, you could proceed by connecting to the Telegram deactivation page. Then follow the instructions shown on the screen to complete the procedure.
Once the account is deleted, all conversations will be deleted automatically and instantly. You won't have to wait 6 months to create a new Telegram profile with the same phone number.
However, please note that this is a 'irreversible operation, which therefore cannot be undone. If you would like more information on this, I suggest you read my in-depth guide that I have already published.