La secret Telegram chat is one of the most intriguing features of the Russian app. Created by Pavel Durov, today Telegram is one of the pioneering applications of instant messaging. Right from the start, it was considered the best alternative to WhatsApp, especially from the point of view of privacy. In fact, his "Achilles heel" is certainly not safety. You've heard a lot of good things about its anonymous and anti-hacking system. So much so that you wondered how secret chat on Telegram works, in order to investigate the matter. Full of curiosity, after various web searches, you came across my blog.
I'll be happy to help you if you give me the chance. In the following insights, I'll explain in detail what Telegram secret conversations are, but above all in what they differ from classic chats. And no, it is not just a "speech" of self-destruction of messages. There is much more to this hacker-proof messaging system, and now I'll tell you about it. First, however, I wanted to remind you of always pay attention to what the other party does (the recipient): know that he could clone messages in several ways, even without taking a screenshot (option not available in secret chats).
Index
What are secret Telegram conversations
Is Telegram Secret Chat Safe?
Telegram secret chat messaging functionality
How to make a secret Telegram chat
How to make a secret group on Telegram
How to make a secret Telegram chat invisible
What are secret Telegram conversations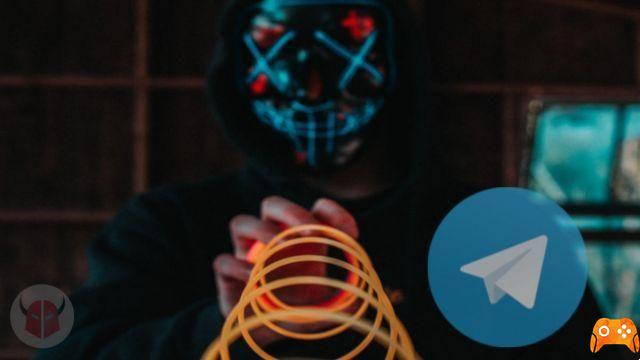 A chat segreta Telegram is a private and encrypted conversation between just two users, both registered to the Russian app.
When this feature is used, the messaging system creates a client-client communication channel, which does not store messages in the cloud. The archiving, in fact, will be temporary and will be performed locally, or on the devices used by the interlocutors.
In confirmation of what has just been said, there is the fact that, by accessing the account from the computer or in any case from another device, the secret chats will not be displayed. Therefore, it will be practically impossible to spy on them, if not exploiting vulnerabilities through MITM attacks and similar methods.
The phone number is always hidden, even in normal chats. Only those who have saved your number in the phonebook will be able to see it on Telegram. Everyone else will see yours username.
It must be said, however, that the secret Telegram chat it can be discovered by those who have access to the account via the app. Although this person cannot read its content, in case they access your profile using theWhatsapp for iOS or Android, it may see that there is a secret communication going on. But I repeat: it will never know what is written in it.
Is Telegram Secret Chat Safe?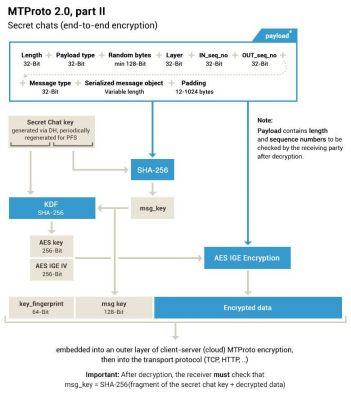 The exchange of data and media files of Telegram secret chats is obviously end-to-end encrypted. It is based on the protocol MTProto 2.0 and on the cryptographic function SHA-256.
La cryptography used is of two types: AES 256-bit e RSA 2048. The decryption key exchange mechanism used is of type Diffie-Hellman. The keys of secret conversations, unlike cloud chats, are fragmented and stored on the interlocutors' devices.
It follows that secret conversations guarantee full anonymity of communication. Only the two parties involved will be able to see what goes through that chat. Not even Telegram will be able to trace the messages.
As I told you, unlike cloud chats, these are never saved on the application servers. You can find interesting technical insights on this Telegram advanced FAQ page (in English).
Telegram secret chat messaging functionality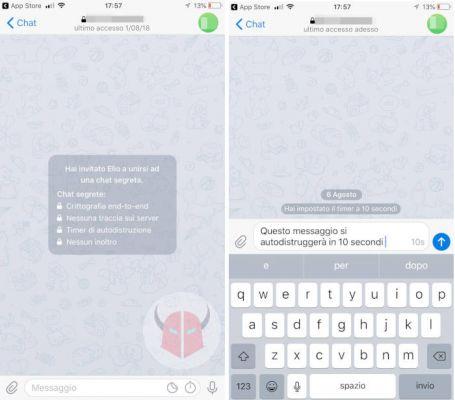 Telegram's secret chat provides additional features compared to cloud-type conversations. Thanks to them, it is possible to communicate more securely with the other party.
Here is the detail of the protection functions integrated into secret chats:
Message self-destruct timer
Screenshot capture blocked
Message forwarding prohibited
Message preview in notifications disabled
Expiring messages are inactive by default, but can be configured by both users within the chat. All other security features, on the other hand, are enabled at boot time and cannot be changed.
Finally, it must be said that it is possible to create more than a secret chat with the same Telegram contact. This could be useful, for example, to exchange messages on different topics, some of which are top secret, and which therefore must necessarily have a disappearance function.
How to make a secret Telegram chat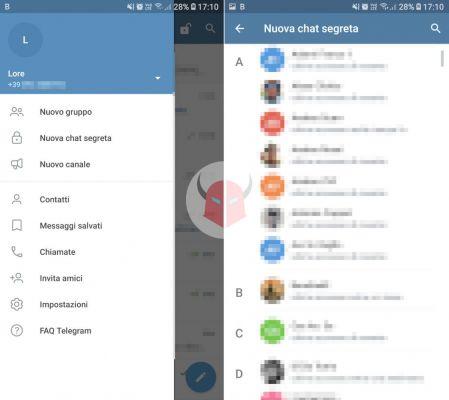 To start a secret chat on Telegram, you need to have a Android or iOS device. For security reasons, it is not possible to secretly chat from Telegram Desktop or Telegram Web. This is the rule.
Once the application is started, you can start a secret chat in two ways: by tapping on hamburger menu and choosing Nuova Segreta Chat; by pressing on drawing pencil symbol and choosing Nuova Segreta Chat. Then select the contact you want to chat with anonymously.
One will start secret conversation. Just wait for the other participant to connect to start communicating incognito.
In the meantime, you could configure the Self-destruct timer. You find it by touching i three dots (top right) and you can configure it according to the following times:
1 to 15 seconds
30 seconds
1 minute
1 hours
1 days
1 weeks
No
By default, it is set to No. You can scroll to select the time that is closest to your needs and press Done when you're ready.
But pay attention to this option, because by changing the time, the chat history will be cleared to adapt to it. Also, keep in mind that the other party can change the timer everytime. You can find out by looking at the information in the chat, such as " has set the self-destruct timer a ".
If you want to remain even more anonymous to the other party and also to other contacts who know your number or your user ID, you could hide the last login. Go to the Settings of the app, choose Privacy and security and touch Last login and online. So choose the option Nobody. Optionally, you could also add usernames in the exceptions.
How to make a secret group on Telegram
To date, Telegram's secret chat encryption system only supports two users. Therefore, it is not possible to create a Telegram group with secret messaging capabilities.
At most, you could add trusted people to a Telegram private group. This is a multiple chat where users can only log in if invited by the administrator. This, therefore, will not appear in searches.
To create such a group, tap the hamburger menu and choose the item New group. Then, add the participants, write theobject and confirm. Once inside the chat, press on group name (top), and touch the symbol of pencil. Then, choose the option Group type and check, in fact, that it is Private. Since you're at it, configure the i too Permissions for members.
By doing so, you will have created a multiple, encrypted and private conversation, but not secret. In this case, in fact, there will be differences net compared to secret chats. I can summarize them like this:
Active encryption, but communication will not be one-to-one
Archiving of messages on the cloud
Lack of security features
Possibility of checking messages from PC and other devices connected to the account
In short, private groups will have a level of lower security and they can be spied on in various ways. Read this guide for more information.
How to make a secret Telegram chat invisible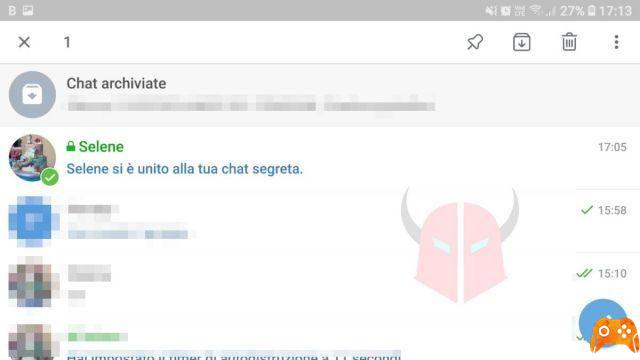 Do you want to hide a secret chat on Telegram? You can act in three ways:
Archiving the chat
Putting a password
Changing the contact's name
If you used thearchiving of chats, whoever picks up your phone may still be spying on you. It would be enough for him to touch his voice Archived chats, which appears at the top of active conversations. It is also true, however, that by impact, the chat would be invisible.
instead, by setting a code to Telegram, only you could access the chats, by fingerprint or PIN. In this case, you may be a privacy fanatic in the eyes of others, but also a guy who is up to something.
As another solution, you could change the name of the contact you are chatting with. It would be enough for you to do it from the phone book, if of course you knew his number. If not, you should ask the other party to replace their nickname with a bogus one.
Finally, I remind you that using the secret Telegram chat, those who have access to your account from other devices cannot see it. Therefore, the conversation is hidden by default. You may only get into trouble if someone uses the device you started the chat from.