If you have decided to close with Telegram and deactivate or delete your account, you should know that logging out of the web app and uninstalling the various Telegram apps from your mobile devices is not enough.
In that case, you would simply stop using Telegram, but your account would remain online and the contacts you interacted with could possibly re-read your old conversations. The only way to delete Telegram account permanently, is to follow the official deactivation procedure. This is not a very simple procedure, but that I will try to explain, step by step, in this guide. You should thus be able to disable your Telegram profile without too much effort. So let's see how to do it.
How to delete Telegram account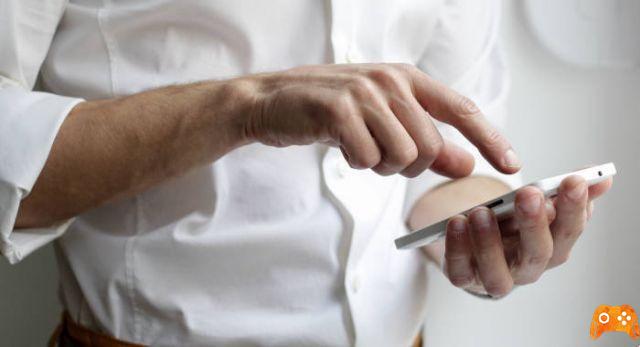 If you have decided to delete your Telegram profile, you must first know that you can do it at any time. However, it is a very risky procedure: you have to be sure of what you are doing, otherwise you will end up deleting all messages, voice notes, files, photos, GIFs, videos and any other content from your phone and from the cloud permanently. There will be no chance of recovery.
Therefore, before explaining to you what are the steps to delete Telegram account, I have decided to offer you some insights about the consequences of this procedure. I recommend that you pick up your iPhone or Android smartphone and proceed with the reading step by step.
Index
What happens if you decide to unsubscribe from Telegram
How to delete Telegram messages and chats without deleting the account
How to exit Telegram

Exit the Telegram app
Exit Telegram Web

How to unsubscribe from Telegram permanently

Deactivate Telegram account manually
Deactivate Telegram account automatically

How to unsubscribe from Telegram bots
What happens if you decide to unsubscribe from Telegram
If you have decided to delete Telegram account, what happens is that your account, and the cloud space associated with it, will be deactivated and, consequently, other users they will no longer be able to contact you on Telegram, neither through username, nor through your phone number. They will also come deleted all messages, chats and multimedia files sent or received.
By deleting a Telegram account, it will come automatically removed from every Telegram group and channel to which he is a member, including the groups and channels of which he is a director. In case you are the owner of a channel or a Telegram group that has no administrators other than you, those channels will be deleted along with your account. No, it will not happen like on WhatsApp, that is, no other admins will be appointed automatically.
If you have decided to close your Telegram account and you are the owner of a group or channel and you do not want the group or channel to disappear, I recommend that you add an admin who can continue to use and administer that group even when your account will be deleted.
Keep in mind that if you don't deactivate your account in the right way, other users will be able to continue writing to you and reading your messages until you return or delete your profile correctly.
How to delete Telegram messages and chats without deleting the account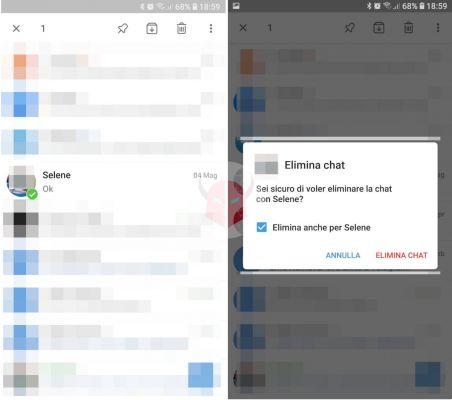 If you are going to cancel your Telegram account because you want remove a conversation or some messages permanently, you must know that you can carry out these operations without having to resort to such a drastic and irreversible solution.
Telegram in fact provides users with a series of tools, which allow you to destroy and delete individual messages and entire conversations. In addition, it has a function of secret chats, which allows the self-destruction of messages after a period of time set by the user. The countdown starts only after the recipient opens the message.
delete a chat on Telegram, you just have to open the conversazione and click on three dots that you find at the top right, next to the person's username and information about their last login. At that point, just hit the option Delete chat.
By doing this, Telegram will ask you whether to remove the chat Only for you o also from the recipient's phone. Unlike other messaging apps, without making names, WhatsApp, there is no time limit within which you can delete a chat or message from the recipient's phone. No, not even if he had entered the chat and viewed or edited the messages.
If you don't want to worry about having to manually delete a message or chat, you can always use the secret chat. To start an encrypted chat, you will need to click on the user menu, marked with three horizontal lines in the upper left of the screen, and click Nuova Segreta Chat. At this point, Telegram will show you it will give you the possibility to select a user from your contact list or to search for one through the username and / or phone number.
As soon as you have started the conversation in incognito mode, you will be able to configure the time for a message to self-destruct and start chatting without worries.
You must also know that secret chat blocks screenshots. This means that whatever you send or receive cannot be saved in any way, neither by capturing a screen nor by recording the screen with the mobile phone. Learn more by reading how to do anonymous chats on Telegram.
How to exit Telegram
Deleting a Telegram account is an irreversible action. Therefore, once the procedure is completed, it will no longer be possible to recover the chats. In the future, you can decide to return active on Telegram with the same phone number, but with a new account.
Then, you can go back to using your phone number on Telegram, but you will not get back the history of old conversations started before deactivation. Your contacts will be notified of your Telegram subscription as a new contact, with the creation of a new chat window, separate from the previous one.
As if that weren't enough, Telegram, unlike other social networks and messaging apps, it does not give you the option to interrupt the deletion process. So, if you decide to cancel your Telegram account, make sure it is exactly what you want, because once you have requested the deactivation, you will not be able to go back.
For this reason, unless you are absolutely sure you want to delete your Telegram account, I do not recommend proceeding with the deletion and instead proceed with theactivation of privacy settings, which allow you not to be contacted by people who do not have your phone number or not to show your profile picture to strangers.
If you simply want take a break from Telegram, what you can do is disconnetterti and uninstall the application.
Exit the Telegram app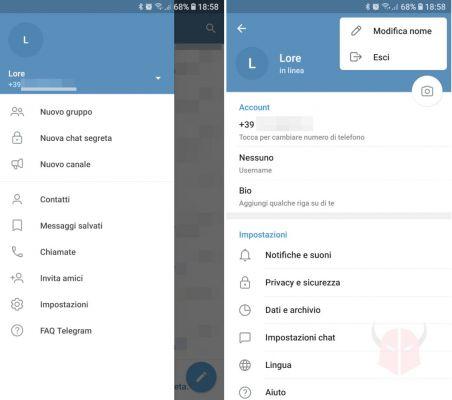 exit the Telegram application, you will have to go to the user menu, located at the top left and marked by three horizontal lines. Next, you need to press on three vertical dots, in the upper right corner. By touching the three dots, Telegram will offer you to change the displayed name (which has nothing to do with the username) or to exit.
To log out of an iPhone, iPad, Android smartphone, Android tablet or desktop app on Windows 10, simply select the option Logout.
Exit Telegram Web

It was used Web telegram on a daily basis, you may have forgotten how disconnetterti from this free web application. In fact, doing it is really simple. First, connect to Telegram web via browser using your computer.
As soon as you log in, which will be automatic, you will see the active conversations. To log out, all you have to do is click on the three horizontal lines (top left), choose Settings and finally Logout.
If for some reason you do not find the above option, I remind you that you could also delete the cookie of the telegram.org site from the browser (either Chrome, Firefox or another).
How to unsubscribe from Telegram permanently
Given the great portability of Telegram, the developers have provided the possibility for users to delete Telegram accounts from any device they want, with a two-step authentication system that will be necessary to verify the actual cancellation request.
Unlike other messaging programs and social networks, there is only one method on Telegram for deactivate a profile manually. This method can be started in the same way both from the web and from the various applications and requires a series of steps that are not particularly simple and intuitive. Instead, it's simpler deactivate the Telegram account automatically.
But don't worry, because in this guide I'll tell you exactly what to do. First of all, you need to know that there is no "deactivate your account" button in the settings, which allows you to deactivate an account in a few steps. We must follow another path. Read on to learn more about the matter.
Deactivate Telegram account manually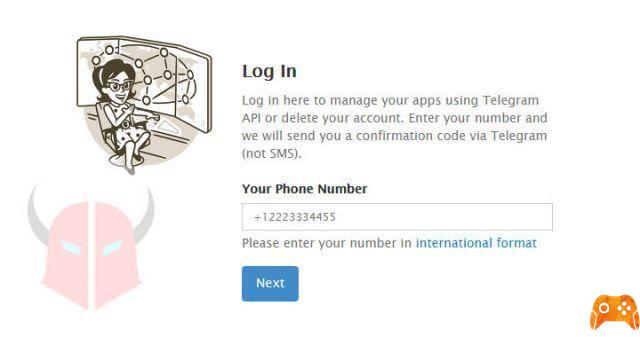 deactivate a Telegram account, in fact, you will have to go to a specific deactivation page, which can only be reached through the Telegram FAQ, via direct link or web search. I therefore advise you to use a PC, because from smartphones and tablets, finding this page could prove to be particularly difficult. In any case, to help you, I leave you the link to the deactivation page of a Telegram account.
Alternatively, if you are using Telegram web, you can click on the menu on the left, at the top of the screen, marked by three horizontal lines. This will open a vertical tab, with five options: New Group, Contacts, Settings, Frequently Asked Questions and Info. You will have to click on the item FAQ, marked with a circle icon with a question mark inside.
If, on the other hand, you are using one of the desktop or mobile apps, you will have to open the menu at the top left marked by three horizontal lines, and choose the item directly Telegram FAQ, which should be the last.
Once in the FAQ or Frequently Asked Questions tab, you will need to scroll down the webpage to the section Your account, where you will find the item Delete your Telegram account. You will have to click on this item and, subsequently, click on the account deactivation page, the same one of which I left you the link above.
Once you get to the account deactivation page, you will need to enter yours telephone number and follow the instructions that will appear on the screen. Then, as confirmation, Telegram will send a message containing a code unique on Telegram chat (be careful, I said on Telegram, not by SMS). What you will have to do to deactivate your account is to copy that code, enter it on the deactivation page and give the ok. At this point, Telegram will delete your account permanently.
Deactivate Telegram account automatically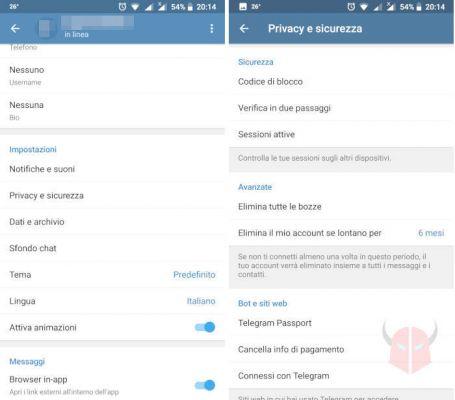 For reasons of space and to optimize server management costs, for some years now, Telegram has introduced a procedure for automatic deletion of inactive accounts, which is activated, by default, after approx six months of inactivity. By inactivity, we do not mean not sending or receiving messages, but the lack of access to Telegram.
So if you only use Telegram to follow channels, but have never sent a message, don't worry, you don't run any risk. Telegram only remove accounts that are not being used.
You can change this setting using theTelegram app for Windows, Android or iOS. You can find it by following the path Menu> Settings> Privacy and security> Advanced. Is called Delete my account if away for and, as a time frame, you are allowed to set 1 month, 3 months, 6 months o 1 year. After this time limit, if you have not logged in even once and quit the application, your profile will be deleted forever, including messages and contacts.
How to unsubscribe from Telegram bots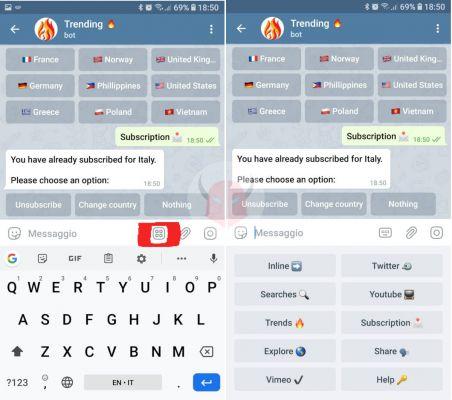 If instead of you are wondering how to delete Telegram account because you no longer know what to do for stop a bot's messages, stop now, because the solution is much simpler than you think. Yes, I know well that by deleting the chat with the bot you will not unsubscribe from the messages and that you will see them again after a short time. But there is a solution to that too.
You can stop and delete the chat with a Telegram bot in a really simple way. All you have to do is log into theTelegram app and Web telegram and position yourself on the list of active conversations.
Among those you see, find the chat with him bot Telegram. So, get inside. Now, focus your attention on the text entry field, right where it says "write a message". You have to select the button Bot options, represented by a square icon with four other smaller squares inside. Then manage the Telegram bot using the removal options. There should be an option like Remove or Subscription, which allows you to turn off the bot's messages.
If there was, you could configure it as you wish and you'd be done. Instead, if alas you would have other problems, the only solution would be that of block the bot. You can do this by entering the chat, clicking on bot name, selecting i three dots at the top right (if you are using the Telegram app) and choosing the option Stop bot. By doing so, the Telegram bot will no longer be allowed to send you automatic messages, even if there were active subscriptions.