You have noticed that many of your friends and co-workers have started using Telegram, the instant messaging platform that is increasingly becoming a valid alternative to WhatsApp, and which also has a few more features, to be honest. You then downloaded the application and opened your account, but you still haven't figured out how to find the profiles to chat with, whether they are individual users or bots. Maybe once you have signed up you have not given consent to synchronize the contacts in your address book, and now you have no one to start a conversation with, but do not panic: everything is recoverable.
Thankfully, you've come to the right place. In the tutorial that follows, in fact, I will explain everything about the Telegram search: how to do it, what the criteria are, as well as what profiles and chats can be found.
Index
How Telegram search works
Who and what you can search for on Telegram
Main requirements for carrying out a search on Telegram
Search for users and new chats on Telegram

Address book contacts
Person not in the address book

Knowing the number
Without knowing the number

Group
Channel
Bot
New people

Search on Telegram from PC
Search for Telegram profiles from the web
Search for active and archived chats on Telegram
Search within a Telegram chat
What can be done after finding someone on Telegram
How Telegram search works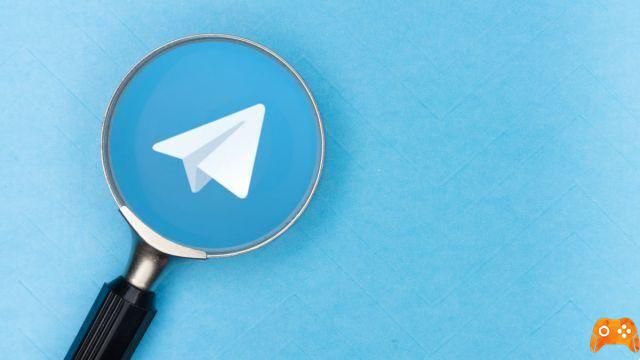 The user search system on Telegram is based on names, numbers and words - even containing special characters - and, given the vastness of possible combinations, it is managed by an algorithm.
The calculations made to show the search results assume various criteria. Among the most important are:
Presence of the search key among the contacts in the address book, in messages or in the names of chats that have already started;
Number of subscribers to a group or channel (the higher it is, the more likely it will be shown in searches);
Verified Telegram user symbol (a verified account will be shown more frequently in searches).
Based on them, the search will be divided into:
Global search - in which new groups, profiles or channels will be proposed, commonly called "suggested", Who do not have restricted privacy;
Messages - section where messages sent or received in archived or active chats, single or multiple, normal or secret, which correspond to the searched keyword will be shown.
Then there is the section of Recent research. This appears after having carried out at least one search on Telegram, and shows precisely the query history.
Who and what you can search for on Telegram
You can find different types of accounts and chats on Telegram. In the case, you can search for them:
Individual users;
Groups;
Channels;
Bot;
Messages received or sent (also in any chat, group or channel);
Archived or active chats (single or group, even if secret and / or related to blocked users).
While it is possible to search for someone or something on Telegram based on:
Name;
Username (possibly putting the @ symbol at the beginning);
Telephone number;
Keyword.
However, you cannot search for people whose username, name or telephone number you do not know; not even those that have stopped you. You can still try to spot strangers using an alternative option (detailed below).
Main requirements for carrying out a search on Telegram
Here's what you should type into Telegram's search bar to find what you need:
Phone Number - essential to find and possibly add a person on Telegram;
Username - useful if you are looking for someone whose phone number you don't know, a bot or a chat;
passwords - single or multiple, uppercase or lowercase, with or without special characters, can help you find a single message within a chat history, as well as a public conversation you can't remember the name of.
Search for users and new chats on Telegram
Now I will explain to you in more detail how to search on Telegram, proceeding on a case-by-case basis. In this part of the guide I will only take into account the steps for the Telegram app installed on iOS (iPhone or iPad) or on Android (smartphone or tablet).
Address book contacts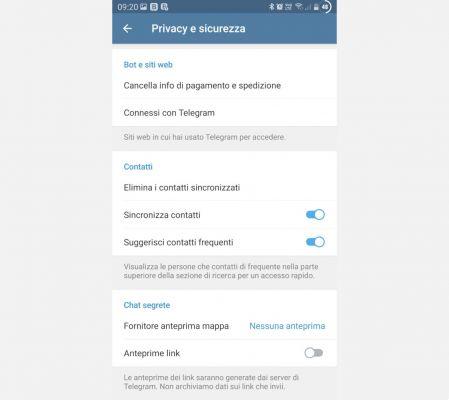 To find a friend whose phone number it is already saved in your smartphone, first of all you have to make sure you have done the synchronization. Usually, Telegram asks to synchronize the address book at the time of registration. If you haven't, you can click on the menu (top left) and follow the path Settings> Privacy and security. Here, in the section "Contact us", Check the dot next to the item"Synchronize contacts".
Once this is done, to find the contact to chat with, you can press on magnifying glass and type his name, or select it from the Telegram contact list, which you can also open using the "New chat". You can view the accounts according to their last access, or in alphabetical order, by pressing the "watch-list" icon (top right).
If instead the number of the person you are looking for it is not stored in the address book phone, but you know it, I suggest you register it and then carry out the procedure I have just proposed to you.
Person not in the address book
On Telegram, you can also search for people who are not registered in the address book. To do this, you have several options, which I will now explain to you.
Knowing the number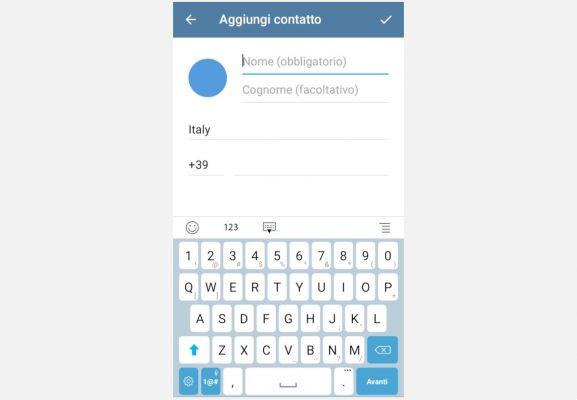 There are two ways to add a person whose number you know to to Telegram:
The first, as I said earlier, is add it to the phonebook of the smartphone and, through the synchronization of contacts, it will also appear in the "profiles" list of the messaging app;
Alternatively, you can access Telegram, follow the path Menu button> Contacts and then press the + key. Enter the person's number, first and last name, then press Save.
Without knowing the number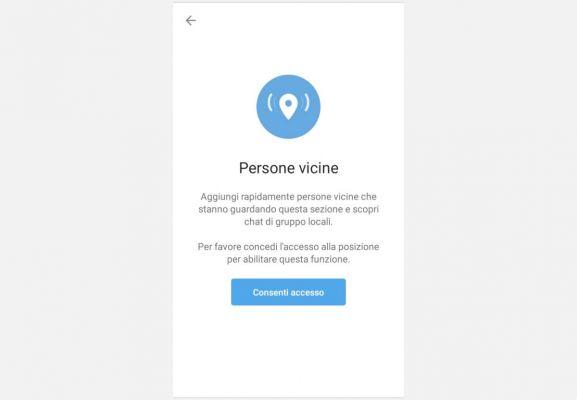 If you don't know the phone number, you need to know what theusername Telegram used by the user you want to add, preceded by the at sign @. This is in fact another useful information to search for someone on the platform, since it is possible to use Telegram without a number.
If you don't even know the username (therefore the unique ID of that profile), you could try to write the name and / or the last name of the person you are trying to find, but you may not be able to find them.
You can give it another try with the "Find people close to you". It is located in the path Menu> Contacts> Find People Near You. Once you have allowed access to the GPS location, you will be able to discover new users within range 12 km, as well as groups that refer to the place where you are (so-called local groups).
Group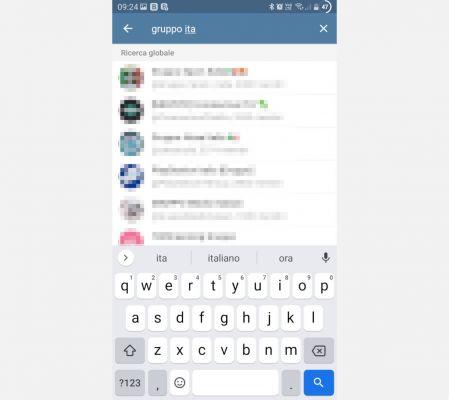 You can search for a Telegram group by typing its name in the search bar or by making a web search, so as to find a direct link; you can also have a friend send you the link to the multiple conversation.
In general, however, always pay attention to joining Telegram groups. In fact, some could be dangerous - and sometimes illegal - due to the sharing of certain materials. I'm just giving you suggestions on how to search on the platform, it will then be up to you to choose what to look for and which group to join. If you are looking for more information, you could consult the tutorial in which I explain how to join a Telegram group.
Channel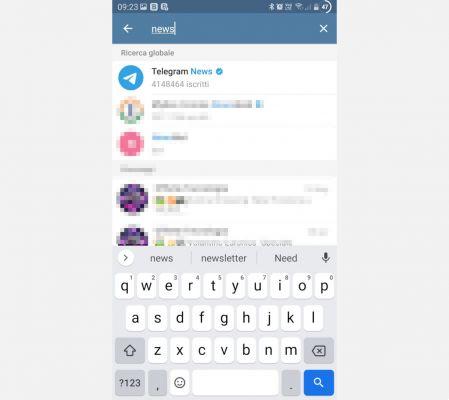 Telegram channels are broadcast chats in which only the creator can write, while other users (so-called subscribers) receive messages, media or even files and links. They can be private, and therefore can only be accessed via links, or public; the latter are also accessible via search.
To search for a public channel on Telegram, you need to know his name. Just type it in the search bar to see it appear among the results: you will recognize it since, next to it, themegaphone icon. Read how to enter a Telegram channel to learn more.
Bot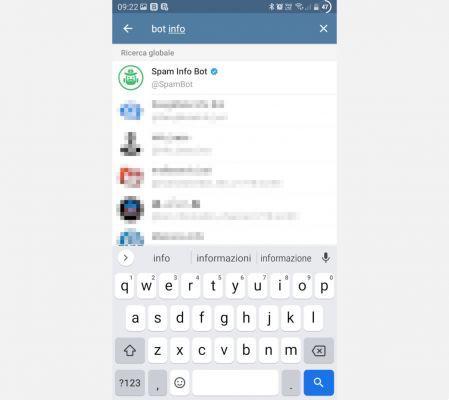 To find a bot on Telegram, that is an automated user - therefore a software - that can interact with you through commands via chat, you have to type his username, preceded by the at @, in the search bar, or its own name. You should then find it among the results. If you need some ideas, however, you could consult the guide to the best bots for Telegram.
New people
To search and add new people nearby, or to discover the groups in your area and join them, I have already told you about the option "Find people close to you". But there are also gods muzzle which have been specially developed for chatting people who do not know each other, such as "Chat Incognito Bot" or "Stranger Bot"; in this case, these bots allow you to chat with random users, hiding their identity; there is also "Mega Chat", which allows you to choose the language and gender of the other interlocutor.
Search on Telegram from PC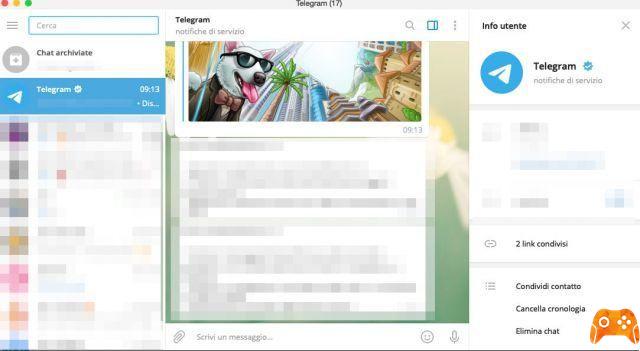 If you have installed Telegram on PC, you can search using Telegram Web o Telegram Desktop.
Once you have connected to the service, you can carry out the same operations that I explained to you for the mobile app, obviously replicating them with the computer keyboard and mouse. For example, search for the name of a user by typing it in the text entry field, located on the main page of the service (top left).
Search for Telegram profiles from the web
Are you looking for a group, channel or bot related to a particular topic, but you don't know what their username is? You could consult the telegram.com website or even other social networks (such as Instagram and Facebook, for example) to locate it.
Otherwise you could proceed by trial and error, making one keyword research directly on Telegram. You could come to concrete results, but always check its reliability before joining it.
Search for active and archived chats on Telegram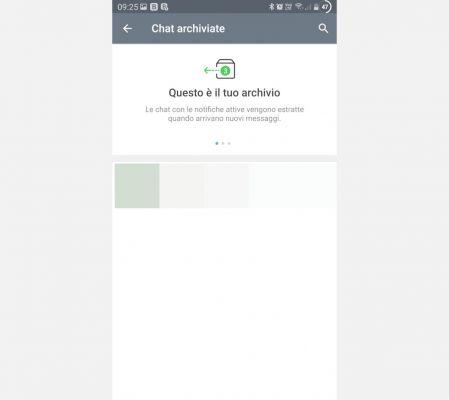 It may also be useful to know how to search for a particular chat on Telegram, and its history. First, consider that all active conversations appear in the home screen, so just scroll down until you find the one you're interested in.
If you have a lot of active chats, however, you can also search for the name of the user, group or channel via the search bar, and immediately the chat will appear among the results. If, on the other hand, you are looking for one archived chat, you should press on the appropriate folder icon, located at the top of the list on the home screen.
Search within a Telegram chat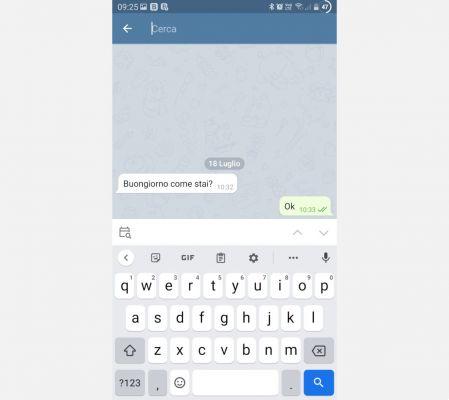 Once you've found the chat, you may want to search it a single message. Then click on three dots (top right) and tap on "Search". Then type one or more words that you believe are contained in the sentence to be identified. These will appear highlighted in blue within the conversation.
If you want to search for a message or part of the chat history, but you don't remember which conversation he's referring to, you must use the Search general. Write the text you remember and wait for the application to propose results; therefore check the section "Messages"To see if you can find what you were looking for.
At the time of writing, however, It is not possible directly search for documents, images, GIFs or stickers on Telegram. However, you could filter the chat to view the media or files shared within each conversation.
What can be done after finding someone on Telegram
Now that you've finally found the profile you were looking for on Telegram, you could:
Contact him if it is a user;
Sign up or join it if it is a channels or of an group;
Start the chat and analyze its commands if it is a muzzle.