On Telegram, the gallery was implemented with the free archive of Giphy. Now, in fact, it is possible search and share Animated GIFs on Telegram using iPhone or Android.
As with the sending of GIFs on WhatsApp, even on Telegram there is no need to use third-party apps to perform this action. You can do everything from the application, quickly and intuitively. By continuing to read, you will be able to get details on how to do it.
How to share animated GIFs on Telegram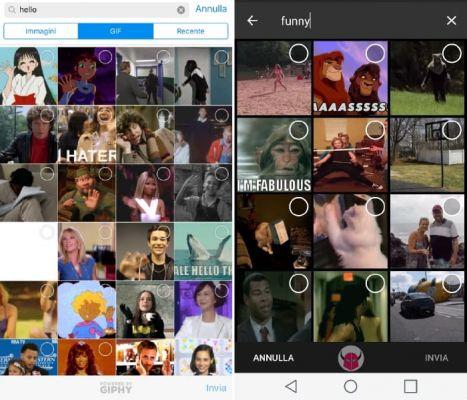 The archive of Giphy it has been seamlessly integrated into the system, loads the results quickly and allows you to share animated GIFs on Telegram, just like when choosing photos stored on your phone.
Furthermore, this mechanism avoids saving GIFs in the gallery, because the multimedia files are transferred using only the memory of the application server and not that of the cell phone. Having illustrated how it works, we can understand how to proceed.
Requirements and Clarifications
recommended update Telegram to the latest version available
use the Wi-Fi whenever possible to save internet connection
Sharing GIFs on Telegram
To open Telegram and enter a conversation
Select the icon clip to bring up the sharing commands
If you own a iPhone press on Search for images, while if you have a phone Android choose Gallery
Su iOS move to the tab GIF, its Android instead you have to choose Close GIF
Enter the keyword and press the blue button Search
Tra i risultati "Powered by Giphy", choose one or more GIFs to share
Select the GIFs, just click on the command Send at the bottom right to share animated GIFs on Telegram
End!
Notes
it is recommended to write in English for greater accuracy of the results
you can also send GIFs of different categories at the same time
Conclusions
THEGiphy archive it is huge and contains lots of moving images divided by categories. Therefore, to share animated GIFs on Telegram with iPhone and Android there will be no need to use third-party applications or other websites. I conclude by specifying that GIFs can also be sent on public channels, private channels and secret chats.