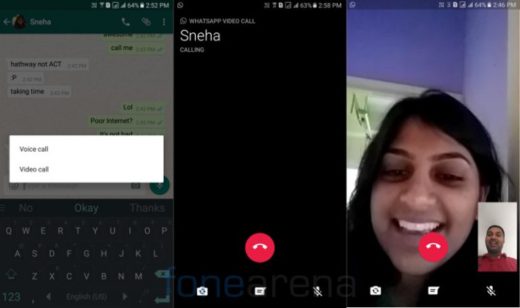 How to video call with Whatsapp - Download now, after months of leaks, the option to video call with WhatsApp for Android has finally been released. Until now it is limited to beta version 2.16.318. A couple of days ago, a beta version was also spotted for Windows smartphones.
WhatsApp beta for Android has finally started releasing video calling support. The first app had an option for video calling as early as May of this year.
Now when you try to make a call using WhatsApp, you will see two options one for making an audio call and the other for video calling.
The person you are calling must have the same version of Whatsapp as yours in order to initiate the video call.
How to video call with Whatsapp - Download now
If that person doesn't have the same version, WhatsApp will send a message saying, "The call failed. The person you are calling needs to update their WhatsApp application to receive video calls ".
We tried video calling on WhatsApp and the experience was pretty good.
The UI for the video call is simple, you see the end call key in the center, while inversely the camera application, messages and other options are present below it.
After the call was made, WhatsApp asked us for feedback on the quality of the video call, similar to the way it asks for it after an audio call.
WhatsApp video calling has the ability to compete with Google which recently launched the App Duo application.
Download the beta version of Whatsapp to make video calls
Further Reading:
How to make WhatsApp calls using the Google Assistant
How to make WhatsApp phone calls
How to video call with Android phone
How to hide photos and videos on Whatsapp
3 ways to disable Whatsapp calls