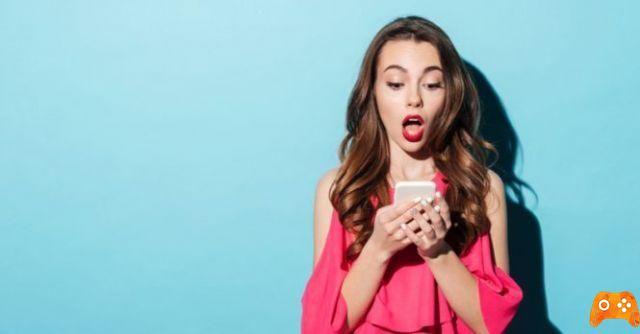 WhatsApp is undoubtedly a practical and fast way to communicate. If we use WhatsApp especially for work, real-time customer response must be a priority. However, texting on WhatsApp while at work or picking up the phone to reply to each message is not always possible. Also, it could be a hindrance to your work day, such as at school.
To give you an example you are doing a very important job interview, suddenly an important message arrives in which the sender expects a response. How to do? How to solve this problem? Then configure one automatic reply on Whatsapp.
How you have to do if you want automatically reply on WhatsApp? This solution will solve all your problems. It's not true? Follow this tutorial and you will be able to automatically reply on WhatsApp on all Android devices and even without root.
Automatically reply to messages on WhatsApp step by step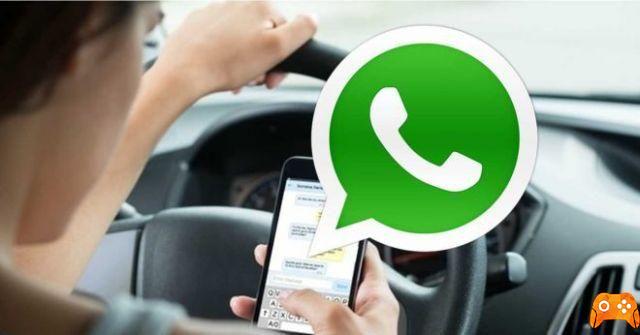 On Google Play, you can find several tools to get more out of WhatsApp. Among these, we can find some aimed at sending automatic replies, as in the case of WhatsAuto, a free app that will be the one we will use to write the steps of this tutorial.
When opening the application for the first time, it will be necessary grant the necessary permissions to enable the WhatsAuto - Reply App operation. Next, it's time to set up automatic replies. For this, the app offers several options.
What happens when you block a person on Whatsapp
In "Home" tab of the application, a switch appears at the top from which turn automatic replies on or off. Furthermore, if we click on the mobile phone icon, it will be possible to choose which apps you want to automatically reply to messages: WhatsApp, Instagram, Telegram, Viber and other messaging alternatives. In this case, WhatsApp is the application that interests us.
Immediately below, the "Auto Reply Text" section appears, here it is possible edit the message that will be sent automatically when the corresponding option remains active.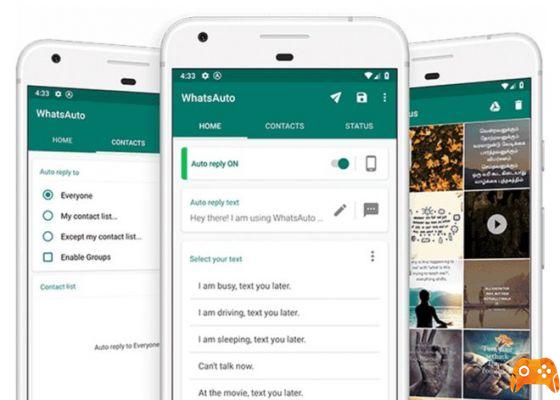 Is WhatsApp safe? 5 security threats users need to know
Furthermore, one of the most interesting functions of the application is hidden within this section: "Custom answer". In it, it is possible enter the text that will be sent automatically when a specific message is received. In addition, two different options are offered that allow you to further refine how WhatsAuto works:
Exact match: the automatic message will be sent when the received message is exactly the same as the one configured.
Content: the automatic message will be sent when the received message contains the text that has been configured as an incoming message.
Apart from that, the application also has some predefined answers that can be useful at certain times, for example while we are busy, when driving or in other situations where we cannot respond.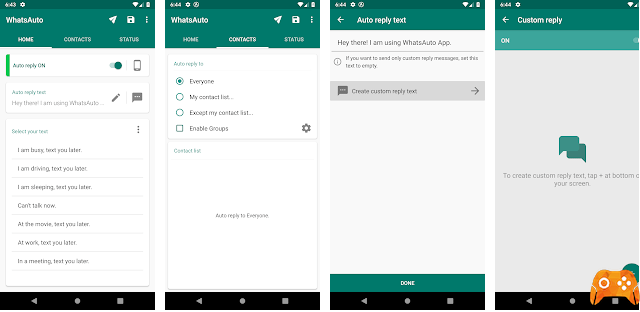 Finally, the application offers the possibility of choose whether to automatically reply to all contacts who send us messages, to all but the contacts in our agenda, or simply to specific contacts.
How to add background music Whatsapp Status
Once you have seen all the functions of the application, it is time to review the process for automatically reply to WhatsApp messages. These are the steps to follow after installing WhatsAuto on our phone:
Open WhatsAuto and grant the necessary permissions.
On the "Home" tab, enable the "Auto Answer" option.
In the "Text auto reply" section, enter the message you want to be sent automatically or configure custom replies based on the message received.
Go to the "Contacts" tab and select who the automatic replies should be sent to.
That's all. From now on, every time you receive a message on WhatsApp from the contacts you have selected with the application above, an automatic reply will be sent.
Through this quick and easy process, it is possible to add to WhatsApp one of the features that the messaging application still lacks.
3 ways to send a WhatsApp message to someone without adding them as a contact
Further Reading:
How to schedule automatic replies on Instagram
How to send full resolution photos with WhatsApp for iOS
What happens when you uninstall WhatsApp?
How to know if Whatsapp is spying on me
How to know who saved your number using WhatsApp