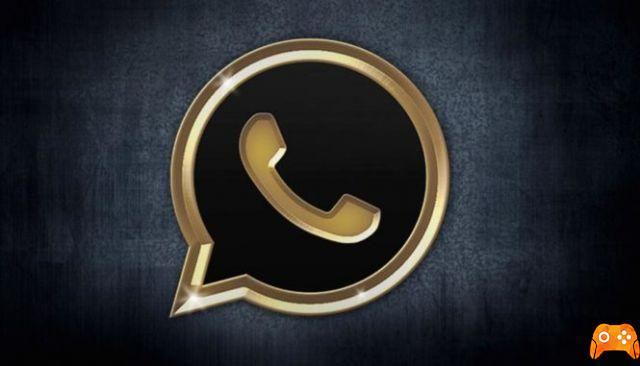 WhatsApp is an application used by millions of people all over the world, due to its popularity, often some bad intentions use the app to create ad hoc scams. Not all WhatsApp users are familiar with all the functions of the mobile phone or the dangers. This is why the scams on WhatsApp they are very common. A new scam has been running for a few days: WhatsApp Gold.
A WhatsApp bug deletes the chat history
A few days ago, a message circulated on WhatsApp that spoke of a premium version of the app, called Whatsapp Gold. Ua "Gold" version of the messaging application, one of the most common scams on WhatsApp that in recent years has misled thousands of users, precisely since 2016.
WhatsApp is a messaging application that you can find for free on Google Play or the App Store and to find out if it is original just look at its downloads, reviews or the origin of the application. You shouldn't trust, in general, any WhatsApp-like application that promises miracles - there is no one and nothing that can spy on your contacts, that is capable of offering you exclusive benefits or something similar.
The mechanisms of this fraud are always the same. It all begins with a message that is forwarded by a contact, who does not know that it is a malicious communication.
The text states that there is one premium version of WhatsApp aimed specifically at celebrities and influencers with exclusive features not found in the standard version. According to the message, this exclusive version has been hacked and can be activated by anyone who accesses a link that is linked to the text.
WhatsApp is preparing a feature to protect chats with a fingerprint
Nothing is further from the truth: as you can imagine, the message is completely fake and there is no version of WhatsApp for celebrities. If you click the link for download WhatsApp Gold, hackers will try to steal your personal data or install malware on your mobile device.
If you have clicked on the link, remove any downloaded applications as soon as possible and, if you have filled out a form with your phone number, contact your carrier to make sure you have not subscribed to premium SMS services.
Cosa possiamo fare? Just don't forward the message. For the moment, the only thing we can do is to warn the people who send us this message that it is a hoax and not to let this information circulate and above all not to click on the link.
To avoid being a victim of this type of fraud and viruses di WhatsApp, beware of these types of messages that offer exclusive benefits and always look for official information to make sure you are not deceived.
The WhatsApp scam that promises to tell you who has seen your profile photo
Further Reading:
How to cancel your Tinder Gold membership on any device
It's official! You can now download Mario Kart Tour for Android and iOS
The new WhatsApp scam steals your personal data and conversations with one click
Whatsapp notifications arrive late [Solved]
Did you receive this email from the Revenue Agency? Don't open it, it's a scam