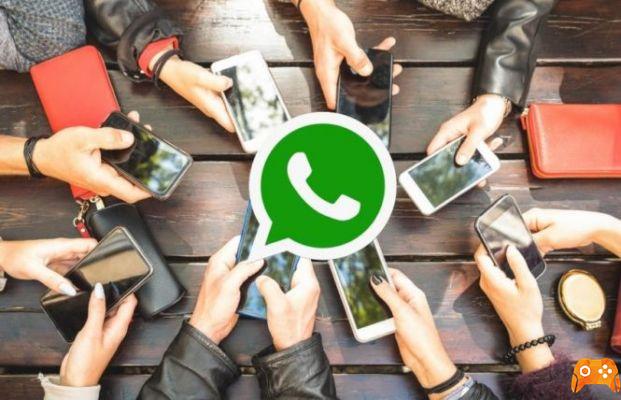 If you have a mobile, you have certainly installed WhatsApp. Everyone knows how to use it, but new features are being added all the time, releasing new tricks to get the most out of WhatsApp. These are the last ones 10 WhatsApp tricks you may not know.
Whatsapp, solutions to problems >>
WhatsApp it is probably the most used smartphone app in the world. Only YouTube, Facebook and a few others shadow it. We use it all day, at all times. Is there anything we don't know about WhatsApp? Well, the truth is yes. Check with these 10 WhatsApp tricks you probably don't know.
The key lies in the very concept of the application, which no longer exists at the level of WhatsApp. WhatsApp is no longer an app. It is a service. And what's the difference? It is updated constantly and smoothly, without the user noticing. Of course we receive notifications of these updates, but they are integrated into the application without us having to do anything.
It was used WhatsApp from when it was released, in 2009, you will no longer recognize those early versions, which only allowed you to swap text. Everything has changed in the last few years!
Constant updates add new features. And in turn lead to new WhatsApp tricks that you may not know. Let's take a look at some of them.
Here's how to use WhatsApp on a Mac >>
How to send a private reply in a Whatsapp group
This feature is so new that at the time of this writing it was only available in the beta version of WhatsApp. But since the beta can be converted to a new version of WhatsApp at any time, it has been included, because it will be added soon.
Now it is possible respond privately within a group. Until now, if you wanted to send a private message to a member of a group, you had to leave it and open the individual chat with that person. But the latest version of WhatsApp allows you to open a private conversation between two members of a group, without leaving it.
Log into a group chat, select the message you want to reply to, click the three dots icon in the top right corner, and then select the Reply privately option.
Find out who visits your WhatsApp profile photo >>
Use multiple mobile numbers on the same PC with Whatsapp
Do you use WhatsApp Web? It is very useful if you spend many hours on the computer and don't want to constantly check your phone. With WhatsApp Web, notifications and messages arrive directly on your computer monitor or laptop screen.
To use WhatsApp Web, simply open the page in a browser and read the QR code displayed with the mobile phone camera.
In theory you can only use a mobile number, because if you open other windows in the browser, when you use WhatsApp Web it shows you the mobile phone you have already activated.
Is it possible to use multiple mobile numbers on the same PC and WhatsApp Web? Yes, with a trick. If you want another "secondary" number, simply open a blank page in incognito mode in the browser. There you can start another WhatsApp Web session with another phone number.
Blocked on Whatsapp? Let's see what we can do >>
Bold, italic or strikethrough messages on WhatsApp
You are certainly used to sending text in your messages. Did you know you can too highlight words in bold, italics or strikethrough on WhatsApp? To do this you need to use some special codes.
If you want to highlight a word or phrase in bold type, write * at the beginning and at the end. For example: * Hello *
If you want to send a word or phrase in italics, write the sign _ at the beginning and end: _Hello_
To delete the word or phrase, use the symbol ~ For example: ~ hello ~
How to send a message to yourself on Whatsapp
Perhaps this WhatsApp trick you probably don't know, it surprises you. Why would you want to send a message on WhatsApp to yourself? If you think about it, it can be very useful for quickly filing important information.
It's a bit of a laborious process, so follow these steps to the letter.
Go to the address book or contact list and create an entry with your phone number;
Turn off the Internet connection;
Open WhatsApp, go to Contacts and drag your finger down to update the contacts;
Now open the Contacts app on your mobile and enter the card where you have saved the contact. The WhatsApp icon should appear. Touch to open a chat on WhatsApp with your name.
Now you can send messages, photos, videos or whatever else you want, as if it were another contact.
How to put the password on WhatsApp and protect your conversations >>
Filter your favorite stickers on Whatsapp
You have already activated the stickers on your WhatsApp? Eye, they are not the stickers that appear on the Google keyboard, but they are the stickers of WhatsApp, which have just been released. Gradually they are activated when you install the latest version of WhatsApp, but not everyone has them yet.
To find out if you have the stickers, enter a conversation and tap the emoji icon. When the emoji panel opens, look for the new sticker icon at the bottom. Read the article below to find out how.
Stickers on Whatsapp, how to download and use the new stickers >>
Send a chat by mail on Whatsapp
Sometimes you want to archive the history of a chat or save it to print it on paper and read it more calmly, or look for information and old messages.
WhatsApp offers the possibility to send a chat by post, including photos and videos. You can send them to yourself, you can print them or save a copy.
It is a very simple operation. Go to a chat, tap on the three dots menu in the top right corner and then on the More option. Here you will see a button called Export chat. It will give you the option to include (or not) multimedia content, i.e. audio and video. Then compress everything into a ZIP file and allow it to be sent by mail, Google Drive, Dropbox, etc.
It is also a good trick to read messages without the recipient knowing ...
Listen to WhatsApp audios slowly or quickly
WhatsApp audio messages are very useful and practical, but if they fall into the wrong hands (the gossiping sister, the heavy friend), they can be a nightmare.
Fortunately, there is a way to speed up WhatsApp audio in so you don't waste so much time listening to them.
All we need is the TalkFaster! App, available on Google Play.
We install this app, we will not notice any changes in WhatsApp. What we need to do is play an audio and select the Share option. There we will see that the TalkFaster icon appears! If pressed, a menu will appear that will allow us to speed up the audio or remove silences.
How to enable double authentication on WhatsApp? >>
Remember important dates and data on Whatsapp
While this isn't new, many users don't know it. Imagine you want to remember a date, a phone, an important photo that came in a message in a chat. You will get a lot of messages in that chat and soon you will end up losing them.
A quick way to archive them is to leave your finger on the message for a couple of seconds. A bar will appear at the top. Tap the star icon to mark it as a favorite.
When you want to retrieve that message with the important information, just go to the chat list, tap the chat name and enter Featured Messages.
Submit a fake location on Whatsapp
We do not intend to encourage lies and deceptions, but there are times when we have no choice but to lie about where we are, to avoid greater evils or for other problems ...
WhatsApp it does not show the default location if it has not been activated on the mobile or in the app configuration, but it is possible that someone will send us a message asking us for the location. What can we do? Well, just send him one false location on WhatsApp.
For this we will need an app like Fake GPS on Android or Fake GPS Location! on iOS.
If you are using Android, after installing Fake GPS and before using it, you need to grant certain permissions. To do this you need to enable the development options on your mobile phone and activate Fake GPS in the option called Application to simulate the location.
It remains only to launch the Fake GPS app and select the fake location you want to use. Well the Play button… and ready! The next time you use WhatsApp, when you use the location sharing option, the recipient will get the fake location.
How to identify unknown numbers on WhatsApp >>
How to create a small group on Whatsapp
You know small groups of WhatsApp? They are a special type of group where only the creator of the group (the admin) can write messages. It is very useful to create information groups where you want to share information with several people, but without anyone being able to write anything.
For example, a group of job briefings, schedules with your fellow students, proposed ideas, etc. You can create a restricted group from scratch or convert a normal group to restricted, as it is part of a normal group.
From the menu with three points of WhatsApp, create a new group and add at least one person (otherwise you can't create it). Then tap on the group name and enter Group settings. Under Edit group information, select the Administrators only option.
Finally, look for the Send messages option and select Administrators only
You already have a limited group of WhatsApp in which only the creator of that group can send messages to?
We have seen the 10 WhatsApp tricks you may not know. They are simple to apply and very practical.
How to use WhatsApp with two phone numbers >>
Further Reading:
WhatsApp status, all the tricks you don't know
How to know who saved your number using WhatsApp
Then you can use your TV to watch WhatsApp video calls
Whatsapp is not working or connecting on iPhone
How to activate dark mode on Google Chrome