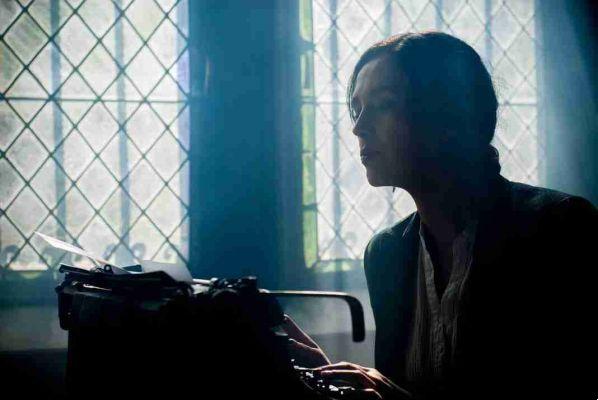 App for writing books on Android and iOS. Your passion is writing books and novels then these apps will be useful on your smartphone or tablet.
Thanks to these apps you can write your books or novels from the comfort of your Android smartphone or tablet or from iPhone and iPad and give vent to your literary creativity.
Now we are going to list the best apps for writing books and novels on your iOS or Android device.
App for writing books: the best on Android and iOS
JotterPad - Writing, screenplays and novels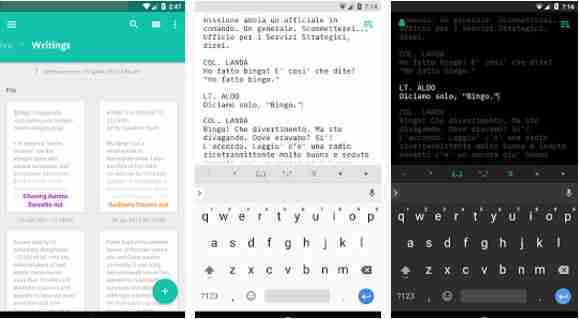 Designed for creative writers, JotterPad is a text editor without the confusion and distractions of a word processor. It is perfect for writing books, novels, lyrics, poems, essays, drafts and screenplays. The clean typing interface allows you to focus on how to shape your thoughts in text form. Dive into your work without having any distractions and write content dictated straight from the heart.
Download now for Android
Free books - Wattpad
Join millions of people who use Wattpad - the ever-growing never-ending universal library of FREE stories and books.
RANKED IN THE TOP 5 BOOK APPS FOR 3 YEARS!
• Choose from over 10 million FREE stories and books - the best of science fiction, fantasy, mystery, novel, fanfiction, thriller, and more!
• Connect with your favorite writers, such as Margaret Atwood, Paulo Coelho and thousands of emerging writers from around the world
• Receive story and book updates directly from the authors
• Read offline and customize your reading settings to personalize your experience
• Write stories and post them for others to read.
Download now for Android and iOS
Novelist - Write your novels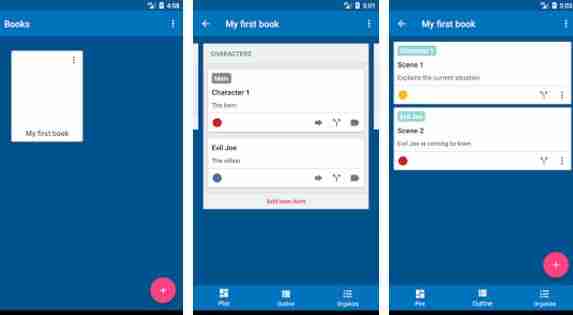 Novelist is the application that helps you write your first (or next) novel. And it's completely free for now: no upfront costs, no ads and no in-app purchases!
Track it's when you list all the elements of your story, like on a chalkboard. You have numerous categories: themes, events, characters, places and objects. Elements can be edited, moved, merged, split, rearranged and deleted. You can even set a status, write notes and texts, or add labels, metadata and images to each one.
Outlines it's when you put all the elements together to compose scenes. Each scene is a piece of your story and can be annotated or written directly in our app, although we don't recommend it for now. Novelist isn't ready for this yet, but we're working on it!
Organize it's when you structure your scenes into acts, parts, chapters and so on. Your imagination is the limit. And in the future, Novelist will be able to generate the book directly from within the application.
Download now for Android
Microsoft Word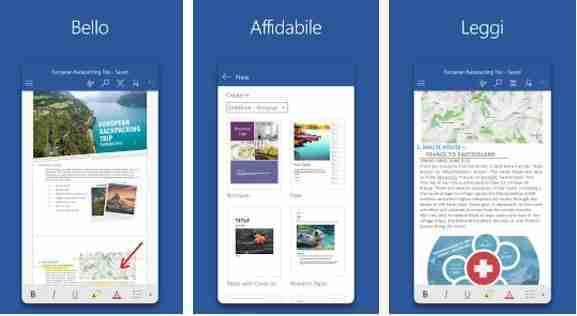 Microsoft Word for Android lets you work anywhere. It combines the familiar interface and quality of Office with an intuitive touch experience designed for Android phones and tablets. Whether you want to create beautiful documents or just read and make quick edits, Word gives you the best productivity experience possible. Your documents will look their best with Office and you can view them on different devices with the certainty of not losing data or formatting. They will also be easily accessible in the cloud just in case.
Download now for Android and iOS