App to write on photos on Android and iPhone smartphones. Here is a list of the best photo editing apps for Android and iOS.
Thanks to these apps you can make your photos even more unique by inserting text effects to share with your friends.
If you want to emphasize a moment of your photo or you want to insert funny texts these apps will be for you
Now let's see together the best apps to write on photos for your smartphone.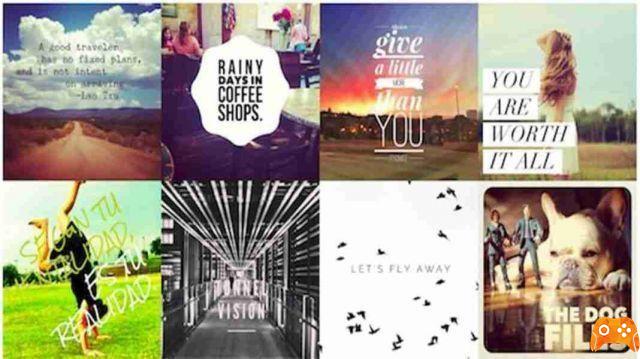 The best apps to write on iOS photos
Photo Candy, its use is really very simple, you can apply the text on the photos and you can also insert many symbols available.
LetterFX instead allows you to insert text but also to modify the photo with numbers, shapes and much more, you can use more than 60 paid and non-paid themes, moreover there is the possibility to insert various symbols and modify your image.
canva : this app provides both free and paid tools, not only allows you to write on photos but also to apply icons and text with the various styles available, create backgrounds and other things on which you can indulge yourself and give life to the best cover images for all your social networks.
A + Signature, really interesting and fun app. You can also add your signature and then place it on top of the images and make them unique.
Path is for you. You can insert text on your images by applying lines where you want the text to be inserted, you can take advantage of 300 different fonts to make your images unique and indeed original.
This. It will allow you to highlight the details of your images through the colors, text and pointers that are used to indicate the objects of your most beautiful photos.
TitleFx, featuring various tools such as color picker, size, character spacing, transparency tools and many others. It also allows you to save the photo with the highest resolution.
Typorama, offers a series of very interesting fonts and tools, you can automatically create writings on your images, and it is also very easy to use.
WordPhoto is really fun, you can completely cover your photo with the chosen text, just choose a sentence or even just a word and your image will be transformed.
The best apps to write on Android photos
Instanote is really one of the most famous especially because it is free and very simple to use, but this does not mean that it is not provided. You have various fonts to use and various tools that allow you to change color, size, and so on.
IstaQuote, mainly born for Instagram, but you can use the application for any time. In addition to that you will have tools and fonts, you can buy additional packages that will allow you to edit the photo to the fullest and much more.
InstaQuote per Android Thu,
for iPhone Thu.
About may be the right one for you. You can insert text on your photos and enlarge or reduce the space between the letters, but you can also insert various symbols, drawings, prints and so on. In short, after a long period of pause this application is back stronger than before.
Over per Android Thu
for iPhone Thu
Picsart it is one of the best known and most famous, it allows you to insert text in the formats you prefer, but not only that, you can also have fun with stickers, images, effects of all kinds; in short, it is a well-stocked free app that we highly recommend.
Picsart per Android Thu
for iPhone Thu.
Phonto, easy in its goal, that is to insert written on the photos, its use is very elementary and simple, to be recommended!
Phonto for Android Thu
for iPhone Thu
PicLab instead it has many fonts, designs already created by real experts, you can also find various editing tools, filters, frames and much more.
for Andorid Thu
for iPhone Thu