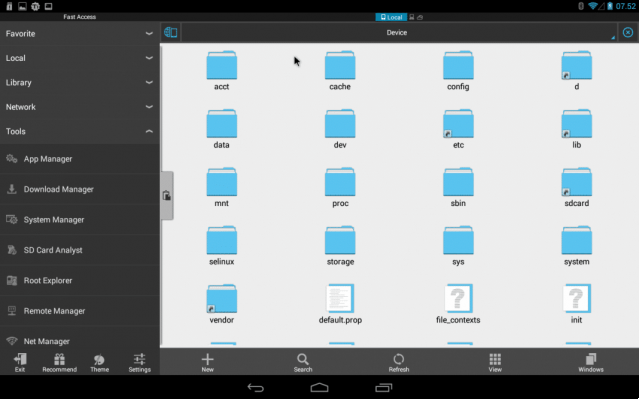 best android file manager for your device. These apps will help you not only to manage all the folders and files on your smartphone, but also to install apps outside the Play Store, free the memory of useless files and fix some annoying bugs with an apparently unknown cause.
Here is our list of the best file manager android available on PlayStore for free.
The best android file managers
ES File Manager
ES File Manager is a free and complete file and application manager. In addition to this, it is also an activity manager, cloud data saving client (Dropbox, Google Drive, SkyDrive, Box.net, Sugarsync, Yandex, Amazon S3), an FTP and Samba client that allows the exploration of images, music , videos, documents and other types of files present on your phone and on your computer. It allows Android users, wherever they are, to manage resources for free by allowing the management of all files on a device, access them from anywhere and possibly share them with others. It also allows for easy management and connection of 3G, EDGE or Wi-Fi networks, sharing them with friends, uploading photos and watching videos.
Download now click here
File Manager (File Explorer)
Manage files efficiently and easily with ASUS File Manager! ASUS File Manager allows you to manage all files stored in device memory, microSD card, LAN and cloud storage accounts.
By default, ASUS File Manager allows you to copy, move, rename, delete or share to / from memories. It also allows you to search and access files by category.
Download now click here
Bluetooth File Transfer
Use your smartphone to browse, explore and manage files from any Bluetooth device, using the File Transfer (FTP) and Object Push (OPP) profiles: you can even receive files and send contacts!
Download now click here
Solid Explorer
Are you looking for a good file explorer with an elegant, modern look and many features? You are in the right place!
Solid Explorer is the best file and cloud manager, with two independent panels, which brings a new experience in browsing files
This is the only fully Material Design file manager that you can find in the Play Store. It is better, faster and more robust than the competition. In addition to being able to manage files wherever they are, it also has many customization options, such as themes, icons and colors. You can freely change the interface to the one you like best. Dual Panel Navigation and File Drag & Drop greatly increase productivity.
Download now click here
Ghost commander
https://youtu.be/eOTP_RbZKLc
Two-pane file manager (Norton Commander, Midnight Commander or Total Commander style).
Unlike normal file managers, it copies and moves files between its two panels. This allows you to organize folders on the memory card more easily and always keep files in order.
In addition to the memory scehda file system, the file manager is able to upload and download files from remote locations such as FTP servers, Windows (Samba), network shares (plugin required), create or extract ZIP archives .
For advanced users this file manager also provides "root" (su-super user) mode to work with phone system files, change file permissions (chmod) and even execute your own shell commands.
In addition, the "mount:" mode is provided to browse and remount file system partitions.
Download now click here