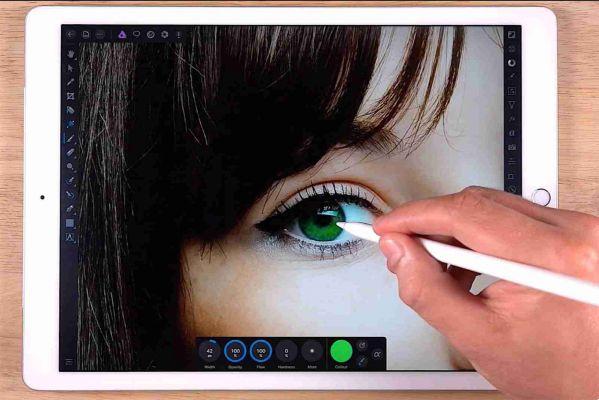 Best iOS photo editing apps for your iPhone and iPad. In iOS 11, Apple's built-in photo editing tools are pretty anemic. Considering the power of the iPhone camera, the device requires a more efficient image editor. Here are four of the best photo editing app for iOS .
Photo editing app
Affinity Photo per iPad
Affinity Photo is the first truly complete and professional photo editing tool for iPad. Designed with the same backend as the award-winning desktop version, it's fully optimized to take full advantage of the full power of iPad hardware and touch capabilities.
Unmatched productivity
• Full support for an unlimited number of layers, layer groups, adjustment layers, filter layers and masks.
• Resize layers without quality loss. Easily lock, hide, duplicate and merge layers.
• Nondestructively edit live filters, adjustments, effects, blend modes and masks.
• Undo history can be saved with the document, allowing you to undo changes at any time.
• Workspaces focused on activities for development, final processing, tone mapping and Liquify effects.
Professional image processing
• Open RAW images and other formats in a dedicated preprocessing space.
• Adjust exposure, black point, clarity, vividness, white balance, shadows, highlights and more.
• Recover the details you thought were lost by processing images in a boundless linear color space.
• Advanced Lens Corrections, including adjustments for chromatic aberration, edge suppression, vignetting, and unsurpassed quality noise reduction.
• View histograms, lost highlights, shadows and tones, as well as EXIF ​​information.
• Focus Merge, HDR Merge and Tone Mapping tools for advanced image processing.
• 360 ° image support including comprehensive editing capabilities of the projected image.
• Panoramic photo assembly, which includes comprehensive tools for perspective corrections and lighting adjustments.
• Full support for image channels.
• A huge collection of available effects, including Lighting, Gradient, Distortion, Tilt-Shift, Shading, Glow, Lighting and many more.
Quality retouching and correction tools
• The intuitive selection and refinement brush makes selection tasks easier than ever, even for the smallest details.
• Instantly remove unwanted objects with an incredibly advanced Inpainting brush.
• Dodge, Burn, Clone, Patch, Defect Removal and Red Eye tools.
• Retouch and smooth skin with built-in frequency separation functionality.
• Apply advanced quality biplane or single plane perspective correction and fully customizable lattice distortions in real time.
• Dedicated Liquify Person lets you freehand control the Texture, Spiral, Suck, Bulge and Turbulence tools.
Designed for professionals
• Open, edit and save Photoshop® PSD files.
• RGB, CMYK, HDR, Grayscale and LAB color spaces.
• Complete CMYK workflow with ICC color management and OCIO support
• Full 16 and 32-bit color space for channel editing.
• Work with all standard formats, including PNG, TIFF, JPG, GIF, SVG, EPS, EXR, HDR, PSD and PDF.
• Cross-platform support for iOS, macOS and Windows® with full file compatibility.
Optimized for iPad
• Accelerated using Apple Metal to achieve blazingly fast performance, even for large image editing.
• Sensitive to pressure, tilt and angle, Affinity Photo takes full advantage of the power and precision of Apple Pencil.
• Full integration with iCloud Drive allows you to easily manage files, storage and sharing.
Download now for iOS
Snapseed by Google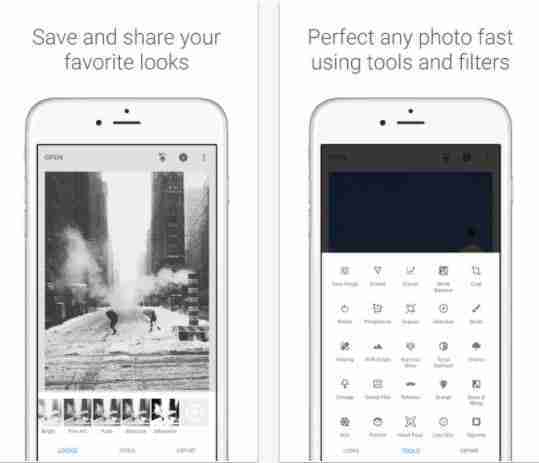 Snapseed is a complete and professional photo editor developed by Google.
== MAIN FUNCTIONS ==
• 29 tools and filters, including Healing, Brush, Outline, HDR, Perspective (full list below)
• Compatible with JPG and RAW files
• Save your own styles and apply them to your new photos later
• Selective filter brush
• Ability to adjust all styles with maximum precision
• Insights feature with tips and tricks on Snapseed and photography in general
== TOOLS, FILTERS AND FACES ==
• RAW development: open and adjust native camera files; save in non-destructive mode or export in JPG format
• Calibrate Image: Adjust exposure and colors, automatically or manually, with ultra-fine controls
• Details: as if by magic it brings out the surface structures in the images
• Crop: Crop to standard or freehand sizes
• Rotate: Rotate 90 degrees or straighten a crooked horizon
• Perspective: Correct crooked lines and refine the geometry of horizons or buildings
• White Balance: Adjust colors for a more natural look
• Brush - selectively retouch exposure, saturation, brightness, or warmth
• Selective editing: the famous control point technology. Place up to eight points in the image and set the corrections: as if by magic the algorithm will do the rest
• Fix: Remove the intruder from a group photo
• Vignetting: Add a soft shadow around the corners, as a large aperture would
• Text: add plain or styled text (38 predefined styles)
• Curves: precisely control the brightness levels of your photos
• Expand: Increase the size of your canvas and intelligently fill the new space with the contents of your image
• Lens Blur: Add an elegant Bokeh (background softening) effect to images, ideal for photo portraits
• Glamor: Applies a subtle glow to images, great for the fashion industry and portraits
• Tonal Contrast: Selectively refine details in shadows, midtones, and highlights
• HDR: Make your images stand out by creating the effect of multiple exposures
• Emphasis: Insert a hint of the apocalypse into your images
• Grunge: an extreme look with strong styles and overlapping textures
• Grain: Create modern film styles with realistic grain
• Vintage: the style of color photos taken in the 50s, 60s or 70s
• Retrolux: recreates a retro look with light leaks, scratches and film styles
• Noir: the appearance of black and white films, with realistic grain and washed out effect
• Black and White: the classic black and white effect, straight from the darkroom
• Frames: add borders of adjustable size
• Double Exposure: Merge two photos and choose blend modes inspired by shooting on film and digital image processing
• Face: focus on the eyes, illuminate specific points on the face or even out the complexion
• Face pose: Correct the pose of portraits based on three-dimensional models
Download now for iPhone and iPad
VSCO
Designed by creatives for creatives, VSCO was designed to help you fully express your creative potential within a community that believes in the value of spontaneous and imaginative expression above all else.
As a member of the VSCO Community you can:
Create - Use VSCO's creative tools to edit photos and create journals to share your unique point of view.
Discover - Get inspired by content curated by the VSCO team, as well as stories from other community members.
Connect - Follow and communicate with a rich group of creatives from around the world.
Join VSCO X - Take your creativity to the next level with access to VSCO's entire library of presets, enhanced creative tools, academic content and the latest features.
Download now for iPhone and iPad
Pixelmator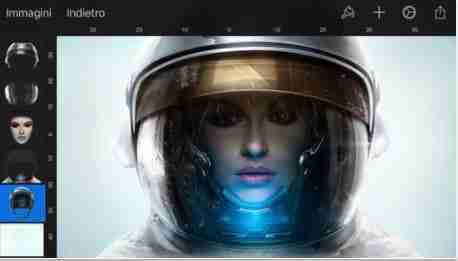 Pixelmator for iPad is a powerful image editor that provides everything you need to create, edit and enhance images. It allows you to work seamlessly between Mac and iPad. And to easily collaborate with people who use Adobe Photoshop.
Pixelmator takes full advantage of the latest iOS technologies, giving you fast and powerful tools that allow you to retouch and enhance images, draw or paint, apply fabulous effects or create advanced compositions in an incredibly simple way. When the images are ready, you can share them to celebrate your works with the whole world.
Creative tools
• Start with dozens of beautifully designed templates
• Enrich your photos with an effect, frame or create beautiful collages
• Add a word, phrase or caption
• Make text beautiful with advanced typography features
• Add, create, combine and edit shapes made easy
• Apply shadows, fills and strokes effortlessly
Powerful and feature-rich painting tools
• Paint with Pixelmator just like you would on a canvas
• Choose from realistic or stylized brushes, of all sizes and shapes
• Use different brush sizes and adjust the opacity of the stroke
Professional-grade color correction tools
• Greatly enhance less than perfect images with a single tap or drag
• Choose from eight different color correction presets
• Adjust levels, curves, brightness, contrast and much more
• Remove the color cast and set the right white balance
• Designed with simple interface functionality for ease of use
Retouching tools
• Correct wrinkles and fix imperfections
• Make flaws disappear from your photos, remove or rearrange objects in a composition
• Blur, sharpen, lighten or darken specific areas
• Eliminate the red eye effect with a simple click
• Distort or Transform to slightly enhance or give images a whole new look
• Combine different tools and effects for an infinite number of ways to retouch your images
A real machine for creating new effects
• Pre-loaded with dozens of stunning effects to enjoy
• Give your photos a wonderful bright, artistic and retro look with light infiltration
• Take complete control over image colors with Hue and Saturation
Layer styles
• Instantly customize the look of images, text and shapes as you create them
• Easily add non-destructive layer styles like shadows, outlines, colors, gradient fills and more
• Change the style of the layer to your liking until you get the effect you are looking for
Compatibility
• Open and save images using PSD, JPEG, PNG, PDF and many other popular formats
• Open and save Photoshop images with layers
• Send pictures directly to the Pictures application
• Store and access images on iCloud Drive to open them with other applications
iCloud and sharing
• Let iCloud automatically archive edited images and effortlessly bring creations to all your devices
• You can completely skip the manual saving of your documents thanks to the Automatic Save
• Email photos directly from Pixelmator
• Publish images on social applications such as Flickr, Twitter and Facebook
Download iOS now