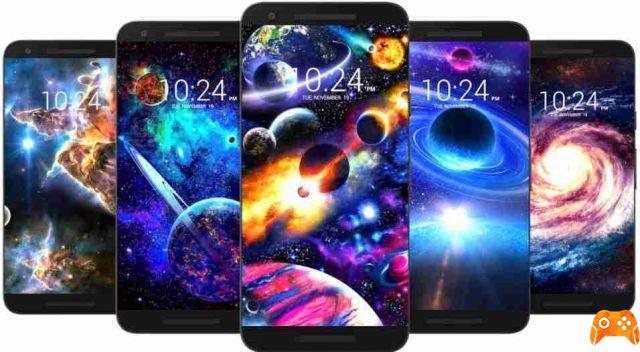 Where can you easily find unique and interesting wallpapers? Check out our list below for the best apps to find fun and unique wallpapers for your Android device.
App to find wallpapers on Android
Walli
Walli allows you to like specific wallpapers and follow the creators. You can also create your own playlist, which allows you to have your own moving slideshow of wallpapers on your home screen.
Walli requires you to watch the ads to download the wallpapers, but if you don't want to, you can subscribe to the premium version of the app for a few dollars a year.
Free wallpapers and live wallpapers
Free wallpapers and live wallpapers, this app is useful for finding any number of different wallpapers. You can find digital art, landscape photography, close-up shots of animals and everything in between. You can refine your search via app categories or by using the search bar to find the exact wallpapers you are looking for.
Galaxy Wallpaper
Galaxy Wallpaper, this app offers thousands of free space wallpapers, from planets, to nebulae, to astronauts. The only downside, however, is that you can't search for specific wallpapers, so you may have to scroll through for a while to find the right wallpaper for you.
Space And Galaxy HD Wallpapers
This app also gives you access to thousands of beautiful space themed wallpapers, but it also offers other types, such as animals and nature. Unlike the previous app, Space & Galaxy Wallpaper also allows you to refine your search. You can browse popular, random, or other categories, as well as more specific categories, as shown in the third image above.
That this app has advertisements and therefore you may need to watch a few five second clips when browsing or downloading wallpaper.
Vaporwave Wallpapers
Vaporwave Wallpapers, this app not only offers a wide range of cool vaporwave and retrowave wallpapers, but also lets you listen to free retrowave songs as you browse. The app allows you to refine your search with a number of categories, including "game-wave", "pixel-wave" and "anime".
You need to watch a short ad when you download an image, but you can remove these ads with the Pro version of the app.
Retrowave Wallpapers
Retrowave Wallpapers, this app is similar to the Vaporwave app in layout and functionality, as they are both owned by the same creators. Retrowave Wallpapers lets you browse some visually stunning wallpapers, always with the option to refine your search with the category bar.
The app also plays advertisements upon download of any wallpaper, but these can be removed by upgrading to its premium version.
10000 Nature Wallpapers
10000 Nature Wallpapers, this app offers thousands of beautiful nature pictures that you can download for free for your phone. You can browse the entire collection of wallpapers or use the app categories, such as "trending" and "recent", to filter your search. You can also browse by theme, with categories like "autumn", "beach" and "birds".
You can also add wallpapers to favorites instead of automatically downloading them, and you can find the ones you save in the favorites bar at the top of the screen.
Nature Wallpapers
Nature Wallpapers, this app also has a wide range of beautiful nature themed wallpapers. It also allows you to instantly download or favorite wallpapers for free. While there are fewer search categories by which you can refine your search, the choice of stunning images certainly makes up for any shortcomings.
The app shows ads when searching, but offers an ad-free premium version, which you can easily purchase in the app's general settings screen.