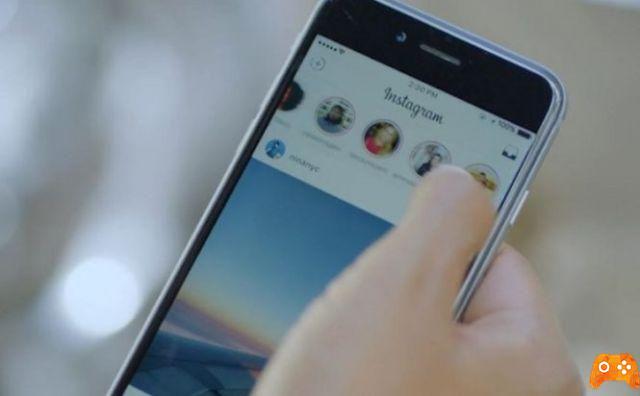 Creating an Instagram story is now possible. So, here's a tutorial on how to create a (beautiful) Instagram story. Instagram Stories are accessible at the top of your news feed through a series of circular icons that represent the people you follow on the platform.
This article intends to explain how to create a "Story" on Instagram, how to interact with your friends' stories but also how to understand the challenge of this new format for the promotion of your products and services!
Who blocked me on Instagram? Let's find out together!
What does it look like?
When you open the Instagram app, you see the latest "stories" of the people you follow at the top of the screen. The most recent stories are the most visible. If you want your "Story" to be in a better position, you need to post content regularly!
When you visit a friend's page on Instagram, you'll see a circle around that person's profile picture. When you click on the photo, it opens that person's "Story".
And, by clicking on each profile icon highlighted and represented, you can visit each profile's Stories (best friends and most popular accounts followed) to see a collection of recently posted photos and videos (up to 10 seconds each). .
All displayed in a slideshow format with the ability to jump to the next or previous photo or video. If you want to comment on the post in the story you see, you can tap on it and send a private message to the author via Instagram Direct. Unlike regular posts, there are no public likes or comments.
You can post a story of your life differently with text and drawing tools. Photos and videos will disappear 24 hours after they are posted and will no longer be visible in the profile grid or news feed.
Your news follows your account privacy settings. If you set your account as private, your story will only be visible to those who follow you. However, you can also easily hide the entire story from people you don't want to see, even if they follow you.
If you want to see your story stats, drag to see who viewed each photo or video. You can even choose to feature part of your story by showing it on your profile.
Instagram Story: how it works
Your news or stories are a way to share photos and videos with your followers which disappear after 24 hours. To share a photo or video in your news:
Touch the + sign icon at the top left of the screen, or swipe left from anywhere in the feed.
Touch the "Small circle" at the bottom of the screen to take a photo or long press to record a video. To upload a recent photo or video from your phone, scroll down and select the content you want to share.
You can press the icona "Aa" to add text or the "pencil" icon to tap into your news.
Then press on "Cancel" to cancel an effect or "Done" to save him.
Press on "Cancel" to delete the photo or video or the "down arrow" icon to save it to your phone. At the end, tap the "V" icon (check mark) to share the Story.
Configure the story settings for your account
You have the option to block your subscribers from sending you a message. You can even delete some people from your Stories mailing list (a family member for example)! To access these settings, go to your profile and click on the wheel at the top right of the screen, then on "History Settings".
Reply to messages on Instagram
If you give your subscribers the opportunity to message you, you need to be responsive. It's a great way to connect with your audience. For example, if you offer a product or service, you can quickly respond to a prospect's request. Do you already use Instagram, but have not made the step of the stories? Pity !
The benefits of Instagram stories
As the name suggests, the story tells a story. With a few photos and short videos, the story allows you to tell a story (that of a brand, your company, etc.), just like when you organize your vacation photos in an album.
To keep the audience's attention from start to finish on your Instagram Stories, your story needs to make sense. We must have the impression of being by your side, of living in the moment. And for your Stories try to add something to your Instagram or MyStory Snapchat feed, don't post (exactly) the same thing.
If we had to summarize the 3 main assets of Instagram stories:
Receive new subscribers: Funny, original and attractive stories can inspire users to sign up for your account
Generate traffic on his Instagram account: if your story piques the user's interest, he will go to your newsfeed where the publications remain (while the Instagram stories disappear after 24 hours). In the long run, your story will allow you to get more likes on your Instagram posts. They allow you to discover the brand or company from another angle: the backstage of a collection, the little hands that design the products, etc. This way, Stories add value to your Instagram account and can inspire renewed interest from your followers. They will be tempted to find out more, go see your account, love and comment on your publications.
Appear in the first results of your subscribers' newsfeed - Instagram Stories increase engagement, improve your chances of appearing on top of newsfeed results.
How to delete an Instagram account
What are the differences in content between stories and posts in the Instagram account?
The message: Many companies are taking advantage of the ephemeral nature of the story to announce an almost immediate event with a limited duration:
announce the start of a course (e.g. gym)
offer private sales, exceptional discounts in a short period of time. In these cases, the publication will focus more on the message to be communicated than on the quality of the visual.
Text shouldn't be used in the same way in Instagram posts and stories. The experience offered by the brand through the story, thanks to the succession of images and videos, should not be too confused with the text. Longer text will have more space in the account's post description.
Limit the use of the text to short information:
product reference
exceptional opening hours
coupon code, etc.
The choice of text (color, size, line spacing) must be consistent with the visual identity of the brand. Music is also a big part of stories if it plays a vital role in your brand strategy.
How to enable or disable Instagram notifications
How to create a compelling story?
Always choose the same text colors (maximum 3) for writing or drawing. You can select colors from the 27 available. Pressing and holding a color takes you to the color palette.
For the content of each story make sure you have a beginning, a center, and an end. If you can't imagine a story, don't hesitate to make a storyboard on paper. Don't forget that your story is meant to entertain, discover, and inspire users.
Even if you're not comfortable with videos, it's easy to create great videos.
Quality takes precedence over quantity! Your stories should reflect your strategy and be thoughtful. In general, they pick up / reply to what you just posted on your newsfeed (provide more information). This brings details, additional information to your message.
A story shouldn't be longer than 1 minute, but it should be as short as possible. Don't try at all costs to make 10 second videos, very short content doesn't work very well.
How to get followers on Instagram
Further Reading:
How to put multiple photos in an Instagram story
How to put a GIF in your Instagram story
How to share stories of others on Instagram
How to see who saved your Instagram posts
How to take an Instagram poll in Stories