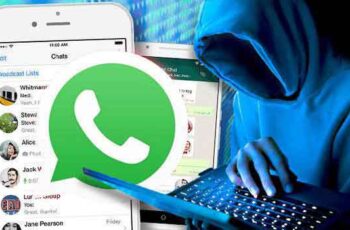 How to check if anyone else is using your Whatsapp account. Like many other online applications, WhatsApp does its best to keep its users' data private and secure. With features like one-time login and two-factor authentication, the platform is relatively secure.
How to find out if someone is spying on us on WhatsApp
But, like anything connected to the Internet, there are security vulnerabilities that evil individuals are only too happy to have at their disposal. Due to the nature of WhatsApp, it is essential to act quickly if you think your account has been hacked. This article will teach you how to spot suspicious WhatsApp activity and how to protect your account. Let's dive in!
Log in
To better understand how WhatsApp works, we will guide you first to log into your account. WhatsApp offers two ways to log in; online and via the app (available on iOS and Android).
Using the web version of WhatsApp makes typing considerably easier, as you can do it on a keyboard instead of tapping the phone screen.
Open a WhatsApp web session by selecting the three-dot menu icon in the main WhatsApp window.
Select WhatsApp Web. This opens the camera.
You will be asked to scan a QR code which you can get by opening WhatsApp Web in your browser.
Open WhatsApp Web in your browser.
Scan the QR code in the browser window with your phone's camera.
Your WhatsApp window on your phone should be reflected in the browser, allowing you to chat and interact as usual.
Check if anyone is using your WhatsApp account
WhatsApp is relatively easy to use. Unfortunately, it can be difficult to spot an intruder if they don't interact with the application. This scenario would most likely be someone who just wants to spy on your Whatsapp conversations. But some hackers also want to take over your account.
Regardless of their intentions, we will use this section to inform you of some warning signs to understand when someone spies on you on Whatsapp,
Check your activity on WhatsApp
First, if the other person is using your account, they will leave a trace. Here's how to find out if someone is spying on us on WhatsApp:
Check your messages: For starters, the most obvious signs of another person using your account are in your messages. From messages you haven't sent to messages from strangers, this should be your first stop.
When you open WhatsApp, you will first see a list of messages. Check this list for any messages you haven't sent and any messages you've received from people you don't know.
If you see any strange messaging activity, there is likely someone in your account.
Check your contact information- If the intruder attempts to hijack your account, he will start modifying your contact information.
Using the WhatsApp mobile application, proceed as follows:
Tap the three vertical dots in the top right corner. Then, tap "Settings".
Tap your profile at the top of the menu.
Review the information and verify that it is accurate and up to date.
If something has changed, or there's information here that you don't recognize, you'll need to secure your account, which we'll talk about in a little more detail below.
Check WhatsApp communications - At this point, you should also check your text messages for any communications from WhatsApp. If you are using an iPhone, open Messages and use the search bar at the top to type "WhatsApp". If you are using an Android device, use the magnifying glass to search for WhatsApp texts.
What we're looking for here is any communication about account changes or account access.
Look for new friends
Another telltale sign that someone is on your account is when you have new people or friends. All you need to do to review your contacts on WhatsApp is to open the app and tap the chat icon in the bottom right corner.
At the top of the page, you will see the number of contacts. Below, you should scroll down and make sure you recognize everyone on the list.
One great thing about WhatsApp is that it will automatically detect contacts from your phone using the app. So if someone logs in from their device, you'll likely see people you don't recognize.
Check WhatsApp Web
If you already use WhatsApp Web, you may know that you can see the last session or any open session if you select it from the three-dot settings menu. This action is a surefire way to find out if anyone is using your account.
Open WhatsApp and select the three-dot menu icon from the main window.
Select WhatsApp Web.
Examine connected devices.
If the camera opens, there is no active and ongoing WhatsApp web session. If you see a window listing a connected computer, there is an active session.
Tap each session, then tap "Sign Out" to kick the intruder out of your WhatsApp account.
Unlike other services, this is the only way to find out if someone is spying on us on WhatsApp.
Protection of your WhatsApp account
Now that we've established someone is using your account, let's move on to protection. Keep in mind that if any of the above situations occur, you will need to act quickly.
Enable two-factor authentication in WhatsApp
If someone has used your WhatsApp account, you need to block them. If you are lucky, it is a brother or partner who spies on what you are doing. If you are not so lucky, it could be a hacker who steals your contacts and data and wreaks havoc in your social life. In any case, you need to block it by turning on two-factor authentication.
WhatsApp does not use passwords. Instead, you need to enable two-factor authentication. This way, anyone trying to log in will have to enter a verification code.
Open WhatsApp and select the three-dot menu icon from the main window.
Select Settings and Accounts.
Select Two-Step Verification.
Enable it and set your PIN code.
Once set up, every time you open WhatsApp, you'll need to enter that PIN code to authenticate. Make sure the PIN is not something obvious and you have further protected your WhatsApp account.
WhatsApp Plus, how to download and install
How to know if someone has read a message on WhatsApp
How to use WhatsApp on multiple devices
WhatsApp Won't Open on PC, 7 Solutions
WhatsApp is a very safe app, but it's only safe if you keep it safe. Using two-factor authentication is a viable way to lock your account if someone is logged in.
Do you know any other ways to find out if someone is spying on us on WhatsApp? Let us know below!
Further Reading:
How to know who saved your number using WhatsApp
Whatsapp is not working or connecting on iPhone
How to export WhatsApp chat as PDF
How to know if Whatsapp is spying on me
How to share WhatsApp status as a story on Facebook