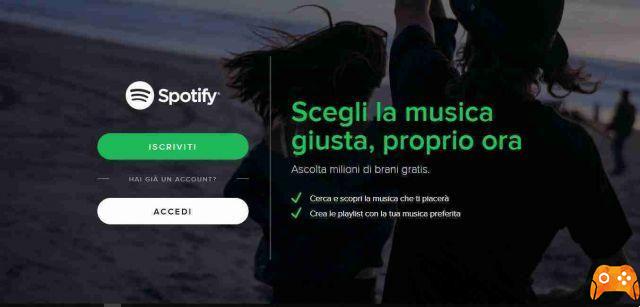 How to listen to Spotify with your web browser. Spotify is one of our favorite music streaming services and one thing you may not know is that to use it, you don't need to download an app - you can use it directly from your web browser.
How to listen to Spotify with your web browser
The web player of Spotify it works on Google Chrome, Firefox, Edge e Opera. The only notable absence is Safari. To use it in any of the other browsers, go to play.Spotify.com and log in. If you don't already have a Spotify account, you can register for free; the free plan has never been better.
If you use the web player while on the free plan, you will get the full free Spotify experience. You will only hear a few minutes of ads every hour so that Spotify can pay the artists. However, we feel it's worth paying for Spotify if you use it a lot.
You can create playlists (and access the ones you've set up in your app), browse featured recommendations, search for specific artists and songs, and even switch to Radio mode. You also have access to all the Spotify catalog that you would have in the app.
Select what you want to hear, click the button Play and you are ready to go.
Spotify Web Player features and differences from the app
Audio files are streamed at a lower bit rate via Web Player than the desktop app. Free subscribers get 128kbps from the Web Player but 160kbps from the desktop app. Premium subscribers get 256kbps from the Web Player but up to 320kbps from the desktop app.
The media playback controls on the computer or headphones do not work with the web player.
If you are a Premium subscriber, you cannot download songs for offline listening or access Spotify while offline. You need the app for that.
If you're using your own computer, it's probably a good idea to download the desktop app. However, if you're borrowing a computer and want to listen to some songs, or if you're using a Chromebook, Spotify Web Player is great; it's a much better way to listen to music than YouTube.