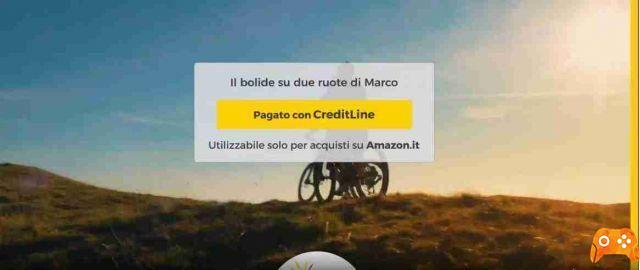 Cofidis Spain allows you to buy in installments on Amazon. The process is simple and is debited from your checking account.
CreditLine is your credit line for purchases on Amazon.com granted by Cofidis that allows you to buy what you love, for a total amount from € 100 to € 1.500, and pay it in convenient installments up to 24 months on your current account .
You will be able to reuse Cofidis CreditLine for your subsequent purchases in a few simple clicks thanks to the credit line (up to € 1.500) that Cofidis will assign you.
How CreditLine works on Amazon for installment payments
On Amazon.com, add eligible products to your cart, for a total amount between € 100 and € 1500.
During the purchase process, select CreditLine as the payment method and you will be directed to the Cofidis website.
Complete the online credit application with Cofidis by entering your details and you will receive an immediate response. To complete the online application on the Codifis website, you must provide some information including photos of your driving license / passport and your health card and your IBAN so that Cofidis can verify your creditworthiness.
Once approval is received from Cofidis, the amount due will be debited by Cofidis from your current account in monthly installments. If your request is not approved by Cofidis, you can complete your purchase on Amazon.com by choosing another payment method.
Installment time you can choose
You can pay for purchases on Amazon.com in 3, 5, 6, 10, 12, 18 or 24 months. The minimum amount of each installment is € 15. For example, for an order of € 150, you can choose 3, 6 or 10 installments. The first installment will be charged to you by Cofidis on the first day of the month and after at least 25 days have elapsed from the date of shipment.
Not all products are eligible for installments on Amazon with CreditLine
CreditLine is not available for orders containing Amazon.com Gift Cards, digital products (music, videos, Kindle books, game or application downloads), presale products, out of stock products or subscriptions (including Amazon Prime), food .
If I return an item purchased in installments on Amazon with CreditLine
You can return items in accordance with Amazon's return policies. If you are returning part of an order, the amount of the next installments will be recalculated on the amount of the items you have decided to keep. If you are returning an entire order, CreditLine will remain active but you will not have to pay any installments and any installments already paid will be refunded by Cofidis usually within 7 working days of processing the return. However, the substitute tax will not be refundable. The substitute tax is a tax equal to 0,25% of the amount of the credit granted, up to a maximum of 3,75 euros, due for the opening of the CreditLine.
Remember that you can check the status of your installments, conveniently in the Cofidis Reserved Area or by contacting the Cofidis Customer Service. If the payment of shipping costs is required for the return of the items, these costs will be charged directly to you by Cofidis.