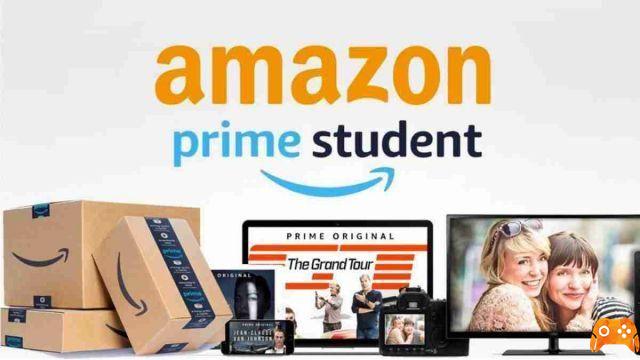 Amazon Prime Student offers college students all the benefits of Amazon Prime, with a no-cost usage period of 90 days and then a 50% discount from the regular Amazon Prime price.
What Amazon Prime Student includes
Unlimited fast shipping at no additional cost
Hundreds of movies and TV series streamed on Prime Video
Exclusive offers for students
Over 2 million songs streamed with Prime Music
Amazon Photos
Prime reading
Twitch Prime
For more information you can read our article on what Amazon Prime offers.
Amazon Prime Student costs
If you are a university student you can sign up for Amazon Prime with a period of use of 90 days free at no additional cost. After this period Prime Student automatically renews to solo EUR 18,00 / year until graduation, for a maximum of 4 years, rather than the full normal price of EUR 36,00 / year thus saving up to 50%. You can unsubscribe whenever you want even before the 90-day deadline and therefore paying nothing. Find out how to unsubscribe from Amazon Prime.
How to access the Prime Student offer
If you are at least 18 years old and are able to provide proof that you are enrolled in a university course located in Spain, you will be able to enroll in Prime Student.
For more information or to subscribe to the Amazon offer, all you have to do is go to this page and click on Sign up - 90 days at no additional cost if you want to join.

Once you click on the button, a page will open where you need to Enter your university email address and specify a Graduation year (expected). Enter a payment method, billing address and click on the button Sign up - 90 days at no additional cost to send your registration request.
I don't have a university email address
If you don't have a university email address you can click on the link Sign up using other documentation.
Here you will find an explanation on how to send documents to Amazon that certify your university attendance. What you will have to do. We try to explain it to you briefly.
Send an email to [email protected] from the email address associated with your Amazon.com account.
Include a photo or scanned copy of one of the following documents in your message:
Certificate of registration.
University booklet.
Student identification card issued by the University.
Note: When scanning, make sure the University name, student name and year of validity are visible. They will not accept any other type of document other than those indicated above. In addition and where possible, please indicate your personal email address provided by your University.
Before providing this information, make sure your credit card is correctly entered on your Amazon account. You can check your credit card details by going to My Payment Methods.
If you are eligible for registration, you will receive an email, within 3-5 working days, with the direct link to sign up for Prime Student.
This link will allow you to complete the registration without entering the personal email address provided by your University.
You will have to complete the registration within 14 days of receiving this email; otherwise you will have to contact Customer Service to proceed with registration.
NB: If you already have a regular Amazon Prime subscription but you are a university student you can register as described above by entering your current Amazon credentials and you will be refunded the difference in the cost of your subscription from the Amazon Prieme program to Amazon Prime Student.