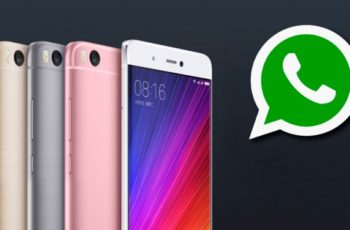 Get into the situation. You just bought the latest Xiaomi mobile, you turn it on for the first time and you start hallucinating with its features, the photos it takes and how well it performs. You start installing applications, WhatsApp is the first and… what happens? Why WhatsApp notifications don't arrive on Xiaomi?
This is a common problem in many Chinese cell phones, and even in some Huawei cell phones, some users have encountered similar problems. Fortunately, there is no need to return the phone to the store as this type of problem with WhatsApp notifications on Xiaomi and other phones (as well as other applications) has a simple solution.
WhatsApp does not work | Resolved
The problem with instant messaging app notifications with Chinese mobile phones is in the level of customization of these smartphones and their configuration options. Here are two ways to fix on Xiaomi phones easily.
How to solve problems with WhatsApp notifications on Xiaomi
Enable autostart permissions
Some applications, when quitting from multitasking the device, stop running in the background. This saves battery, but in turn implies that messaging apps like WhatsApp stop showing notifications.
If you want to solve the problems of notifications di WhatsApp sui telefoni Xiaomi, all you need to do is log into the MIUI Security app and access the Permissions option.
How to change the number on WhatsApp and keep groups and conversations
At this point, choose the Auto Start menu and choose all the applications you want to keep working at any time and keep showing notifications even if the app is closed or the phone is locked.
If you are looking to receive notifications on WhatsApp on the Xiaomi mobile, choose the application from the list that appears on the screen.
Block applications from multitasking
How to install the latest emoticons or emojis on WhatsApp
Another option, something manual, is the block the WhatsApp application from MIUI multitasking.
To do this, open the multitasking menu like you did a thousand times a day and, instead of swiping apps to close them or clicking the blade to close all at once, swipe the app WhatsApp downward.
This shows two options, the first allows you to access the app configuration, while the second allows you to lock the app so that when you close all applications, WhatsApp continues to function normally.
It was easy, wasn't it?
Five reasons why WhatsApp could block your account forever
Further Reading:
Notifications don't work on Xiaomi phones with MIUI
How to fix problems with WhatsApp notifications on Huawei
How to solve problems with notifications on Xiaomi phones
How to disable GetApps notifications on Xiaomi?
How to disable notifications on Xiaomi Mi 10T