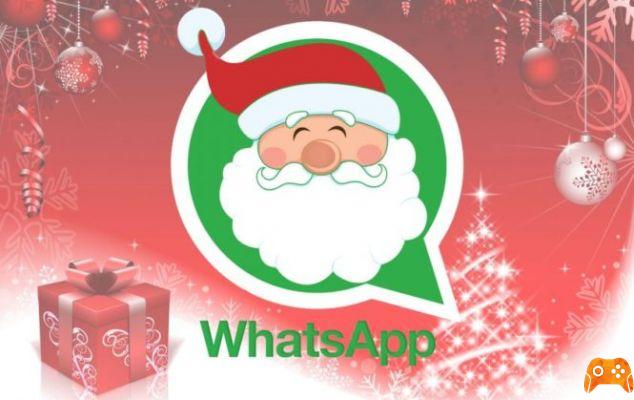 These are best Christmas stickers to send on WhatsApp. If you thought you were the coolest meme greeting card, surprise your friends by congratulating new ones. WhatsApp Christmas Stickers freshly baked.
Follow Santa Claus from your application with new minigames or from Google Maps >>
The stickers reached WhatsApp to stay there. They arrived a few weeks ago, and now we use them all to express… well, whatever. And, these days, it's time to send Christmas stickers on WhatsApp to wish us well.
There are stickers of all kinds. Meme stickers, movies, celebrities ... but also Christmas stickers! With these, you can wish your friends / family happy wishes in a fun way without having to resort to the typical meme to wish you a Merry Christmas your whatsapp.
These are some of the best stickers you can try, but in the article we will give you some ideas with the best Christmas stickers to send on WhatsApp, as well as a number of tips for making your own stickers. Remember this is for the app, not WhatsApp Web.
How to activate Christmas stickers for WhatsApp
Well let's focus on the theme of Christmas. Before we start recommending the Christmas greeting sticker set, we need to see where these stickers are.
At the moment, let's see where the stickers are on android. I think we all already know that it is not an exclusive of this application, since Telegram, Line or Facebook already used them, but, like it or not, WhatsApp is one of the most used messaging applications, and since it is of Facebook, it seems odd that the stickers took so long to arrive.
use stickers on WhatsApp, all we need to do is select the smiling face, the emoji, from the text box on the keyboard. Once done, at the bottom we will see an icon that looks like a half-covered sticker.
We went in and… ok, we have our stickers to use. Of course, if you want install new sticker packs, you will have to click on the "+" icon that appears in the upper right part of the screen.
From there we can install sticker packs and also manage the ones we already have. Once we have seen this, we will look at the best Christmas stickers to send from WhatsApp.
Christmas stickers for Whatsapp
Let's start with the best collection of Christmas stickers to send by WhatsApp. The stickers of Christmas stickers for Whatsapp they have a variety of very interesting designs and funny situations to be sent both at Christmas but also before and after.
There are the best collection of stickers to send for Christmas, and shows the brutal support in the Google PlayStore, with over 1.000 ratings and 4,5 stars.
The weight is 12MB and you can download these free stickers from here.
Christmas stickers for WhatsApp
Now we will see another compilation of Christmas stickers to send on WhatsApp. There is no shortage of classic Christmas stickers, such as Santa Claus or snowmen. There are many types and we find more than 45 different stickers. The weight is very similar to the previous one, 11 MB, and you can download this collection of Christmas stickers for WhatsApp via this link.
More Christmas stickers
There is another application called Christmas Stickers per WhatsApp, and it's also one of the best in the Google store. Of course, this is very, very simple, it only has a few stickers as Christmas tree ornaments, but its design is very neat.
If after the previous two you still need more stickers, this is a great option. It weighs very, very little and you can download it from here.
How to create your own stickers for WhatsApp >>
Further Reading:
How to use iMessage (Memoji) stickers in WhatsApp
The WhatsApp settings menu changes with the latest update
The first official pack of Whatsapp animated stickers has been released
How to send the same message to multiple contacts at the same time with WhatsApp for Android
Memoji on WhatsApp, how to use them on all devices