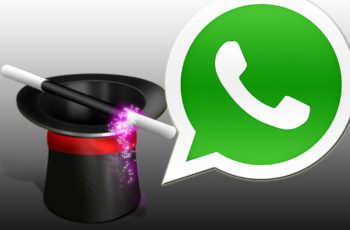 WhatsApp is perhaps the most downloaded Android application. The WhatsApp chat application is designed to be easy to use. But that doesn't mean there aren't any features, tricks, and opportunities not evident in it - pretty much everyone has it. It saves us a lot of money on calls or text messages and the truth is we really appreciate it. But you can still get more out of this application if you know its secrets. Like many of the best Android applications, WhatsApp has many secret features and options that not everyone is familiar with.
The essential tricks of WhatsApp
Listen to audio messages discreetly
To hear audio messages through the speaker, you no longer have to wait until you are alone for some privacy. You can listen to them through the speaker for calls simply by pressing the play button and bringing the phone to your ear. The proximity sensor will notice that the smartphone is close to the ear, turn off the screen and activate the other speaker. Did you know?
Send current location
We won't even list when it's useful to send your current location. From "brother, I'm lost, guide me" to "aunt, we're halfway there". To submit your location you need to click on the clip icon with which you usually attach photos. Then, in the listed pop-up menu, select Location.
How to send a file to a contact on WhatsApp
You have to follow the same procedure as explained above, except this time in the clip you have to choose the "Document" option. Then, you access the internal memory (or Drive files), select the file you want to send and press accept.
Functions for the paranoid
Don't want everyone to see it the last time you were online? Then disable it in Account -> Privacy in the program menu. However, you won't see the corresponding information about others either. In the same menu, you can hide the current status and photos of strangers or all contacts. In the same place, you can turn off the delivery and read notification (marked in chat messages).
How to dictate and send messages on Whatsapp with Google Now
If for some reason you don't want or can use your hands / fingers, you need to know that you can do everything through the Google Now voice interface. Thanks to its voice commands we can send messages via WhatsApp without touching the phone. Just say "OK, Google", "send a WhatsApp to ..." the person's name, "... with ..." the text you want and to send it you just have to say "yes".
How to cancel sending a WhatsApp voice message
If we want to send a voice message, we have to press and hold the record button. When you stop pressing, the message is sent. Now you can delete the message we are dictating by swiping your finger to the left, then a small dustbin appears next to it indicating that the message has been deleted.
Mark a message as a favorite
Many times we receive in a group an address or important information that will aanegherano in a sea of ​​comments and jokes. To keep all this important information we can mark the comment as a favorite.
You just have to click on the comment and in the options that appear above tap the star. To see it again and not have to sink into hundreds of messages on your group just tap on the three dots and in the menu choose Featured Messages and there you will quickly find it.
How to search WhatsApp for contacts or messages
Do you have a lot of contacts and are you looking for someone in particular? Nothing could be easier: just click on the magnifying glass and write the name of the person we are looking for.
Search is not limited to contacts: if we have a long conversation with a contact and we want to find a particular message, we can find it too very easily. You have to enter the conversation and click on the three dots at the top right, then click on Search, and that's it.
How to know if we have the latest version of WhatsApp
In general, the Play Store notifies us when applications can be updated. Of course, you can also check if a new version is available by visiting the Play Store, then by clicking on the menu on the left you will find "My applications" and see which ones can be updated.
If you don't want to wait for the update released by the Play Store, you can access the APK file and install it manually. If you want to find out what's new in WhatsApp, we recommend that you opt for the beta version of WhatsApp.
How to participate in the WhatsApp beta tester program
Like many applications, Facebook / WhatsApp offers users the opportunity to try out new features with a preliminary version. To access this beta program, you just need to visit its website and sign up with the Gmail account you use on your smartphone. Once done, you can install the beta version of WhatsApp from the Play Store.
How to completely disable WhatsApp notifications
Do you have a lot of contacts and are notified every 30 seconds? The solution may be to simply disable them. To do this, you simply need to go to the settings and, depending on the manufacturer, you can find the options for notifications or the options of the application itself. Then, you can disable notifications.
How to mute WhatsApp notifications
Tired of hearing a sound every 10 seconds? Switch it off! Go to the settings and then in the notification menu, then on, you can disable the ability to receive sounds. An alternative method: carefully click on a conversation from the main window, click on the crossed out speaker at the top right.
Prevent photos and videos from being saved automatically
In iOS, everything that goes into WhatsApp is automatically saved in the Camera Roll, which all applications can access. If you don't want this to happen, you need to go to settings, then in Chat settings and then disable Save incoming media. On Android, go to settings, then to data usage and storage and configure if and how you want to download the media to your phone.
How to prevent someone from contacting you on WhatsApp
If you don't want to receive calls from certain contacts, you can simply block them. To do this, enter the WhatsApp settings, in the "Account" tab and then in "Privacy". You will find the "blocked contacts", the procedure is explained inside. In the new window that opens, click on the small icon at the top right and select the contacts you want to block.
How to know if someone has blocked us on WhatsApp
How to know if someone has blocked me on Whatsapp
How to know if I have been blocked on Whatsapp
How to block a user in WhatsApp
It's very simple you have to open the conversation with the contact, press the Menu key and select Block. The list of blocked contacts can be found in Settings> Accounts> Privacy.
How to delete your WhatsApp account
This option is available to anyone who wants to leave the service. If you decide for this option, your contacts, history and other settings will be completely deleted, including the ability to restore your data if you decide to reinstall them. The main elements are as follows:
WhatsApp groups disappear
The message history is cleared
It will not be possible to restore them via Google Drive
If you agree to this and are sure you want to delete your WhatsApp account, follow these steps.
Access the WhatsApp settings by pressing the 3 vertical dots.
Enter "Account" and then press "Delete account"
Confirm your selection by clicking on the "Delete account" button
How to reply to WhatsApp messages from a pop-up window
You can configure WhatsApp to make it open a window in the center of the screen when a message arrives. Then, you can reply directly from this window, without having to open the whole application. To enable these pop-ups, go to the application settings, in the Notifications tab and select "pop-up notifications".
WhatsApp these six new features are now available to everyone
Further Reading:
How to know who saved your number using WhatsApp
WhatsApp status, all the tricks you don't know
How to share WhatsApp status as a story on Facebook
How to listen to Whatsapp voice messages without viewing and without opening the app
Then you can use your TV to watch WhatsApp video calls