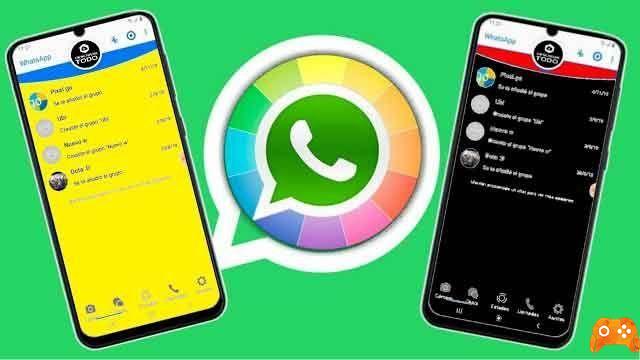 WhatsApp is one of the leading chat apps available in the world. What makes it popular is its user-friendly nature and the ability to work in all kinds of circumstances. Even if you have a poor internet connection, WhatsApp works wonders. Also, once you create an account on WhatsApp using your mobile number, it will work flawlessly, even on your PC. However, many WhatsApp users are curious about what happens to WhatsApp when they switch phones. Find the answers in this post.
The query is not as simple as it sounds. There are different situations depending on the SIM card and the phone. We have divided the post into four sections on how each situation affects WhatsApp. These include: removing the SIM card, new SIM on the same phone, old SIM on a different phone, and new SIM on a new phone. We also explained what happens to WhatsApp when you format your phone. Let's get started and see the results of changing the phone on WhatsApp.
What happens to Whatsapp when you remove the SIM card
Removing the SIM card to troubleshoot the phone or for any other purpose will not affect the existing WhatsApp account on the phone. You can continue to use WhatsApp even if there is no SIM card on your phone, as long as you have a working Wi-Fi connection.
What happens to Whatsapp when you change the SIM card on the same phone
If you buy a new SIM card and want to use it on your current Android or iPhone, it won't impact your existing WhatsApp account. You can still use WhatsApp registered with your old number.
Two things have to be taken care of. If the switch is temporary, i.e. you will use the old SIM card again after some time, there is no problem with WhatsApp with the old number. But if you are planning to delete your old number, we strongly recommend that you sign up for WhatsApp with the new number. The reason is that the mobile phone company will recycle your old number and give it to someone else. If that person creates a WhatsApp account with the number, you will lose your WhatsApp account because there is no way to verify it.
There is no need to delete or uninstall WhatsApp to register with the new number. You can use WhatsApp's Change Number feature to make the switch smoothly. The feature is located in WhatsApp Settings> Accounts> Change number.
All chats and groups will remain unaffected using the Change number feature. However, you will need to inform others that you have changed your number to receive messages about the new number. Fortunately, your number is automatically changed in your groups. So you don't have to ask the group admin to add you again. Find out in detail how to change your WhatsApp number and what happens when you change the number.
What happens to Whatsapp when you use the old SIM on a different phone
As mentioned above, once you register WhatsApp using a SIM card, your WhatsApp account doesn't have much to do with the SIM. So, if you own two cell phones, you can swap the SIM cards between them. For example, if you own Samsung Galaxy Note 20 and Pixel 4 with SIM 1 and SIM 2, you can register WhatsApp account using SIM 2 on Note 20 even if it is kept in Pixel 4.
Another scenario occurs if you buy a new phone and use the existing WhatsApp account using the old number on a new phone. If so, you need to transfer the chat history to the new phone. Fortunately, it's easy enough as long as you're on the same platform.
If you are switching from an old Android phone to a new Android phone, you need to enable WhatsApp's Google Drive Backup feature. This way, you can easily move your chats as long as you use the same Google account and number on both phones. To enable Google Drive backup, go to Settings> Chats> Chat Backup. Tap Backup to Google Drive and select Only when I tap Backup. Then go back and tap Backup.
Register with the same number on the new phone. You will be asked if you want to restore the Google Drive backup. Confirmation.
Similarly, when you switch from an old iPhone to a new iPhone, you need to use the iCloud backup feature in the iPhone's Settings. To enable it, go to WhatsApp Settings> Chats> Backup Chat> Back Up Now. Make sure the iCloud account is connected on your phone.
Unfortunately, if you switch from Android to iPhone or vice versa, there is no easy or straightforward way to transfer chats. You will have to accept the help of third-party apps, most of which are paid.
What happens to Whatsapp when you use a new SIM on a different phone
If you want to use a new SIM on a different phone, you can start over and sign up with a new WhatsApp account.
But if you want to keep your existing chat history intact, you will first need to backup using Google Drive or iCloud and your old number, as mentioned above. Once your chats are on the new phone, you should use WhatsApp's Change Number feature to switch the number to the new SIM card.
What happens to Whatsapp when you format your phone
Formatting the phone deletes all the files on the phone and it is difficult to recover them if a backup has not been created. So, if you format your Android or iPhone, you will lose WhatsApp chat history. But if you have enabled Google Drive backup (Android) or iCloud backup (iPhone), you can easily recover chat history by using them after formatting your phone.
Conclusion
Changing your phone does not affect WhatsApp as long as you are on the same platform. We really hope that WhatsApp introduces a better way to switch to Android from iPhone or vice versa. WhatsApp is also working on multi-device support. It will be easier to use WhatsApp this way.
Further Reading:
How to change phone number on WhatsApp from the same phone or from a new phone
How to hide someone's status on Whatsapp
How to configure WhatsApp notifications on Android
How to enable WhatsApp two-factor authentication for Android
How to change your WhatsApp phone number