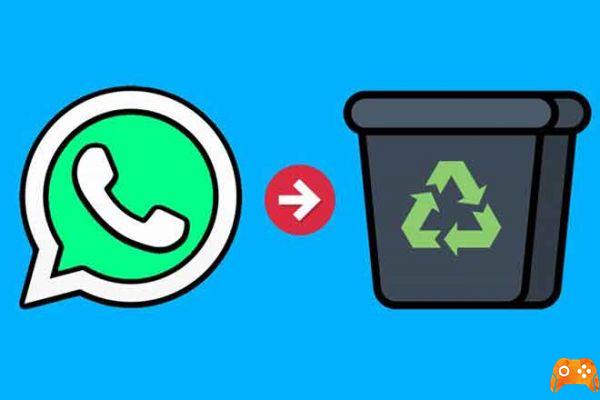 WhatsApp is extremely convenient for texting, but it can sometimes make you nervous. Whether it's annoying group messages, business messages or privacy issues, WhatsApp sometimes gets on our nerves. And that's when we think about deleting our WhatsApp account. Why delete it? What happens after the account is deleted? Find the answer in this post.
Eliminating anything is a complicated operation. When it comes to deleting WhatsApp, things get more complex and more dangerous as it contains a lot of information. So one wants to be sure of a few things before deleting their WhatsApp account. In this post, we have tried to answer all your questions about deleting your WhatsApp account, either by yourself or through WhatsApp. Let's begin.
What happens to the history and backup of existing messages
Deleting WhatsApp will delete all chat messages on the phone. You will not be able to open WhatsApp and access previously received messages. Your iCloud (for iPhone) and Google Drive (Android) backups will also be deleted and you won't be able to restore them once your account is reactivated.
What happens to received messages
Typically, because your account doesn't exist on WhatsApp, people won't be able to message you. However, if your chat thread exists on WhatsApp, they can send you messages. They will see a check mark next to those messages. But you won't get those messages.
What happens to Whatsapp groups
You are removed from all WhatsApp groups. And when that happens, the others will see the text "ABC left" in the group.
If you are the owner of the WhatsApp group, you will lose the admin rights. And any other members randomly selected from the group will be named admin if no other admins exist. In case you reactivate your WhatsApp account, you will need to rejoin the groups. You can join via the group link (if any) or request the admin to add you again. Since all data is deleted, it is difficult to remember which groups you were a part of.
What happens to the profile picture and information
Since both are stored on WhatsApp's servers, your profile information and picture will be removed from WhatsApp. This does not mean that the image will also be deleted from your phone. It will remain on your phone, it will only be deleted from WhatsApp.
What happens to the settings
Since the WhatsApp account no longer exists, the WhatsApp settings will also be deleted. Any changes you make will be reset to their default values ​​when you reactivate your account.
What happens to Whatsapp images and videos
On Android phones, since pictures and videos are automatically saved to your phone when you download them to WhatsApp, they will stay on your phone. And you can access it via any gallery app inside the WhatsApp folder. In case you haven't downloaded the images, they will be removed from WhatsApp.
On iPhone, when you download images or videos from WhatsApp, they remain on the WhatsApp servers. You need to manually press the Save button to download them to your phone. Now, if you haven't saved them, you will lose them after deleting the account. But if you had them saved on your phone, you can still view them inside Apple Photos or any other gallery app on iPhone.
What happens to the payment history
WhatsApp supports payments in some countries. If you use payments on WhatsApp, your payment history will be deleted and you will need to reconnect your bank account to WhatsApp.
Your friends can see the previous chat from the deleted account
Yes. Deleting your account will have no impact on the other person. That is, they can still view chats made with you unless they have deleted or cleared the chat themselves.
Someone will be able to read my sent Whatsapp message after deleting the account
Sometimes, we send the wrong message to someone. And we think deleting the account may prevent it from reaching the recipient's phone. However, this is not the case. The message will be delivered to them even if you delete the account.
But, in cases like these, you should take the help of the Delete for All feature on WhatsApp. It is basically a way to cancel sending messages within one hour of sending.
How the deleted account will be displayed on your friend's phone
If they've saved an old chat of yours, they might notice that your profile picture disappears first. The chats will remain on your friend's phone. However, the information and the last connection (if enabled) will also not be visible.
In case there are no previous chats, your friends will see an Invite button next to your name on Android. On iPhone, you won't appear in the WhatsApp contact list at all.
Your friends will be notified when you delete your account
Not really. WhatsApp does not send a direct message to your friends that you have deleted the account. However, if you are a member of a WhatsApp group, others will see the text "ABC left". Again, it's not straightforward as "ABC deleted the account". You should investigate further, as shown below, to conclude that you have deleted the account.
How to know if someone has deleted the Whatsapp account
To get started, check out the common groups. In case the person has left the group, this is your first clue. Then, open the existing chat (if any). Search for a profile picture and Information. If both are not available, our guesses have a solid basis.
Then, start a new chat and try to find the specific contact. If you see an Invite button next to their name on WhatsApp on Android, the account has been deleted.
If the name does not appear in WhatsApp contacts on iPhone while starting a new conversation, the account does not exist. It means that it has been canceled.
Also, on iPhones, you can try calling them if you have an existing chat thread with them. You will get the call failed error.
Whatsapp deletes inactive accounts
Yes. Accounts are automatically deleted from WhatsApp if there has been no activity on them for 120 days, which is almost four months. A while ago it happened en masse in Kashmir, where the internet was blocked for over 4 months.
When WhatsApp deletes the account, all of the above things are confirmed. That is, whether WhatsApp or you delete the account, the repercussions mentioned above will be the same.
You can reactivate your account and what happens after reactivating Whatsapp
Yes and no. While it is possible to create a new account using the same phone, it is different from reactivation. This is because you will have to start over as a new account holder. Anything that has been eliminated will not return.
It will be like creating a new WhatsApp account with the same phone number. You will need to customize the settings according to your preferences and rejoin the groups.
Unlike Facebook or Instagram, where you have to follow the person again to start communicating with them, there is no need for such a thing on WhatsApp. When you reactivate your WhatsApp, you will automatically appear in the WhatsApp contact list of everyone who has saved your number. However, you will not receive any messages sent during the cancellation period.
How to delete Whatsapp account
You can only delete the account on mobile apps. It is not possible to do this via WhatsApp web.
Here's how to delete on Android and iPhone:
Step 1: on your Android phone, tap the three-dot icon at the top and select Settings.
On iPhone, tap Settings at the bottom.
2 pass: Tap Account, followed by Delete my account.
3 pass: you will be asked to enter your phone number. Then, hit Delete my account.
What happens to the Whatsapp app after deleting the account
The app remains on the phone after the account is deleted. When you open the app, you will be asked to register your account. You will need to uninstall it to remove it from your phone.
In short words
The following things will happen by deleting the WhatsApp account:
All your chat threads will be deleted.
Your cloud backup on iCloud and Google Drive will be removed.
You will be removed from WhatsApp groups.
You will lose administrator rights.
The account information and profile picture are deleted.
Your payment history and linked account are removed.
The WhatsApp settings will be cleared.
Conclusion
Deleting a WhatsApp account is a difficult step. And there is no going back. You will lose your chats, among other things. In case you want to temporarily stop using WhatsApp, you can uninstall the app from your phone. It is different from account deletion as your data is not deleted. Find out in detail what happens when you uninstall WhatsApp.
In case you want to change the number and that is why you want to delete the account, there is an alternative. You can use the WhatsApp number change function.
Further Reading:
How to enable WhatsApp two-factor authentication for Android
How to disable Whatsapp on Android and iPhone
How to free up space on WhatsApp
How to change phone number on WhatsApp from the same phone or from a new phone
What happens to WhatsApp when you switch phones