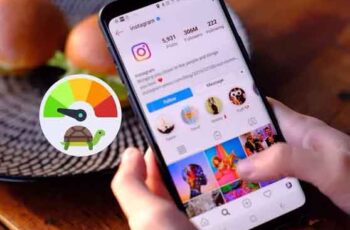 Even though most smartphones have adopted a high 120Hz screen refresh rate for smooth scrolling, we still lag behind resource-intensive apps like Instagram, Facebook, and other apps. Especially on Instagram, you may have noticed that it jerks ruining the overall experience. Here's how you can fix when Instagram is slow on iPhone and Android.
Instagram snaps on iPhone and Android, 7 solutions
Instagram lag can be attributed to multiple factors like slow connection, old app, low RAM, and more. We will analyze all the problems that make Instagram go slow, and for each of them we will propose a solution. Let's start.
1. Disable less mobile data in Instagram
If you're low on data, you may have enabled the Use less mobile data toggle in the Instagram app. This way, the app will use less data to load the feed. Practice can involve Instagram running jerky on Android and iPhone. Follow the steps to disable less mobile data on Instagram.
Apri Instagram on iPhone or Android.
Go to your profile and tap the hamburger menu at the top.
Go to Settings.
Select Accounts and tap the Data Usage menu.
Disable the Use less mobile data option and reopen the app.
2. How to disable high quality Instagram uploads
Instagram allows users to upload higher quality videos to mobile devices or Wi-Fi. Additional processing time may be required due to larger files. When you try to use Instagram in the middle of a high-quality media upload, you may notice a lag in the app. Here's how to disable high-quality Instagram uploads.
Go to your Instagram account on your iPhone or Android.
Select the hamburger menu and go to Settings.
Open Account and select Data usage.
Disable high quality uploads and enjoy a smooth Instagram experience.
3. Use a fast connection
While browsing Instagram, you need to have a fast internet connection for flawless performance. If you are connected to a slow network connection, you may notice a delay in the feed and that the stories are seen jerky on Instagram. Connect to the 5 GHz Wi-Fi frequency and not the 2,4 GHz frequency if you are on Wi-Fi. You will see improvements in network speeds and faster load times.
4. Force Instagram to close (Android)
Is Instagram strangely slow on your Android phone? You have to force close the app and reopen it. Here's what you need to do.
Find the Instagram icon on the Android home screen or in the App Drawer.
Long touch the app icon and go to the app info menu.
Tap Force Stop and confirm your decision.
This process will stop any Instagram related activity on the app. As long as you don't open the app, you won't even receive Instagram notifications. Open Instagram and you will not notice any delay.
5. Clear Instagram cache (Android)
Like most Android apps, Instagram collects cache in the background to quickly load frequently visited pages. If you are an Instagram power user, you may end up collecting hundreds of MB of cache data in the background. That amount of cache can lead to Instagram lag on Android. You need to clear the Instagram cache from the app info menu. That's how.
Long press on the Instagram icon and open the app info menu.
Go to the Storage and Cache menu.
Select Clear Cache from the following menu.
6. Free up RAM on iPhone and Android
This trick applies to phones with 4GB or low RAM. If you have too many apps and games open in the background, it may consume all of your device's RAM. In that case, if you try to open Instagram, you may notice a delay in general browsing. On iPhone or Android, swipe up from the bottom and open the multitasking menu. Swipe up and remove the apps from the background. Free up your device's RAM and try using Instagram again.
7. Update Instagram
Using an outdated build of Instagram on iPhone or Android can cause delays. Instagram regularly updates its mobile apps with bug fixes and new features. You need to go to Google Play Store or Apple App Store and update Instagram to the latest version available.
How to view, download and delete Instagram data
Have you solved with Instagram jerking on iPhone and Android?
If Instagram starts to freeze or jerks and you have no alternative to the app, you just have to try the solutions above to fix the delay. If you primarily use Instagram for direct messages, you can use Instagram threads to get the job done.
Further Reading:
How to collaborate on Instagram posts with your friends
How to get Instagram dark mode
How to put multiple photos in an Instagram story
How to temporarily disable your Instagram account
How to take photos automatically on iPhone and iPad