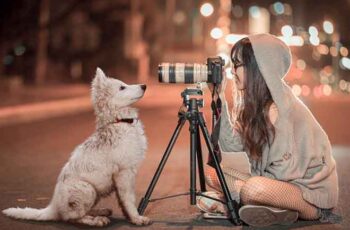 In the beginning, Instagram was a paradise for enthusiasts and professional photographers. Due to its visual nature, it is now open to the public, and the barrages of commentary often cloud true feedback. If you are a budding photographer, check out these alternative a Instagram to get feedback on your photos from professionals and like-minded people, also great for improving your skills.
The 5 best alternatives to Instagram: social network for photographers
On Instagram, you'll have a blast getting advice on how to improve. And a deluge of photos, mostly generic and that's frustrating for you. Fortunately, there are many alternative a Instagram. To take your photography to the next level, check out these 5 best photo sharing apps. You can use them all on iOS and Android, and all but Vero on the desktop.
Social Media Manager, who he is, how he becomes one, what he does and the strategies used
1. YouPic
YouPic is definitely one of the best places to display your photographs. Similar to Twitter, you can reshare posts that you find interesting. You can also leave a heart on the ones you like, which on the platform is known as favoriting.
There are several amateur and professional photographers on YouPic who can leave comments on your photos. Beyond that, they can also gauge what they think about content, creativity, composition, and technique.
It's a smart way to collect feedback on your photos and tips to improve your skills. To increase visibility on YouPic, you can use a combination of hashtags, descriptions and locations.
The basic version of YouPic is free. You can also upgrade to Premium ($ 19,99 per month / $ 119,88 per year) or Pro ($ 49,99 per month / $ 359,88 per year) for extra perks like unlimited uploads and more visibility.
Download YouPic (iPhone)
Download YouPic (Android)
Tips and recommendations to protect your social network to the maximum
2. 500px
500px a growing community with over 16 million users worldwide. You can use the app to showcase your services, build a portfolio, and connect with like-minded creatives.
At 500px, you can also improve your skills using a variety of resources. The website features tutorials related to various aspects of photography, as well as articles and podcasts.
When you upload a photo to the platform, users immediately comment on your photos. You can also see how many people have viewed your photos. For new members, the 500px algorithm also boosts images so you can get feedback.
500px has two membership tiers: Awesome ($ 6,49 per month / $ 47,88 per year) and Pro ($ 12,99 per month / $ 71,88 per year). You can browse stats and enjoy unlimited uploads with Awesome, while Pro lets you create a portfolio site and add assets to the Resource Hub.
Scarica 500px (iPhone)
Download 500px (Android)
Find out how to download videos from social networks quickly and easily
3. True
Vero is an Instagram-like social, has three million users and is a media sharing app. The platform prides itself on being ad-free and algorithm-free, while also claiming that it doesn't use data mining. Additionally, you will find many renowned photographers and other professionals on the platform.
In the Vero app, you can share photos taken directly from your camera. You can also share photos already in your camera roll, as well as upload galleries. You can also choose to share with close friends, followers, and anyone else.
A common complaint many users have against Instagram is that it compresses photos. Vero addresses this problem. It displays everything in full resolution and does not compress them. A subscription-based service is planned to be introduced at a later date.
Download Vero (iPhone)
Download Vero (Android)
Social networks can reduce our self-esteem
4. Pinterest
With over 300 million users worldwide, Pinterest is the best replacement for Instagram. It aims to help others seek inspiration and try new things.
On Pinterest, you can create new pins and boards to share with others. This way, you can create a portfolio of your photos and also open it to others who can offer you valuable tips and tricks. You will still find many users who are passionate about photography.
You can also use the platform to save any pins you find inspiring or photo ideas you want to try. To find new ideas, you can use its search function.
The biggest feature of the platform is the way it makes a real effort to eliminate the negativity associated with Facebook and Instagram. All users must sign a creator code, in which they promise not to post harmful content. Pinterest is free for all users.
Scarica Pinterest (iPhone)
Download Pinterest (Android)
YouTube vs Instagram Reels Stories: Which TikTok Clone is Better
5. Flickr
Despite the rise of other photo-sharing platforms, Flickr remains one of the best alternatives to Instagram and the most popular choice among photography veterans. You can use Flickr to share individual photos or create albums.
To reach more people on Flickr, you can also post your photos in groups. With the free version of Flickr, you can upload a maximum of 1.000 photos. If you want to share more, you can upgrade to Flickr Pro. This costs $ 5,99 per month or $ 49,99 for a full year.
Download Flickr (iPhone)
Download Flickr (Android)
4 methods to reactivate someone on Instagram
Think outside of Instagram
Instagram can still be a useful platform for finding photography inspiration. But if you're looking for feedback, you'll likely have better luck if you broaden your horizons even further.
Fortunately, there are many places where you can connect with other photographers and get helpful advice. Thinking creatively about how to use traditional platforms like Twitter is a good idea. That said, photography-specific platforms and apps can give you targeted exposure and feedback on your work.
Try these five alternative a Instagram and see which one you like best. Hence, he gives them a reasonable amount of time. You will find that you get better feedback and that you can grow a community of like-minded people.
Further Reading:
How to Take a Screenshot or Record an Instagram Story
Instagram errors how to fix them
How to add music to an Instagram post or story?
Top 5 alternatives to OneNote for Android
Audacity Alternatives: Time to use a better audio editor