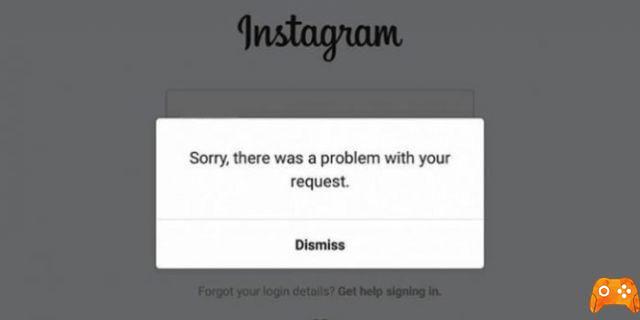 When you have a network with a billion users every month, and at least half use it every day, it's hard to keep everything running smoothly. While it offers users a wealth of options to showcase their life online, Instagram isn't immune to bugs.
Incredible! Instagram allows you to try on clothes with augmented reality before buying
Instagram "unknown error". It shows up completely randomly and prevents you from logging into your account. Also, you may see it trying to update your feed. Let's delve into this problem and see what you can do to fix it.
WHY DOES THE ERROR APPEAR?
As the message states, this error appears because Instagram's servers are unable to communicate with your device. Logically, the first thing you will need to do is check if you have a stable connection to the internet.
Check if your device is connected to Wi-Fi data or mobile data. If it's on Wi-Fi, check if you're close enough to the router. In some cases, Instagram won't respond because your connection is too weak. If that's not the problem, try restarting the router. The old "plug it out and back in" method should help you fix.
If you're using your mobile data, the easiest way to fix any network issues, including this one, is to turn Airplane Mode on and off. On most Android phones, you'll be able to do this by pulling down the notification bar and tapping the Airplane icon. You can find the same icon on the iPhone by pulling on Control Center from the bottom of the screen.
The above methods should solve the problem, in most cases. But if they haven't helped you, there's no need to worry, as there are a few other options available to you.
Discover Threads, the new Instagram app to contact your closest friends
CLEAR CACHE AND INSTAGRAM DATA
As you use it, Instagram stores temporary files and data to make everything smoother. The problem arises when the data gets corrupted, which can cause several bugs. Plus, it takes up your storage space and can get much bigger than the app itself.
If you are an Android user, you can clear cache and data by following these steps:
Go up Settings.
Toccata All apps, then find Instagram.
Toccata Clear cache e Clear data
Force Stop

If you have an iPhone, things are a little different. There is no option to clear cache and data, so you will have to delete Instagram altogether.
That's how:
Go to Settings > General.
Toccata IPhone storage and scroll down until you see Instagram.
Tap the button Delete app below and confirm.
When you download Instagram again, you will have a fresh new app, so no problem. This should fix any internal bugs and allow you to log in again.
How to hide Instagram photos (posts) without deleting them
UPDATE INSTAGRAM
If you are using an outdated version of Instagram, you can expect all sorts of bugs. Like any other app, it receives regular updates with bug fixes, security patches, and many other features that the app must have in order to function normally.
Furthermore, both iOS and Android receive frequent updates. If your version of Instagram is not the most recent, it could be the reason why you are getting the message "Unknown network error".
Fortunately, this is a quick fix. All you have to do is to launch the Google App Store or Play Store, go to the updates section and check the updates available for Instagram. You will receive the latest version available and the bug should be fixed.
CHANGE THE DATE AND TIME
Oddly, some users have found that changing the date on the phone seems to fix the Instagram network error. While the connection to the problem here isn't clear, it's worth a try in case nothing else works.
Here's what you need to do:
Go up Settings > Date and time and set it to Automatic if it isn't already.
Go back and try logging into Instagram.
If that doesn't work, go back to the menu Date and time and set it to Manual.
Change the date to four years in the future, then try running Instagram again.
Whether it works or not, remember to go back and set the date and time to their defaults.
A QUICK SOLUTION
As you can see, there are a few ways to fix the "unknown error" bug and they are all quite simple. You should be able to log back into your account in no time. However, the bug is likely to return after a while. Some users have complained about seeing this error very often, so it's helpful to learn these tips.
Until Instagram definitively solves this problem, they can serve you. Have you encountered this problem before? If you have any other tips to fix it, go ahead and drop them in the comments below.
How to schedule automatic replies on Instagram
Further Reading:
How to change your Instagram name
How to disconnect devices connected to Instagram (phone and PC)
How to delete multiple Instagram comments at the same time
How to find out who has not accepted your request to follow him on Instagram
Instagram crashes on Android