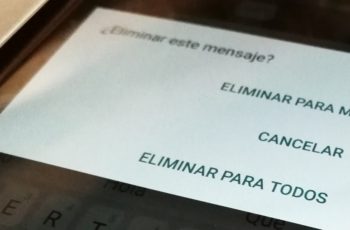 For a few weeks, it was possible to delete WhatsApp messages, and make sure not to show them to recipients. The creators of WhatsRemoved with an app have filled the hole left by this feature: this application keeps backup copies of deleted messages.
If someone deletes a message in the conversation, you will be notified and can still read the deleted message. Doesn't this go against kindness, decency and privacy?
WhatsRemoved is bright, simple and even bold. The new app reads your notifications, copies incoming WhatsApp messages and notifies you when someone deletes a WhatsApp message.
The copy of the deleted message is then kept in the WhatsRemoved application along with the other copies until you delete the app data. The creators claim they don't use the messages for commercial purposes.
WhatsRemoved recovers deleted messages on Whatsapp
WhatsRemoved is questionable in many respects. On the one hand, it has full access to your notifications and can receive files and audio recordings or all at once. On the other hand, the app undermines an important function which is meant to avoid misunderstandings and provide some privacy.
Its ability to undo deleted messages completely cancels the WhatsApp feature. The person who deleted the message doesn't even know that the recipient saved a copy before deleting it.
Download WhatsRemoved from the Google Play Store
Do you often delete messages sent on Whatsapp? Do you really need this application?
WhatsApp releases the group call feature
Further Reading:
How to recover deleted WhatsApp messages and photos from iPhone
How to recover WhatsApp chats without having backed up
3 things to keep in mind before deleting a WhatsApp message
How to recover deleted WhatsApp messages
How to speed up Whatsapp audio messages on PC and phone