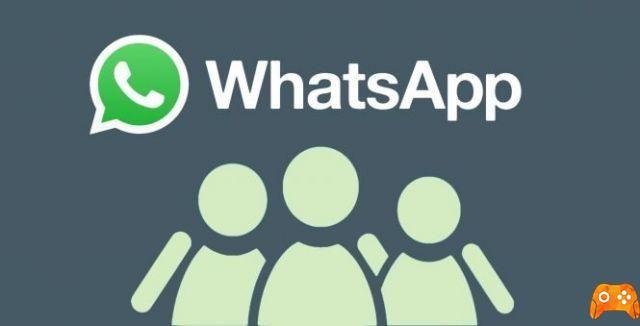 WhatsApp groups blessed (or damned). There are all kinds, from groups of friends, family, for a birthday, to organize a barbecue, with those from work, with those at the club, with the football team, with the three friends you left the other day. . .. WhatsApp groups have become an entity in their own right over the years.
Does WhatsApp notify the other user when you take a screenshot of the conversation?
Today we want to review all tips and tricks for mastering WhatsApp groups, know how they work and what we can do within them. Here is our guide on groups of the most popular messaging application.
First of all we leave you the tricks for group administrators, how to create them and some ideas to organize them better. Secondly, tips for users. And yes, of course we have added how to mute WhatsApp groups. A trick as simple as necessary. Here we are.
Tricks for administrators
How to create a group or broadcast on Whatsapp
Let's start with the simplest and most important trick. How can you create a group? Basically we have to go to the settings in the corner in top right and click on "New group" or "New broadcast". Then we choose the participants we want to invite. We write the name, which will have a maximum of 25 characters and that's it. The process for creating a broadcast list is equivalent but at least two people will need to be selected.
WhatsApp is about to release a new Boomerang feature similar to Instagram
How to add participants on Whatsapp
Let's continue with another basic option. Once the group is created, we can add new participants simply by clicking on the group name and below we will see the option "Add participants". Pressing will take us to the contact list and we will only have to choose them.
Create link to invite on Whatsapp
Another fancier option for inviting someone to a group is to do so via link. To create it we have to go directly to the option under adding participants. By clicking on "Invite via link" we will generate a URL where anyone can add to the group. Of course, anyone who can access this address can be added, so we just need to share it with anyone who interests us.
The new WhatsApp feature lets you know how many times your messages have been forwarded
How to add new administrators on Whatsapp
If we already have a group and we want to add new admins, what we should do is click on the group name> go to the participant list> click on the person> Admin. of the group. WhatsApp allows us to create admins for all group members, but these will be full admins, so be careful who you admin.
Add a description on Whatsapp
For some time now WhatsApp has been allowing you to add a description in groups. This option is available right below the group image. Very useful for explaining to everyone what topics will be discussed or just to add a special touch.
How to configure WhatsApp notifications on Android
Who can send information on Whatsapp
From Group settings> Group settings we can choose different options. One of these is who can change the object and description, again we will have the option to choose which only administrators can send messages.
How to delete a WhatsApp group
It may sound simple, but the truth is that theoption to delete the group does not appear directly. To do this, we will have to delete each participant and once we are the last to leave the group, by doing this a message will appear to delete the group.
WhatsApp not working? Here are 5 simple solutions to try
Create a group just for you on Whatsapp
Another rather classic and useful trick is to create a group where only we are. It can be used to leave notes, send us information and have a private space for us. To create it we have to create a group, invite someone and then throw them out.
Silence a specific user
Another trick for administrators is to silence a specific user. How do you get it? Basically it is through breaking news that it allows you to discard someone as an administrator. The idea is of do in so that all user administrators they can talk and at the moment we want to silence someone by simply deleting them as an administrator.
How to run two WhatsApp accounts on any Huawei / Honor phone via App Twin
Tricks for the participants
Reply directly or send a direct message on Whatsapp
In large groups it is sometimes difficult to know who a message is addressed to. For this there are two very simple tricks that we should know. The first is replicate a specific message. To do this we have to hold down the message and in the top bar click on the first icon of the crooked arrow pointing to the left. Right next to the star.
The second trick is send a message to someone. To do this we need to add an '@' and a list with the names of the participants will appear. By writing you will receive a notification and an alert directly, as well as knowing that the message arrives to them.
What happens when you change your WhatsApp number
How to know who has read the message in a group on Whatsapp
The double blue stick means that the other person has read the message. But what happens in the groups? The mechanism is similar, but it will only turn blue until all members have read it. To know which ones, press and hold the message, click on the "i" of the information and the list of people who have already read it will be displayed .
Prevent the saving of multimedia content on Whatsapp
If we go to group settings> Media files visibility, we can choose if we want the photos and videos sent to us to be saved in the gallery. If it is the classic WhatsApp group with many people sending viruses, we recommend that you click no.
How to know who saved your number using WhatsApp
See who is in the group
If you want to know how many people are in a group, you can go to settings and see the full list of attendees. Fortunately, a Search Engine, therefore in large groups it is easier to find the person. If we click on it, we can start a private chat and the confirmation code will also be displayed to verify that the chat is encrypted.
Deactivate a group and remove notifications
From the group settings we have one of the most important options, for silence notifications. If we press we can choose between 8 hours, 1 week or 1 year. It is also recommended that you deselect the option to "show notifications" as it will be complete silence. When you are part of a new group and you see a lot of activity, our recommendation is to silence them for at least a week.
WhatsApp: how not to send photos to the wrong people
Customize notifications
Under the mute option, there are custom notifications. This is a less used but very useful section. Here we can configure by the color of the LED, choose that the notification is shown only when the screen is on, that the vibration is longer or a special tone for a group, very useful if we want to differentiate the sounds of this particular group from the rest.
How to use a WhatsApp account on two phones at the same time
View the files that have been sent
WhatsApp is also a very cool tool for sharing files, and groups are ideal for that. Whether you want to see an old photo, a PDF that has been sent at the moment or a link to a rare website, thanks to the file history we can access it quickly. There are many occasions, a group cloud backup in which we can find a lot of material. To access it is from the group settings and on the file tab.
What happens when you block a person on Whatsapp
Group video call
We leave at the end a tool that is not currently linked to groups but at some point we believe that WhatsApp will be updated to add it. We talked about group video calls of up to 4 people.
The messaging application allows you to talk between four via video and it works very easily. However, to make them we have to go person by person, first calling one and then adding the rest. Unfortunately WhatsApp does not yet allow us to start a group video call directly from a group.
WhatsApp receives the fingerprint unlock function [How to]
Further Reading:
How to know who saved your number using WhatsApp
How to hide photos and videos on Whatsapp
How to find and join Telegram groups and channels
How to avoid being added to a WhatsApp group
WhatsApp will allow you to decline invitations to groups