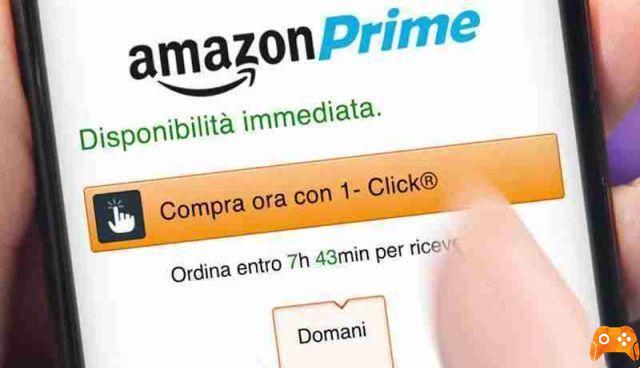 Buy now with 1-Click Amazon what it is and how it works. Find out how Quick Buy on Amazon works for your orders.
At a basic level Amazon's 1-Click is an easy way to set a default payment method and address for your orders. After choosing which credit card and address you want to use, you can click on a single button to purchase it without going through the cart and then confirm the order to have it shipped to you.
Using 1-Click, your order will be placed automatically and you will not have to go through the shopping cart.
Buy now with 1-Click Amazon how it works
When you place your first order and enter payment method, shipping method and address in your account, 1-Click will be active automatically. By clicking on Buy now with 1-Click on each product detail page, your order will be charged to the default payment method and shipped to the selected address.
When you set a default shipping method, your 1-click orders will automatically be shipped with your chosen shipping option whenever that method is available. Remember some items or delivery addresses may not be suitable for the shipping method you prefer. When your default shipping method is not available, your order will be shipped with the fastest alternative shipping method.
The list of shipping addresses you use frequently is displayed in the drop-down menu below the button Buy now with 1-Click on all product detail pages. The first address displayed in the list is the one indicated as the default. To change the default address, visit 1-Click Settings.
When you order multiple items shipped from Amazon.com with 1-Click within a 15 minute time frame, they will be placed in the same order and shipped in a single shipment. You can change or cancel your order within the same time frame. For more information, see our help page Group 1-Click Orders.
Note: To use the 1-Click option, your browser cookies must be enabled. Cookies are data that your browser saves and that the site uses to identify your account. If your browser does not have cookies enabled, you can in any case continue shopping by adding your items to the cart and clicking on Proceed to purchase.
Buy now with 1-Click Amazon your Smartphone
To activate 1-Click on your mobile:
Launch the Amazon App.
From your Android device, click on the three horizontal line menu at the top left of the screen and click on My Account.
From your iOS device, click on Other from the main screen and then click on My Account.
From your Windows device, click on My Account from the main screen.
Click on 1-Click Settings.
Click on one of the addresses displayed in the section Shipping and payment address.
Select a default address and payment method.
Change the 1-Click settings
Disabling 1-Click disables the option for physical orders only. 1-Click does not affect digital orders.