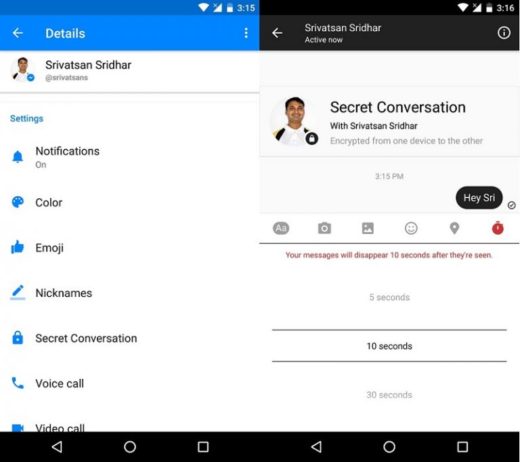 Facebook now allows end-to-end encryption on Messenger, Facebook began testing end-to-end encryption on Messenger in July for a select group of users. Now, the social network has come up with end-to-end encryption for its more than 1 billion Messenger users.
In order to enable end-to-end encryption on Messenger, users will have to enable the feature by switching to "secret conversations" in the Settings.
However, Messenger users will need to enable end-to-end encryption for each new message.
Both participants in the Messenger chat will need to have the latest version of the Android and iOS app installed for this to work.
Users will see an option to tap "secret" in the upper right corner of the "new message" screen.
The new feature also allows users to set a timer for a particular message that after being sent will self-destruct after a predefined time.
WhatsApp implemented end-to-end encryption in April, for all types of communications including messages, photos, videos, files and voicemails.
Encryption on Messenger supports text and photos, stickers but not videos and GIFs.
Additionally, encryption is not available for group chats and must be enabled for each individual conversation.
Further Reading:
Mark Zuckerberg has found the solution to offer a safer Facebook to its users
What to do when Facebook Messenger doesn't work
How to disable Facebook Messenger
How to make video calls with Facebook Messenger
From today you can activate the dark mode of Facebook Messenger