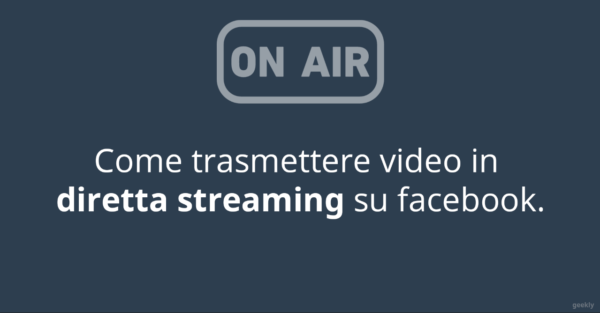 Like streaming video on Facebook, Facebook also had to equip itself to compete with other social applications that allow live streaming. I personally never thought of streaming videos that they could be available to everyone until a few years ago.
In recent times, all social applications have equipped themselves to offer more and more services for their users, such as Facebook, Twitter, Instagram etc. It has been possible to stream videos on Facebook for some time now.
During the live broadcast it is possible to comment, like and much more. The steps to take to make a direct on Facebok are few and simple. Just open the app, click on the appropriate icon in the composition screen of a status and take a shot.
However, there is a simple rule to respect, live videos cannot last more than 30 minutes, at the end of the transmission the video shot remains in the diary like any other video.
How to stream video on Facebook
Proceed as follows to stream live video to Facebook:
Open the Facebook application on your smartphone.
Press on "What are you thinking about?", You will see a "Broadcast live ".
It will ask you if it is possible to activate the microphone and the camera, you have to accept.
Tapping for the first time shows you a demo video.
You can see or click on 'Skip Intro', after which it will ask you to describe what you intend to talk about in the video.
After that, you can tap the key Friends, and choose who on Facebook can see the broadcast.
After making your choice, press the button Go Live to start live streaming.
To touch end once you have finished the live stream.
That's all. Many years ago we didn't even think we could do such a thing. Today, however, it is within everyone's reach, or almost. Let us know what you think of the live stream. You like it? It's useless?
Further Reading:
How to put a video profile on Facebook
How to video call with Facebook
How to share a video from Facebook to WhatsApp easily
How to download Facebook videos without programs
How to watch Amazon Prime Video on Apple TV