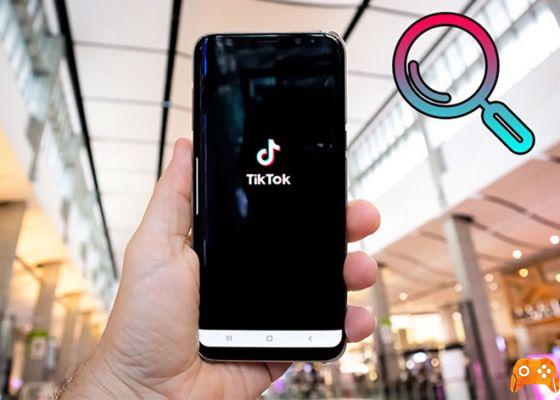 Want to know how to search for someone on TikTok without knowing their username? Do not worry! The procedure is simpler than you think, read on and find out. TikTok is perhaps the most attractive social network of the moment. With a community of over 800 million monthly active users, it's hard to believe its pace will stop anytime soon.
Being so popular, it is normal for everyone to want to be a part of this trend and most likely your friends are there too. So you don't want to be left out of the loop, as it will be fun to share your content with them or do duets to grow within the platform.
That is why, if you are starting out within the social network, there are some tips that are important to know in order to learn how to use it and, moreover, to know how to find friends or family without knowing their TikTok username.
Although it may seem an impossible or at least very laborious task, we tell you that it is not as complicated as it seems and for this we will explain some simple methods that you can follow to find out. Do you want to know how to do it? Join us!
What are the ways to find someone on TikTok?
If you want find someone or find friends on TikTok without knowing their username, you have four methods at your disposal to find them very quickly and easily:
With your username on TikTok.
Scan the TikTok QR code.
Through your contact list.
Through your Facebook friends.
How can I find someone without knowing their name?
The simplest way to find someone on TikTok is to point to the platform username and go directly to the app search function identified with an icon shaped magnifying glass. Now write the user and then you will see your friend's profile. That way you can spot it quickly.
Let's assume now you want search for your friends on TikTok but you don't know their username, What can you do? Very simple, follow these methods to find it:
Find someone on TikTok with no name via their QR code
Se you want to find friends on TikTok without knowing their name, it's very simple scan their QR code. How can it be done? Very easy!
Launch the app TikTok with your account.
vai to the icon area of magnifying glass to search.
Now, click on the icon to the right of the search bar and accept the permissions that the app will request on your device.
At this point, you just have to place your mobile's camera on the your friend's QR code for the application to recognize it.
Finally, the Your friend's TikTok profile and all you have to do is hit the button "Follow".
Find someone on TikTok without a name from your contacts
You surely know a lot of friends or family who have an account on TikTok ma you don't know what their username is, much less do you have their QR code to scan it and honestly don't want to ask for it. So don't worry because we have the solution.
If you have the phone number of that person registered in the mobile contacts, can:
Vai all'app TikTok.
Go to the section "I" at the bottom of the screen and then choose the avatar icon with the symbol "+" top left.
Now, choose the option "Search contacts". A window will appear telling you that when you link your phone number to your TikTok account you will be able to be found by your friends (although you can change this later), just accept and you will see the contacts who have theirs registered telephone number.
It is important to note that this feature does not guarantee that all your friends will be revealed on TikTok, as through the privacy settings you can choose whether they want to appear in other people's searches via their phone number, so it is not 100% effective . Still, it's a good option to try.
Find someone on TikTok with no name from your Facebook friends
If you want find someone on TikTok without a name, you can do it from your Facebook friends in an easy way. This step is very simple, so you just have to:
vai to the TikTok app with your user account.
Press the icon "I" at the bottom and then go to the avatar icon with the symbol "+" top left.
Choose the option "Find Facebook friends".
Sign in with your Facebook account and continue the process.
Next, you will see a compilation with all of them Facebook friends who have a TikTok account.
You just have to press the option "Follow" to add it.
As you can see, they are very simple alternatives that will allow you to connect with your friends or other users within the TikTok platform quickly and easily, even without knowing their username.
>>> How to watch TikToK on TV <<
We hope these simple but helpful tips we shared with you today help you find one TikTok user without knowing their name and that you can gather more followers for more fun.
Further Reading:
How to search on TikTok
How to change eye color in TikTok videos
How to change TikTok username in a few simple steps
How to protect your TikTok account
Instagram user not found which means