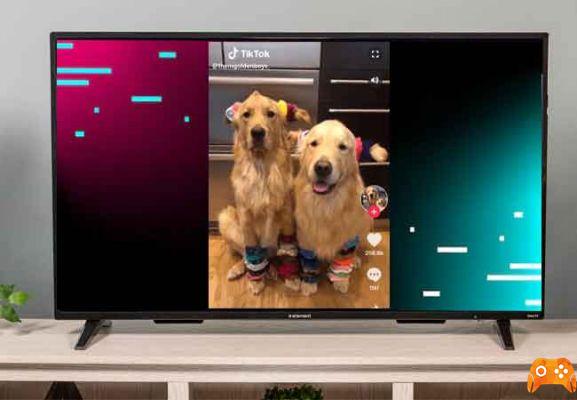 If you are already a fan of TikTok, you may want to see some of those hilarious videos on your big screen of your Smart TV to share with friends and family. Or maybe you've never used the app, but friends recommend you check it out. And why not do it on your TV?
Whatever the reason, if you want to watch TikTok on your Smart TV, you can. You have a number of options and they are all quick and simple. Read on as we discuss everything you need to know about TikTok and how to make it work smoothly on your Android TV.
What is TikTok?
In case you've been living under a rock for the past year or so, TikTok is a new social media app, much like Instagram, specifically for short-lived videos.
Users can create and share 60-second videos on any topic. There is a huge range of filters, templates and animations available for users to add special effects. You can also comment on other people's videos, share them and so on, just like any other social media platform.
TikTok is now also the most popular social media platform, having surpassed Facebook, Instagram, YouTube and Snapchat in terms of monthly installs.
While there are many videos available on TikTok, the most popular are lip syncing, dancing, challenge videos where a number of people try to do the same thing in different ways, and shivering videos, which are just plain embarrassing.
Just like most social media platforms, there are native apps for TikTok or you can access TikTok online. You can browse most of the content without logging in or creating an account. But if you want to post content, comment or watch live video, you need an account.
You can sign up with your phone number or email or using an existing account like Google, Facebook or Instagram, which will also import your personal details.
TikTok for Android and Android TV
TikTok has a native Android app, so it's simple to download the app from the Google Play Store to your Android smartphone or Android TV streaming device (be it a smart TV or an Android TV box).
The app is free, although it has in-app purchases and in-app advertising and works on anything from Android 4.1 and later.
If for any reason you need to sideload TikTok on your device, it's also available as an APK. You can find instructions on how to sideload an app on your Android TV device here.
The Amazon Fire TV is one of those devices that may require sideloading, as instead of having access to the full TikTok app, the Amazon Store offers More On Tik Tok, which is a view-only version of the app. Although the application is optimized for the big screen, you are limited in what you can do and see, so you may prefer to install the full version of the app.
As an alternative to installing the native app on your Android TV device, you can also share TikTok directly from your smartphone to your TV using a screen mirroring application. Most smart TVs and Android TV boxes can do this natively, or there are a variety of apps available in the Google Play Store that can enable it.
This is often the preferred choice of many users, as you can still use the phone to film and post content, and all controls are more intuitive when using the smartphone as a controller.
How to watch TikTok on TV using Google Chromecast
Then there is the Google Chromecast. This device will give you allows you to stream content from your Android smartphone or tablet directly to your TV. All you need to do is install the app Google Home, which you will find for free in the Play Store and connect the Chromecast to the port HDMI of the TV.
In the Google Home app menu, select Cast Screen / Audio, then tap the blue button, then select the device you want to connect to.
Alternatively, some devices have a Cast button in the quick settings panel, found by swiping down from the top of the device screen. If the Cast option isn't available, you may be able to add it to the quick settings in your phone's options.
Or use Chomecast, and watch TiTok on your TV via your phone. Read here to set up Chromecast on TV. How to use Google Chromecast with Android and iOS
FAQ
Can you get TikTok on Android?
The TikTok app has its own native Android app, which can be downloaded to any Android device using Android OS 4.1 or higher. You just have to download it from the Google Play Store.
Can you have TikTok on TV?
If you have a smart TV or an Android TV box you can download the TikTok app from the Google Play Store or from APKPure. The app is optimized for smartphone screens rather than TV screens, so videos will be concentrated in the center of the screen in the aspects of a portrait smartphone.
How do I download TikTok on Android TV?
To install the TikTok app on your Android TV, simply download the native Android app from your Google Play Store. If you have a smart TV or TV box that doesn't allow you to do this for some reason, you can also upload the app via an APK.
Can i watch TikTok without an account?
You can watch most of TikTok's content without an account, but you need an account and must be logged in to watch live videos.
Conclusion
TikTok is a fun app that is very current. If you want to enjoy its contents on your TV screen, if you use Android TV it is easy to download the app from the Google Play Store on your device. Alternatively, you can mirror your smartphone screen to your TV screen - simple!
Further Reading:
How to change your age on TikTok
How to make your TikTok account private in 5 steps
How to search on TikTok
How to change eye color in TikTok videos
How to protect your TikTok account