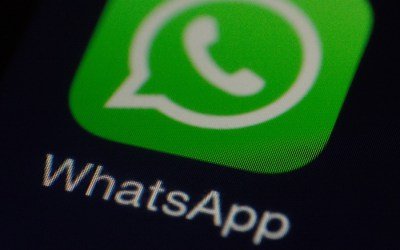 In this article we are going to talk about how to hide phone number on WhatsApp. WhatsApp is the most popular messaging application in the world, which replaces the basic functionality of sending SMS messages, replacing this service with a simple chat, calls, send photos and videos and more with our friends and acquaintances. It is one of our favorite cross-platform messaging apps, as it works well on both Android and iOS and is also supported by Facebook
All the tips and tricks for mastering WhatsApp groups
How to hide phone number on WhatsApp
One of the main reasons people love using WhatsApp is the sign-up process. When you first create a WhatsApp account, you register using your phone number, which allows you to connect to users stored in the contact list on your device.
While there are many benefits of using your phone number to sign up for WhatsApp, such as being able to ignore any type of security information or having to use your email address to verify your account, not all users want to use theirs. phone number to connect your WhatsApp account to your devices, especially if you are interested in chatting privately.
WhatsApp receives the fingerprint unlock function [How to]
Showing everyone your real phone number can be a real risk while browsing the Internet.
Unfortunately, there is no way to hide your phone number from WhatsApp - you need to use a valid phone number to sign up for the service.
This does not mean that we cannot show a secondary or alternate phone number to hide the phone number on the device.
This way, you can give the WhatsApp number to people you meet in the real world without having to worry about them using your real phone number.
To get started, all we need is a service that offers users toll-free numbers to communicate and send messages and a new WhatsApp account to continue using the application on your device.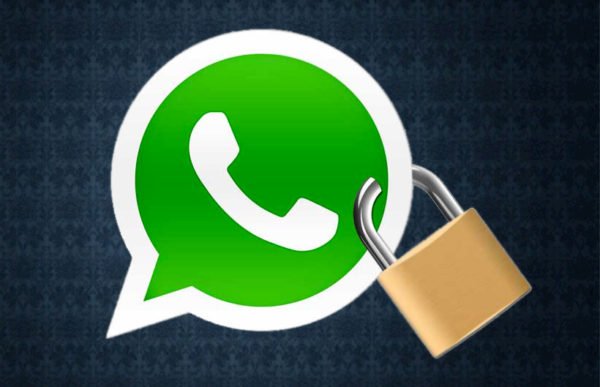 How to hide phone number on WhatsApp
How to get a new phone number
To get started, we'll need to use one of the different services and apps to get a new phone number.
This will not replace your current number - think of it as a secondary addition to your main number.
There are more than a dozen online services that promise to provide secondary numbers, either for free phone calls and texts or as a temporary number, but not all of these services are created equal.
Does WhatsApp notify the other user when you take a screenshot of the conversation?
So instead of relying on a casual online service, choose from these services that are much more reliable:
Google Voice: The best choice for secondary numbers, Google Voice has recently been updated with a completely new interface on both the web and mobile, making it a great choice once again.
Google is a trustworthy company, and Voice even lets you use your number to forward calls, make free phone calls, and send text messages to family and friends with ease. THE
Your number can be used both to call and be called and to send text messages, making it just like a normal mobile phone. It's a great service, especially free, for anyone looking for a new phone number to use with WhatsApp.
Talkatone: Like Google Voice, Talkatone is built to provide alternative numbers to call and message users for free. Therefore, when you log in to the service, you get an alternative phone number for calls and SMS, complete with area code.
Talkatone also allows you to change this number when needed, a great feature that, as far as we know, is not allowed with Google Voice.
The downsides of Talkatone are the ads included in the app, but if you only use the phone number to verify your account, it's easy to ignore the ads within the app itself to focus solely on the alternate number you get inside. of the app.
While Voice and Talkatone are our picks for their lack of cost and ease of use, if you're looking for an app with a little more functionality than just calling and texting, or an app with the ability to create more than a phone number, read on below:
Burner: Referred to as "burner phones", Burner is an app that automatically gives you a new number whenever you need it. You can get a real phone number that can be used to make phone calls and messages directly from the app and automatically configure those numbers.
When you are done with that number, you can easily delete it from the device. Burner comes with a toll-free number for seven days, but you'll have to pay for a subscription afterward to use the app or purchase credits.
If you need to use multiple phone numbers with multiple WhatsApp accounts, it might be worth using Burner.
Sideline: For iOS and Android, gives you the ability to use local area codes and the ability to easily write messages and calls, Sideline is a great addition to this list. Unlike most of the apps on this list, sideline uses your regular minutes instead of using VoIP interfaces, saving your data when you're not connected to Wi-Fi.
There are tons of advanced features, but if you're looking for a number just to verify your WhatsApp account, Sideline might be a little overkill, especially as it costs $ 9,99 a month. However, there is a 7-day free trial, which may be enough to verify your account.
Flyp: Flyp is very similar to Sideline, in that it is an app created to replace your current phone number with an easy way to contact co-workers, while also allowing you to separate your business accounts from your personal numbers. You can easily use area codes while calling someone by masking your number.
Flyp's audio quality is excellent. But at $ 7,99 a month, it's probably a little expensive, to be used only for verifying a WhatsApp account. Like Sideline, this app has a 7 day free trial.
Hushed: What makes this app excellent is its end-to-end encryption when talking to other users. This makes it the number one app on this list, and this could be important if you're trying to hide your identity both inside and outside of WhatsApp.
WhatsApp is about to release a new Boomerang feature similar to Instagram
All numbers are disposable, no credit card is needed to create an account, and calls can be sent and received from anywhere. That said, it starts at $ 1,99 per month and goes all the way up to $ 4,99 per month for unlimited calling and texting.
There is a free trial version and if privacy is your primary concern, this is a perfect app to use for calling users outside of WhatsApp.
For the purposes of this article, we'll be using a Google Voice number, along with Voice screenshots, while let's set up our new WhatsApp account. The Google Voice setup process is fairly straightforward.
Once the new Google Voice number is at your fingertips, you are ready to move on to the next step in the process. Make sure you keep the Google Voice app on your iPhone or Android device to view the confirmation message sent by WhatsApp when creating an account or keep voice.google.com open on your computer's browser.
The new WhatsApp feature lets you know how many times your messages have been forwarded
How to hide phone number on WhatsApp
How to set up a new account on WhatsApp
Well, once you are armed with your new number from any of the services described above, you are ready to start set up a new WhatsApp account.
Alternatively, you can try changing the phone number on your current WhatsApp account if you don't want to lose conversations, although you may encounter some problems while trying depending on your account and if you have already changed numbers before.
We'll explain it later in this guide, so if you'd like to try this step first, skip to the section below. Also, we are using the Android version of WhatsApp to test this service; the method may vary on iOS or other operating systems.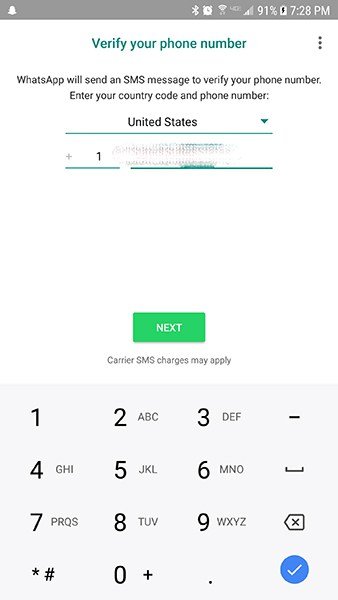 How to hide phone number on WhatsApp
How to hide phone number on WhatsApp. Start by completely disconnecting your WhatsApp account.
Alternatively, you can uninstall the application and reinstall it from the App Store or Play Store to ensure a fresh installation.
Once you reach the WhatsApp login screen, WhatsApp will ask for your phone number to register your account and verify your device.
How to configure WhatsApp notifications on Android
Instead of entering your current phone number, enter the secondary number you created via Google Voice or Talkatone (or the alternative you chose above).
Press the "Next" icon and WhatsApp will notify you of the number they are about to verify.
Make sure you have entered your number correctly; once you are sure that the correct number has been entered into the device, press "OK" to continue with the next step.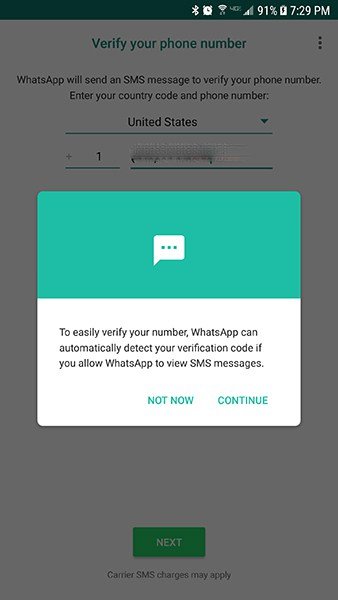 How to hide phone number on WhatsApp
After that, WhatsApp will ask you to automatically detect the verification code by viewing your SMS messages.
While this is typically an easy method of manually skipping entering a confirmation code, don't allow WhatsApp to do so.
Since the message will arrive at your Google Voice or Talkatone number and not your device's SMS inbox, WhatsApp will not be able to detect the code from your phone.
Instead, click "Not Now" to submit the code.
Once you receive the code in your inbox, enter the six digits in the field on your device.
After entering the sixth digit, the device will automatically verify the number.
You will be asked to enter a name for your WhatsApp account (this can always be changed later, it is not a username), and once done, you will be taken to your new inbox.
WhatsApp not working? Here are 5 simple solutions to try
How to hide phone number on WhatsApp
How to create a secondary account on Whatsapp
If you've been using WhatsApp for years and don't want to delete your messages and contacts to start over with a secondary number, you can change the number in your WhatsApp account settings on your phone.
In the WhatsApp FAQ on the subject, WhatsApp makes it clear that your contacts must have your new number saved in their device for a seamless experience, so while this will obscure your current number for your new number, it won't necessarily remove the possibility. for people to have your old number via WhatsApp.
Here's how to change your old number to your alternate number created in the previous steps. Again, the steps below use the Android version of the application.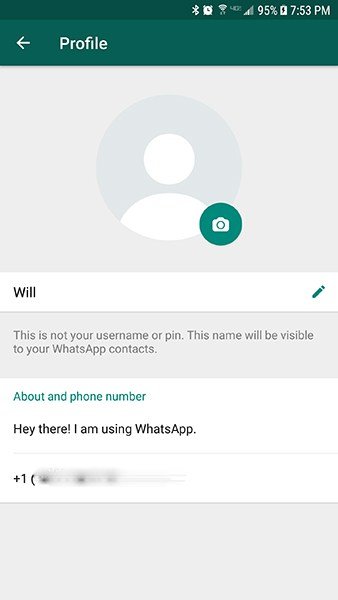 How to hide phone number on WhatsApp
Start by opening WhatsApp, which should open to your inbox.
Tap the three-dot menu icon in the top right corner (for iOS users, go to Settings) and tap the Profile view at the top of the display to load your profile.
At the bottom of this screen should be the phone number used to register for the service.
How to run two WhatsApp accounts on any Huawei / Honor phone via App Twin
Tap the phone number to open a request that allows you to change your number.
At the top of the display, tap the "Next" icon, then enter the current phone number in the "Old phone number" field.
Under this, enter your new alternate number in the "New Phone Number" field.
Also remember to check that the country code is correct if you are using a temporary number.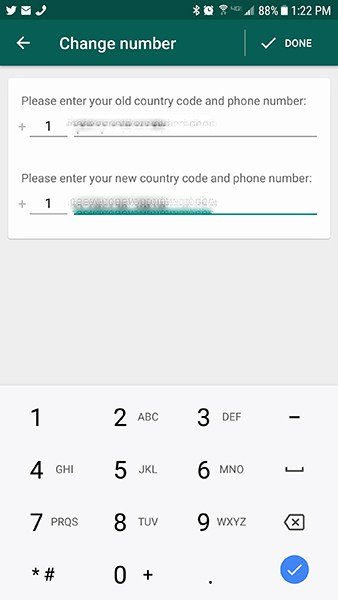 How to hide phone number on WhatsApp
Once set up, press "Done" in the top right corner to transfer your account to the new number.
This will allow you to save all default message threads, groups and contacts to your device, and new contacts will need to use the new number to contact you.
It is unclear whether or not there is a limit to the amount of times you can change your phone number on a WhatsApp account, so keep this in mind when changing numbers repeatedly.
What happens when you change your WhatsApp number
How to hide phone number on WhatsApp
How to create a Whatsapp account without using your number
Almost all of the services mentioned above allow you to change your old number for a new one.
The premium offerings, including Burner, Flyp, and Hushed, are all based on the idea of ​​being able to use a temporary number.
Talkatone allows you to use a number for free once; after that, it will cost you a couple of dollars to do the same thing again.
However, that's not bad, especially since most users don't have to change numbers too often.
Google Voice also allows you to change your number; however, once the old number has been changed, it is not possible to regain access to that number.
Plus, there's no free or trial number changes with Google Voice - it'll cost you ten dollars each time you want to change your number.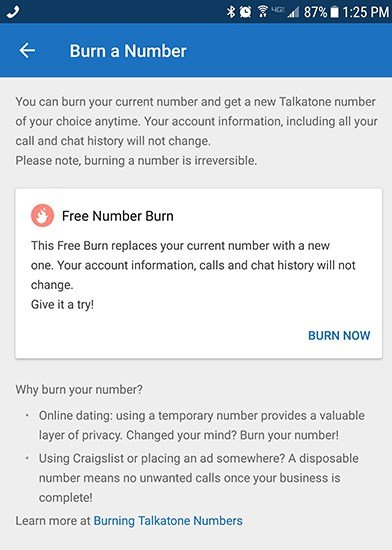 How to hide phone number on WhatsApp
Once you have the new number, you will need to create another new WhatsApp account or use the guide above to change the number on your account.
Changing numbers is a pretty easy transition on WhatsApp, users will need your new number to continue talking to you and adding your account through the service.
How to know who saved your number using WhatsApp
Conclusion
There is no way to hide your phone number within WhatsApp to be seen by other contacts when they view your profile.
Unfortunately, WhatsApp was built using a phone number to contact users, while providing a much richer experience than basic texting provides users.
While WhatsApp requires your phone number, there is nothing to stop you from using an alternate phone number to actually "hide" your real number.
When you choose to use an alternate number on WhatsApp, you can freely give it to your contacts, friends, family and co-workers, while protecting your standard phone number from people you don't know.
Unfortunately WhatsApp has stopped, how to fix
Further Reading:
How to hide someone's status on Whatsapp
How to hide photos and videos on Whatsapp
How to share WhatsApp status as a story on Facebook
How to hide the WhatsApp profile photo from a contact without blocking it
How to send the same message to multiple contacts at the same time with WhatsApp for Android