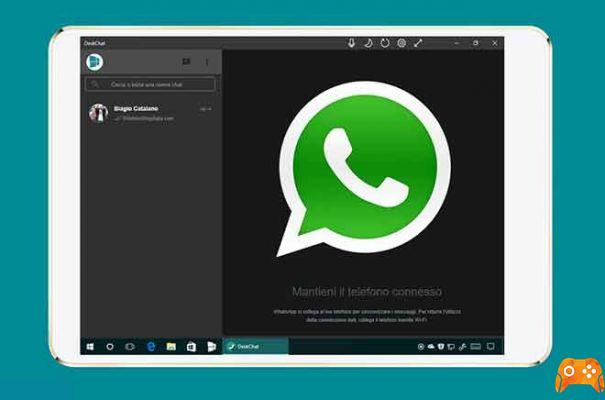 WhatsApp is the most used instant messaging application in the world, it is the most complete, but it suffers from some shortcomings that Mark Zuckerberg does not seem to want to solve in the short term, that is, it is not possible to install Whatsapp on Android tablet as you install phone.
In short, there is no Whatsapp apk for tablets, and this thing irritates users and not even a little. And yes, it is true that the Android tablet market is not going through its best moment, but that applications like WhatsApp are not available for this type of device, give us reason to think that, perhaps, the failure of this type of device it's not exactly the producers' fault.
But thankfully this is Android, which means that with a few developers and free time, you can do almost anything you can imagine. Including, of course, Whatsapp messenger per tablet Android. Today we tell you how to do it, step by step and, of course, for free.
How to install Whatsapp on Android tablet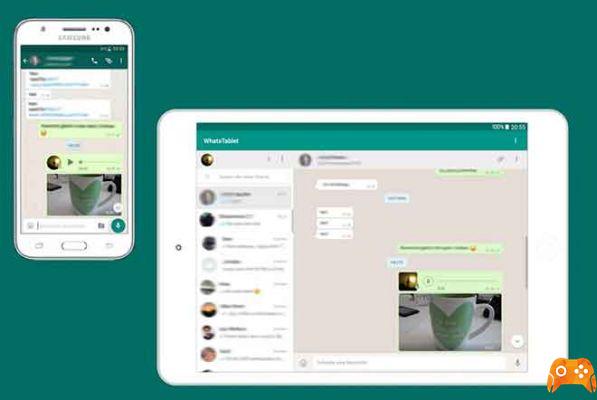 Way 1: use WhatsApp Web on Android tablet without installing anything
Although technically it is not possible to download Whatsapp for Android tablets, much less install the application, the company will not prevent us from doing so if we find the way. Effectively, it's easier than it looks.
To be able to use the messaging app on any Android tablet, obviously with internet access, you just need to log in to un browser come Chrome, Firefox or any other that allows you to enable the desktop view mode.
Once the requirements are met, by following the following steps, you can use WhatsApp on a tablet thanks to WhatsApp Web:
Open the browser on the tablet and, from the options menu, activate the "Desktop mode" .
Access the page WhatsApp web.
A QR code that you need to scan with your mobile phone. To do this, open the WhatsApp app on your mobile and, in the options menu at the top right, access the WhatsApp Web section.
Point your mobile at the QR code, wait for it to be scanned, then all your conversations will appear on the tablet screen, allowing you to easily chat with your contacts.
As you can see, having WhatsApp on such an Android device is very simple. However, this system has some other disadvantages, since the Web version of WhatsApp for tablets it lacks some of the features of the native application, besides that, if the paired smartphone is turned off or without an Internet connection, it will not be possible to continue using the application on the tablet.
Way 2: Install WhatsApp APK for any Android tablet
If the previous system doesn't convince you, you always can install the application directly on your Android tablet. In this case, yes, forget about being able to use WhatsApp on your smartphone, since today the service, unlike others such as Telegram, does not allow you to access multiple devices at the same time.
Therefore, this can be a useful method if you wish use a secondary WhatsApp account on your tablet or for situations where you will spend time without a smartphone at hand.
Also, before proceeding with theinstallation of WhatsApp for tablets, you must keep in mind that to log in you must provide a phone number where you can receive SMS, as WhatsApp will send you an activation code.
To install WhatsApp on any Android tablet, you just need to follow these steps:
Vai everyone system settings on the tablet.

If the system version is older than Android 8 Oreo, go to "Security" and, in the "Device Manager" section, activate "Unknown sources".
If your tablet has Oreo or later, you can skip this step for now.

From the browser, access the official WhatsApp page and download the latest version available in APK format for Android, as explained in our article on downloading WhatsApp.
Once the file is downloaded, tap it for run it.

If you have previously enabled unknown sources, you don't need to do anything else in this step.
If your tablet has Oreo or higher, you will see that when you try to install the APK, a window appears indicating that your browser does not have access to install applications. Click on the "Settings" option, activate the option "Authorize downloads from this source" and go back. You can continue.
With the application already installed, all you need to to do is log in via the WhatsApp startup wizard, which will immediately show a warning that WhatsApp is not compatible with tablets. By pressing "OK", however, it will be possible to continue without further problems.
Finally, that's enough enter the phone number associated with the WhatsApp account and wait to receive the confirmation code. This way you can already use WhatsApp on your Android tablet without depending on a smartphone.
To date, these two are the two best solutions for using the messaging app on an android tablet. Everything indicates that WhatsApp is already working on an edition of WhatsApp for tablets. We remind you in passing that it is also possible to install Whatsapp on your PC.
Further Reading:
How to send the same message to multiple contacts at the same time with WhatsApp for Android
The best Android tablets
How to activate dark mode on WhatsApp Web
Whatsapp Web your Android
How to activate WhatsApp without SIM