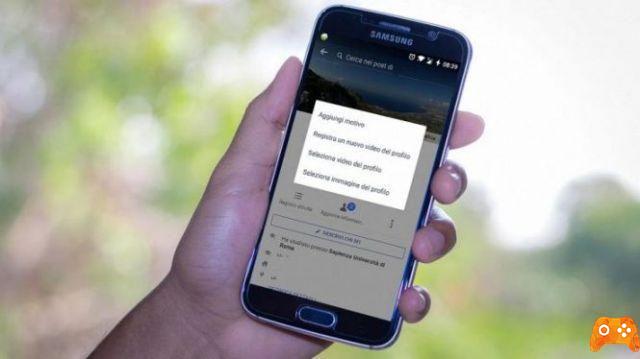 Facebook video profile: how to put it in place of the photo? Are you bored with the profile photos you have on Facebook? In case you don't know, the most used social network in the world allows its users to insert videos in their profiles as if they were photographs.
In 2015, Facebook started allowing users to upload videos up to 7 seconds long instead of the standard profile picture, and this feature can be really useful for many purposes. In this article I will walk you through the steps you need to follow to create your Facebook profile video.
If you are interested in putting a video profile on Facebook, you don't have to download anything, the only thing you should have on hand is your phone, the Facebook app installed on it and follow the tutorial we show you here.
How to put a profile video on Facebook
The process that needs to be done to insert a profile video on Facebook is really very simple. Even if you had to do a couple of "extra" things first, so to speak, now you just have to press a couple of buttons to do it.
Before showing you how to do this, we recommend that you download the latest version of the Facebook app for Android. After updating the app, you will avoid facing problems while recording a video to put it in profile on your Facebook account.
Unfortunately, it is currently only possible to create profile videos on the Facebook mobile app. There is really no way for you to create a profile video from your computer. But creating a profile video from your mobile app is simple and easy:
Open your Facebook mobile app and find your profile tab - it should be third from the left at the bottom of the screen.
Tap the camera icon next to the current profile picture, then "Select profile picture or video".
Trim, crop and edit your profile video! Facebook offers a great interface for these tools - you can trim any segment of your video that is 7 seconds or shorter. And to crop, select "Crop" from the bottom toolbar and simply pinch and drag the video until it looks perfect! From the Facebook editor, you can also mute the audio and select which frame from the video you want to set as your cover photo.
As you have seen, it is a very, very simple process that many are unaware of. We recommend that you enter it and make sure that your friends and family are surprised, because hardly anyone uses profile videos on their Facebook accounts.
How to read archived messages on Facebook Messenger
Further Reading:
Did they unsubscribe from Facebook? Let's find out who did it
How to see hidden friends on Facebook
Your private Instagram posts and stories may not be that private
How to download Facebook videos without programs
How to share WhatsApp status as a story on Facebook