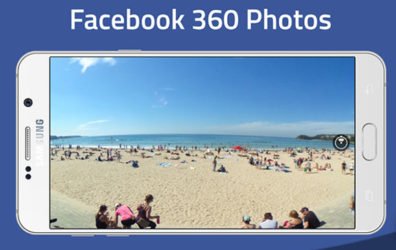 How to share a Panorama photo on Facebook, in order to increase virtual reality on your application and bring it to a very large audience, Facebook now allows you to upload 360-degree photos. Before, there was no platform that allowed you to share 360-degree photos.
Marco and his Facebook team have been working on this concept for a while and have thought about developing an option that is accessible to everyone and everyone can benefit from it. We will show how you can take 360-degree photos and then share them with your friends via Facebook.
To make the service more accessible to those users who do not have a dedicated 360 degree camera application, Facebook with its algorithms can easily convert a simple panorama photo into a 360 photo.
All you need is a smartphone with a good camera to get the best results. You obviously need a Facebook account to be able to use the sharing feature. Furthermore, this procedure can be implemented through the mobile application and the web platform. Additionally, there are several methods available to take and share 360-degree photos.
How to share a Panorama photo on Facebook
Method 1 – Using Photo Panorama
Step 1 - Go to the phone's camera app and in the settings menu, select "Panorama" as the shooting mode.
Step 2 - Once you have set your camera to Panorama mode, you can click to take a 360 ° photo. The app itself will guide you on exactly how to move your phone.
Step 3 - After completing the procedure, the device will take a few moments to stitch the multiple images. Review the image and if there is any blur in the photo, repeat the above steps, but now move the phone slowly while capturing the images.
Step 4 - Now, you can upload this panorama photo to Facebook via the app or web application. Upload the panorama photo as you would any other photo.
Facebook will automatically merge the photos together to form a 360-degree one. Confirm by going to your profile after its upload is finished and check if there is a 360 ° icon on it.
Method 2 - Using an application
Phase 1 - Install an application that takes 360-degree photos on your phone. Choose any one from below:
Google Street View – Download From Play Store
Google Cardboard Camera – Download From Play Store
Phase 2 - Open the application and follow the instructions.
NOTE: For the Street View app, you need to click on the "+" button at the bottom right and then select the camera to start taking photos.
Phase 3 - Save the photos in the gallery.
Phase 4 - Use the Facebook web service or application to upload the photo as you normally would. After it's finished uploading, confirm by going to your profile and check if there is a 360-degree icon.
That's all! Now you can easily take and share your 360-degree photos on Facebook.
Further Reading:
How to share WhatsApp status as a story on Facebook
How to share Instagram photos on Facebook
How to delete photos from Facebook
How to move all your Facebook photos to Google Photos by pressing this button
How to share a video from Facebook to WhatsApp easily