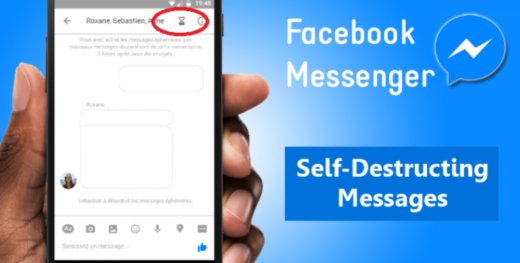 Self-destructing messages on Facebook. Facebook has been the number one social network for a lot of right reasons, one of the most important being the algorithm that ensures that users continue to stay active at all times. However, some users have complained about end-to-end encryption.
Following on from this, let's now see why Facebook is finally offering extra protection to its users and that we have already seen on the recently launched Google Allo application.
Called as "secret messages" the new section is deeply hidden within the options on your Facebook application, ensuring that only those who have heard of this gem can use it.
Is this the answer to Google's Allo?
Facebook had apparently previously said that this new feature would be rolled out in stages, and eventually it was introduced in Spain.
This encryption means that any sent message can only be read by the recipient. No one else including Facebook can access these messages and this is the same encryption that WhatsApp is offering.
To activate this feature, you need to go to the Messenger App & Tap the settings where the "secret messages" option is located.
Then tap on the "Turn On" option which is enabled at the device level but not at the account level.
This evidently means that the messages are intended only for you and the other person, which is why the self-destruct feature comes into play.
Automatically clears messages according to the time interval that has been set for self-destruct.
According to Facebook, the signal protocol developed by Open Whisper Systems was used.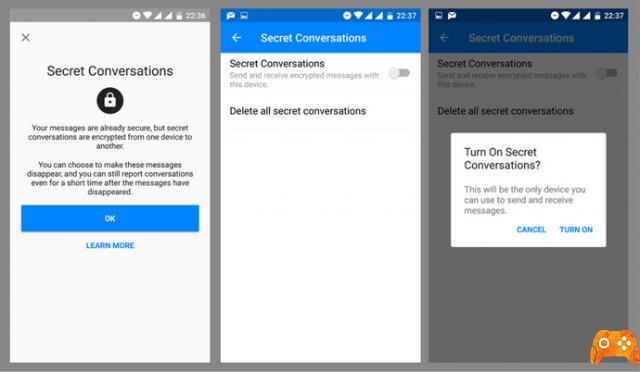 After activating this option, you can text any friend or contact who has also activated this feature on their phone.
Once this option is set, you can start the discussion.
Now you can activate the timer option that starts from 5 seconds and goes up to a maximum of 1 day to self-destruct your message. The other features are exactly the same like media sharing, smileys, locations & stickers.
After the forced closing of the messaging application and its reopening we have seen that the received messages have been deleted, and not just obfuscated which confirms that the function is similar to what ALLO offers.
Please let us know if you found this new feature useful.
Further Reading:
What is Vanish mode on Facebook Messenger and Instagram
How to send disappearing messages on Facebook Messenger
What to do when Facebook Messenger doesn't work
Self-destructing WhatsApp messages are now official
How to disable Facebook Messenger