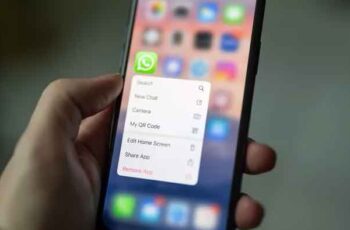 Gone are the days of relying on text messages to communicate with friends or family. Today we have many forms of communication available, such as stickers, emojis, gifs and voice messages. When it comes to voice messages, WhatsApp allows users to speed up audio messages. Some may not like the change. You can easily increase or decrease the speed of WhatsApp audio messages on Android and iPhone.
Among all types of messages, voice messages are gaining ground in recent times. They are easy for users to use and eliminate the hassle of typing letter by letter. It can be useful for those who just don't like writing long messages. WhatsApp, being the largest instant messaging app, has added useful tools to manage voice messages.
Sometimes you need to speed up voice messages, while other times you want to slow them down for clear listening. The only problem is that WhatsApp saves the listening speed as the default audio playback speed and uses it for all voice messages. We will talk about all four operating systems, including Mac, Windows, iPhone and Android. Let's start with the WhatsApp mobile apps.
How to speed up Whatsapp audio messages on iPhone and iPad
WhatsApp uses a different interface on iPhone and Android. If you are experiencing an issue with the speed of audio messages on your iPhone, the above steps should help you fix it.
Open WhatsApp on iPhone.
Open a conversation from which you want to hear the voice message.
Go to the received voicemail.
Press the Play button and check the current speed from the chat bubble. Here's what they mean.
1x - 1x means WhatsApp will play the voice message at normal speed.
1,5x - 1,5x indicates that the message will be played at 1,5x speed.
2x - 2x reports that WhatsApp will play the message at double speed.
If the voicemail shows 1,5x or 2x, WhatsApp will play the voicemail faster. It may be problematic to listen to a voice message at this speed. You can tap 1,5x and it will speed up the audio to 2x. Again, tap 2x and it will return to normal 1x speed. There is no way to slow down a voicemail from 1x to 0,5x.
How to speed up Whatsapp audio messages on Android
The trick to increasing WhatsApp audio speed on Android remains the same. Since it uses a slightly different user interface, let's see the steps.
Vai your WhatsApp your Android.
Open a conversation.
Go to the WhatsApp voice message.
Play the message, tap 1,5x or 2x and switch back to 1x for normal audio speed.
With WhatsApp, when you change the speed of the audio once, the service uses the same speed on all voicemails.
How to increase the speed of Whatsapp voice messages on MAC
WhatsApp has implemented the same audio speed trick on desktop apps. If you are using WhatsApp on the desktop (now we have more reasons as WhatsApp offers multi-device support), you can use the cheat below and fix the speed of the audio on the WhatsApp desktop.
Open WhatsApp on Mac.
Open a conversation from which you want to listen to or send an audio message.
The 1x, 1,5x, or 2x buttons will not appear until you play the message.
Tap the Play button and click 1,5x or 2x to switch back to 1x speed.
After setting 1x for the audio speed, WhatsApp will save it as the default preference and use the same audio speed when sending a voice message.
How to recover deleted WhatsApp messages
How to increase the speed of Whatsapp voice messages on Windows
WhatsApp for Windows also supports different audio speeds for voice messages. It also works well with multiple devices. Here's what you need to do.
Start WhatsApp on Windows.
Open any conversation and play a voice message.
Tap 1,5x or 2x while the voicemail is playing and it will change to 1x.
WhatsApp for the web uses a similar user interface and functions as a desktop app. You can apply the same trick on WhatsApp for the web and fix the speed of the audio.
Further Reading:
How to speed up listening to WhatsApp voice messages on Android
Whatsapp, how to convert audio messages to text
How to change voice on WhatsApp
How to make WhatsApp calls using the Google Assistant
How to listen to Whatsapp voice messages without viewing and without opening the app