Recently, I discussed about updating the WhatsApp terms of use. On this occasion, I decided to show you the operation of some of the main alternative applications to WhatsApp, which have been literally "submerged" by a horde of new users on the run (in a way that is not entirely justified, it must be said, especially as far as concerns European users). From Signal to Viber, from Element to Wire, many services have welcomed these now former WhatsApp users; and one in particular is definitely increasing its - already remarkable - palatability. I am referring to Telegram, of course, which at the beginning of 2021 introduced the possibility of import WhatsApp chats.
Nothing more interesting, don't you think? Especially if you are willing to abandon WhatsApp in favor of a perhaps faster and safer service. I therefore wanted to learn more about this function, offering you a tutorial dedicated to how to move WhatsApp conversations on Telegram.
Index
What is the point of doing it
Risks and warnings
When to migrate chats
Requirements
Procedure

Creation of the export file on WhatsApp
WhatsApp chat import on Telegram
Reading WhatsApp chats on Telegram
Verify integrity of multimedia files
Control of contacts and groups
Data can be analyzed after import

If you can't import chats
If you are unable to import media files
Can Telegram chats be re-imported to WhatsApp?
What is the point of doing it
The definitive migration from WhatsApp to Telegram undoubtedly makes it easy to transfer conversations, contacts and files (multimedia and otherwise). Moreover, it must be said that, following the transfer, these files will no longer significantly impact the storage space of the smartphone, because you can choose to set a cleaning at regular intervals of the unused elements, which however will remain available in the chats, since these will be stored on the Telegram cloud network, that is, on the application servers.
As reported by Telegram in the official press release, therefore, "starting from January 28, 2021, everyone can bring their chat history - including videos and documents - to Telegram, from apps such as WhatsApp, Line and KakaoTalk. This works for both private chats and groups ".
Risks and warnings
What could still make you desist from switching to Telegram by permanently abandoning WhatsApp? Probably, the most relevant point in this regard remains the spread of Telegram in the world, especially in Spain. Despite the huge user losses in recent weeks, WhatsApp still remains at the top of the ranking of the most downloaded and used instant messaging apps. There is therefore a substantial risk that not all your contacts know what Telegram is or, at least, that they still look at him with distrust.
This can be relatively problematic in private chats, while it could create some more disagreement in the case of group conversations, in which it would end up being excluded - automatically - all those participants (on WhatsApp) who have not yet downloaded the application with the paper airplane icon.
Another aspect to consider are the inevitable bug of this function. For example, I noticed that the simultaneous export of chats and multimedia elements creates a problem on the history that, in the last instance, allows you to import only the latest messages of the chat itself and very few media (images, videos, GIFs, etc.).
In summary, before making rash decisions, I advise you to ponder wisely, perhaps trying to investigate how many Telegram users are there among your contacts (you can see it simply by opening the Telegram address book, after having given the app the consent to access the contacts stored in the phone). If you find a good number of subscriptions, you could easily start moving towards the transition from one instant messaging app to another.
When to migrate chats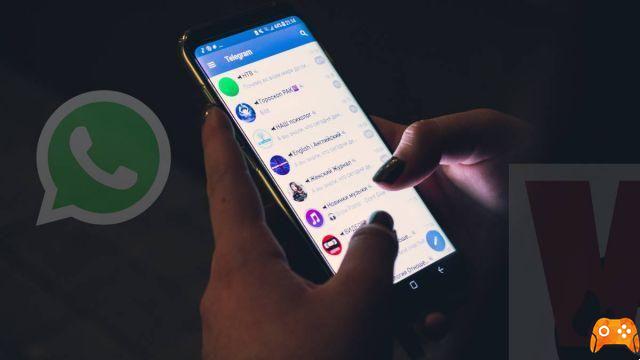 Don't you feel like quitting WhatsApp "suddenly"? Well, in this case, I don't think you should start transferring chats, because you will find yourself having to repeat the procedure in a few weeks or months.
My advice is rather to import WhatsApp conversations and media to Telegram only when you are 100% sure of wanting to permanently migrate to Telegram.
Requirements
Without the due disclaimer, I inform you i essential requirements to transfer WhatsApp chats to Telegram:
Active WhatsApp account (since you will have to make the chat transfers by chat and group by group, it will not be enough to have the backup file, even if having a recent backup of the conversations never hurts, so remember to do one in advance);
Telegram or Telegram X app installed (and configured) on the smartphone;
Same phone number per Telegram e WhatsApp;
WhatsApp interlocutor already registered on Telegram (otherwise you won't know where to import the chat).
I specify that it is not necessary to have the same smartphone or the same operating system. In practice, it would be possible to switch from WhatsApp to Telegram even if WhatsApp is installed on Android and Telegram is instead installed on iOS, or vice versa.
Procedure
In the following paragraphs, you will find a brief outline of the steps required to move WhatsApp conversations to Telegram.
Creation of the export file on WhatsApp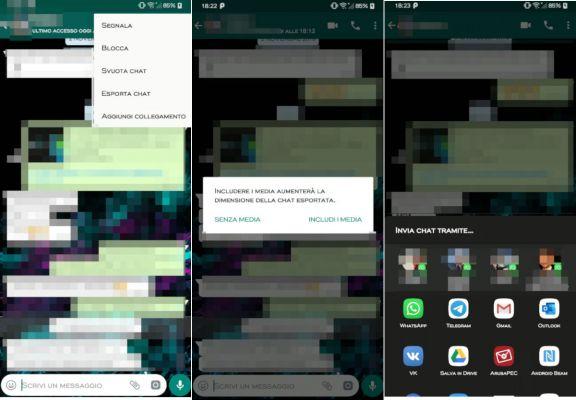 Log in to WhatsApp and enter the Chat that you want to transfer to Telegram;
Tap the Settings icon ⋮> More> Export Chat;
At this point, choose whether or not to include media (images, videos, voice messages, documents) within the file you are about to create, remembering that the inclusion of such content may increase the size of the exported chat;
Once this is done, continue with the steps described below.
WhatsApp chat import on Telegram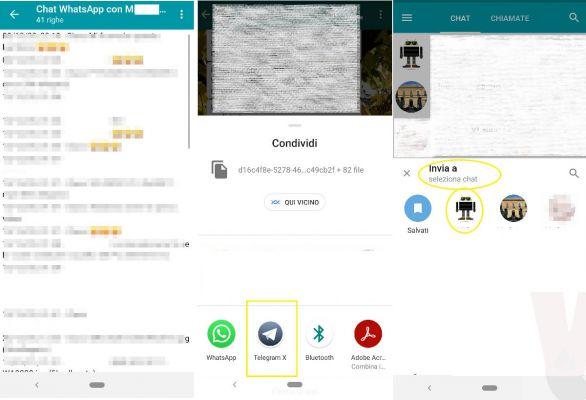 Now, you have two options:
Save the TXT file (and its media files) that you have exported to your phone's local storage, cloud space or your mail server (for example, send an email to yourself containing the chat files attached. this procedure, read how to save WhatsApp chats and export them via e-mail);
Share the file with Telegram.
Perform this last action to make it open Telegram. Then, search and select your interlocutor on WhatsApp among the Telegram contacts, in the "Import messages and media into ...". This will start the process of importing the chat in TXT into the messaging system.
Alternatively, you could try salvare la chat in TXT and, later, to share it, that is open it, with Telegram.
Reading WhatsApp chats on Telegram
In no time at all, Telegram will import a text file containing the messages (and emojis) exchanged within a given chat (together with the media, in case you have decided to export those too from WhatsApp).
read the messages, just open the conversation on Telegram, as you normally do. The voice notes of WhatsApp, for example, can be listened to in-app on Telegram, as well as GIFs, photos and videos from WhatsApp can be viewed within Telegram. As for documents or other files, it will be necessary - as usual - to view them with third-party apps.
Verify integrity of multimedia files
The best way to check the integrity of media (and otherwise) files is without a doubt open them after importing. Net of the tests carried out for the preparation of this tutorial, however, I can tell you that I have not found any corrupt files, which bodes well.
Control of contacts and groups
To be sure you can share a WhatsApp chat file on Telegram with a specific interlocutor, you need to make sure in advance that this person already has an account on Telegram.
As for multiple chats, it probably pays off in the first place create a group on Telegram homologue (with the same participants and the same object). After that, you can proceed to export the chat history of the WhatsApp group and its import on Telegram, following the steps reported in the previous paragraphs.
Data can be analyzed after import
Once the procedure is complete, you will have access to a TXT file comprehensive of the entire message history of a given conversation.
By opening the file in question, you will have access to the following information:
Original date and time sending / receiving messages;
Name of the sender;
Reference of the media sent or received.
You will not have references instead as regards the various "ticks"(Receiving / delivering or reading).
If you can't import chats
Have you followed all the steps listed in the tutorial, but your phone just doesn't want to import WhatsApp chats to Telegram? Don't blame the smartphone, it might just be a little one bugs,! At the time of writing, in fact, I can confirm that I have found at least one.
In fact, during the export phase of the chat including media, I noticed that invariably, in the text file shared on Telegram there is only the last month of messages. If, on the other hand, you choose to export only the chat, it will be transferred completely (since its inception) to Telegram.
So keep the Telegram app updated, or try to install its "beta" version.
If you are unable to import media files
If the problem is with multimedia files (images, videos, audio files and documents), again, the fault could be some small bugs, in the application. All this demonstrates how this functionality, although useful, still needs to be greatly improved.
To overcome this problem, before permanently deleting WhatsApp from your smartphone, you should make a media backup or save some specific folders in which they are stored (for example, on Android, the root folder called WhatsApp, stored in the local memory).
Can Telegram chats be re-imported to WhatsApp?
At the time of writing, No., it is not possible to return to the origin, or to perform a reverse import procedure of the Telegram chats on WhatsApp.